» »
How to make your Apple Watch fully charge in watchOS 10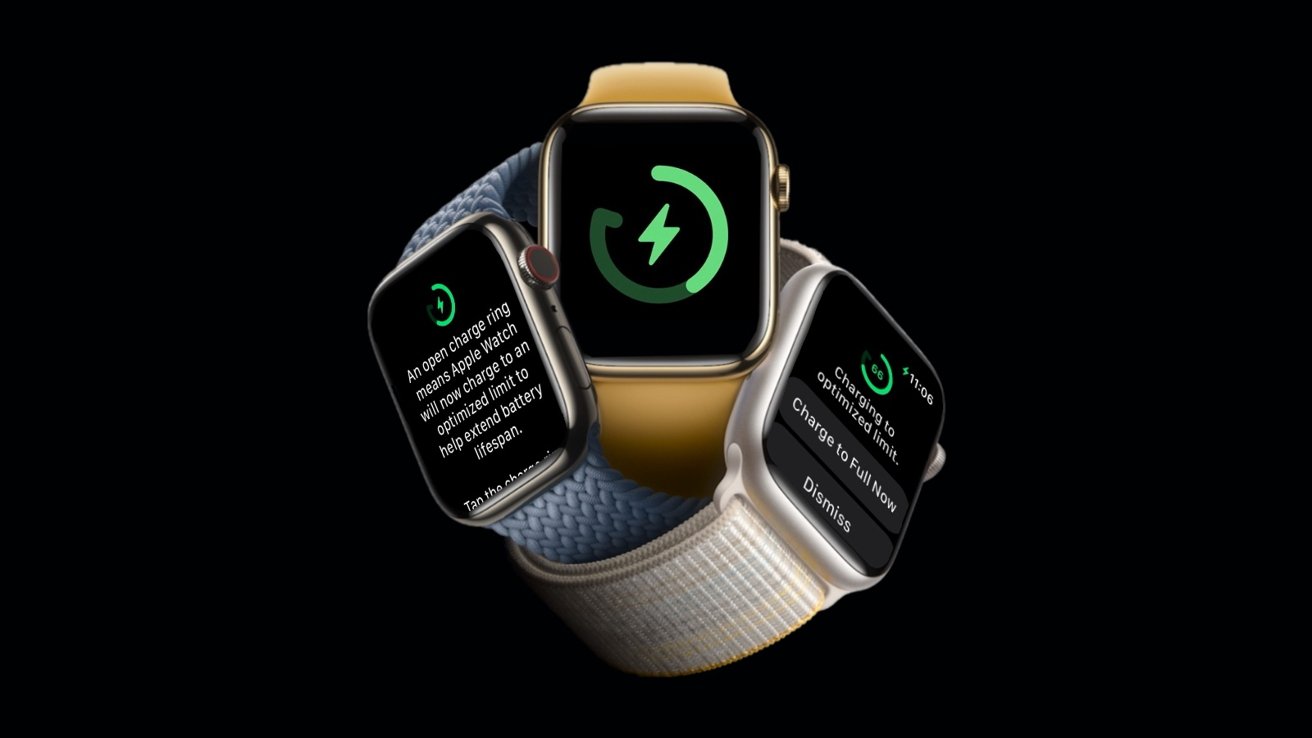 In watchOS 10, your Apple Watch will pause charging at 80% to prolong the battery's lifespan. Here's how you can disable Optimized Charge Limit and charge your watch to full capacity when you need to.
"A battery's lifespan is related to its chemical age, which is more than just the length of time since the battery was assembled," mentions Apple on their website. "A battery's chemical age results from a complex combination of several factors, including temperature history and charging pattern."
Therefore, your Apple Watch offers two different options to limit its charging — Optimized Charge Limit and Optimized Battery Charging. While nearly similar in name, both features offer slightly different strategies to prolong the watch's battery life.
Optimized Battery Charging — which was introduced in watchOS 7 — will learn your usage patterns and determine when to either optimize charging or charge to full capacity. Optimized Charge Limit — which is introduced in watchOS 10 — will freeze charging at 80% to help extend the battery's lifespan.
Since the Apple Watch doesn't receive major updates every year, you may not upgrade it as frequently as you would with your iPhone. This means you will want to prolong the battery's lifespan as long as you can.
However, while the battery life on the Apple Watch can last nearly all day — though it does decline over time — you may still want it to charge to 100%. While the percentage the battery is capped at will be enough to track your sleep, it may not be ideal before tackling a full day away from the charger.
If you prefer to fully charge your Apple Watch when you put it on the charger, then you may want to disable optimized charging altogether.
How to charge your Apple Watch to full capacity
Telling your Apple Watch to fully charge can be done right from the Home Screen without digging into Settings. Here is how to do so.
Put your Apple Watch on the charger
Make sure the symbol for Optimized Charge Limit appears, which will also be accompanied by a message stating the feature has been enabled
Tap on the battery widget in the upper left corner while the watch is charging
Select the "Charge to Full Now" option
Once you select it, your watch won't stop charging once it reaches 80%. However, this will not be a saved change, and you will have to repeat the steps when charging your Apple Watch in the future.
How to turn off Optimized Charge Limit
While optimizing charging is a great way to prolong the battery's lifespan for your Apple Watch, it can become an inconvenience when you want your watch to be fully charged before going along with your day. Depending on your Apple Watch series, here is how to turn off optimized charging.
Launch the Settings app on your Apple Watch
Scroll down until you see the Battery tab and tap on it
Once in the tab, tap on Battery Health
Scroll down and find Optimized Battery Charging
Toggle off that option to disable optimized charging
This will turn off Optimized Battery Charging and Optimized Charge Limit for Apple Watch Series 8 and earlier and SE models.
For Apple Watch Ultra and Series 9, you can independently turn off each setting. This can be done by toggling off Optimized Charge Limit instead of Optimized Battery Charging and then selecting how long you want to disable it for.
Control the charge
A battery's lifespan is based on its chemical age, which is impacted by charging patterns, so prolonging the lifespan of the one in your watch is essential if you don't upgrade it regularly. However, if you do, or want to have it fully charged every time you put it on the charger, then disabling Optimized Charge Limit may be the best option for you.