iMac 5K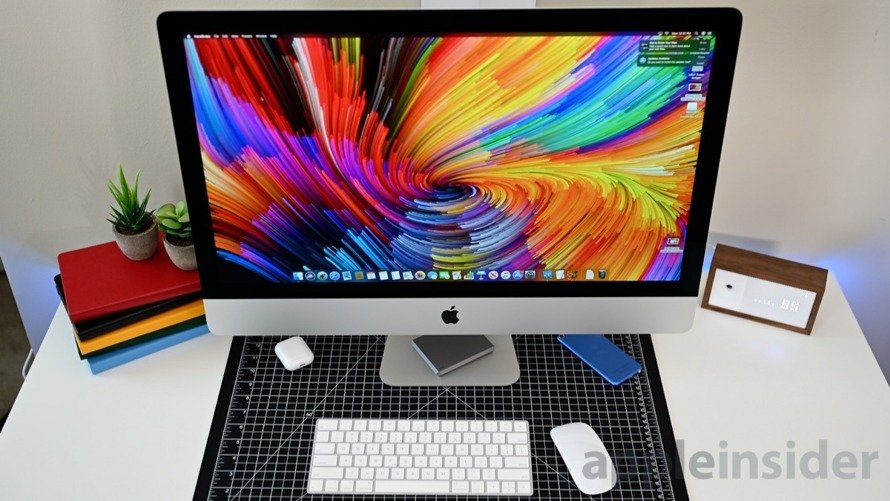 The iMac 5K was announced as a major revision to the iMac line in 2014. The iMac has always been an important product for Apple, and continues to be for consumers with its "all in one" unibody design and prosumer power. The base configuration of the 27-inch iMac has been the most popular desktop option for content creators since its release.
● 27-inch 5K Retina display
● 500 nits and P3 color gamut
● Configurable to 8 cores and 2TB SSD
● Radeon Pro 500X graphics
● Two Thunderbolt ports
● Able to drive one 5K or two 4K external displays
---
For years, until the recent advent of iMac Pro and Mac Pro, the iMac was seen as the professional's desktop. It's large 5K display and powerful graphics options made it powerful enough for most development and production. Appleinsider considers the iMac 5K the perfect balance of budget and performance.
iMac 5K Features
Design
Even though the 27-inch iMac has gone through a few updates, nothing about the external design has changed since its 2014 release. The frame features a 5mm tapered casing with a large hump on the back to house the internal components, and a large chin under the screen.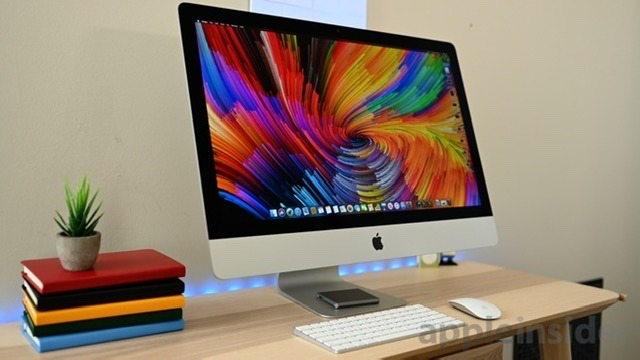 Despite ever more powerful graphics and chipsets, and a large pixel dense screen, cooling hasn't changed for the large machine either; slotted exhaust holes run across the bottom of the screen to allow a fan to push out hot air. All ports and the power cable connect in the back, and the stand has a hole to allow for some cable management. This design, however, prevents easy user access to ports and makes temporary connections harder to manage or hide.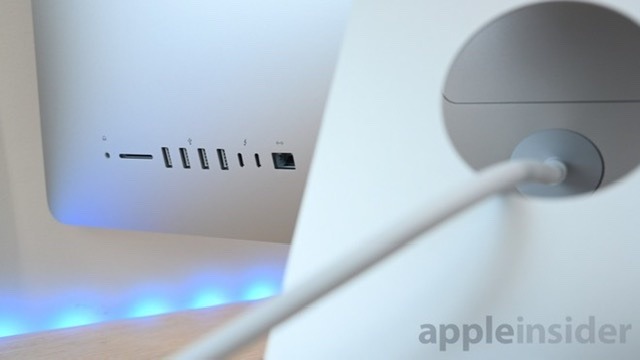 Processors
The iMac 5K comes with 8th generation intel i5 and i7 chipsets by default. You can configure this to include the newest 9th generation "Coffee Lake" Core i9 chipset as well.
The base model comes with a Radeon Pro 500-series GPU, which is a significant improvement over the previous generations base GPU. Upgrade this to the Radeon Pro Vega 48, which is in shouting distance of the iMac Pro's Vega 56, and you will have a powerful graphics machine without jumping up to the much more expensive iMac Pro.
Upgrade path
The iMac 5K has a rear door below the power cable that allows users to add/change the installed RAM. Users can upgrade the RAM up to 32GB and can use cheaper third party solutions.
The iMac 5K has two Thunderbolt 3 ports, which allows for connecting two 4K monitors or a single 5K monitor. These versatile ports also allow for fast data transfer speeds which means external memory will be limited only by its own data transfer speed, as if it were hard wired.
Users who need more graphics power can attach external GPUs via Thunderbolt 3. Companies like Black Magic make powerful eGPUs that can massively boost a Macs performance without needing a whole new machine.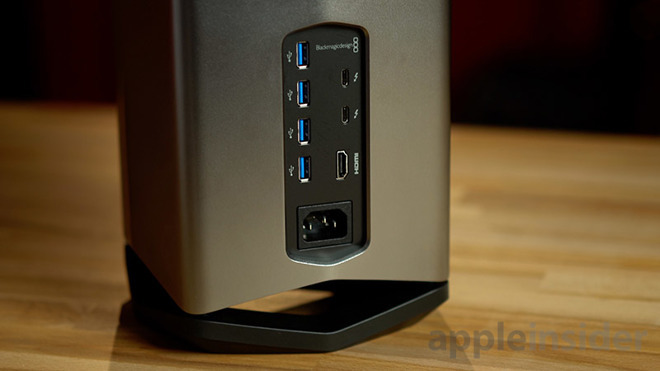 If you are not a fan of the giant aluminum foot that is the iMac stand, you can remove this and add a VESA mount. This allows for better control over the screen position, because the installed stand does not offer much movement at all.
iMac 5K Product History
2019
The iMac saw a new performance update in March 2019, and while in the iMac Pro shadow, still held strong as the budget minded pro desktop. With the option to go all out and add an i9 processor and new Vega graphics, this iMac can fill most consumers needs.
While rumors circulated that 2019 was the year for a new iMac design, we still received the same tried and true 2012 design. Concerns persist that this old design will limit thermal overhead, so a new design may be imminent.
Also additional USB-C ports are missing in this update. The same two Thunderbolt 3 ports are present, but instead of more USB-C ports like in the Mac Mini update, we see the same 4 USB-A ports.
2017
The next major update to the iMac came in 2017. This introduced massively improved Radeon graphics options and the new Thunderbolt 3 spec ports. Replacing the two Thunderbolt 2 ports, the new Thunderbolt 3 ports offered much greater capabilities, like connecting two 4K monitors or a single 5K external monitor.
2015
One year later the iMac 4K was introduced with various upgrades that were passed to the iMac 5K as well, like new chipsets, SSD options, and the P3 color gamut. Not a huge update, but the wider colors made any who already owned the 2014 iMac instantly envious. Also of note is the launch of Apple's new peripherals, all new rechargeable Magic Mouse, keyboard, and trackpad, which were included in the box.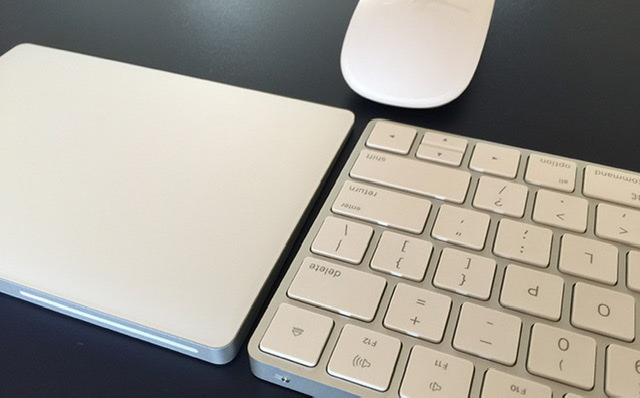 2014
The 2014 product keynote was held in October with viewers hoping for some upgrades to the ill fated 2012 Mac Pro. Instead we got the iMac 5K, a powerful machine with a new display. Touted as having the highest resolution of any display, at the time, Apple was quick to brag about the new timing controller and display panel they had to build from scratch to make such a display work.
Offering intel Haswell CPUs, the machine was able to perform tasks without issue, even at the entry level. The base level 8GB of RAM, however, struggled with most tasks, and required users to upgrade or add RAM after the fact.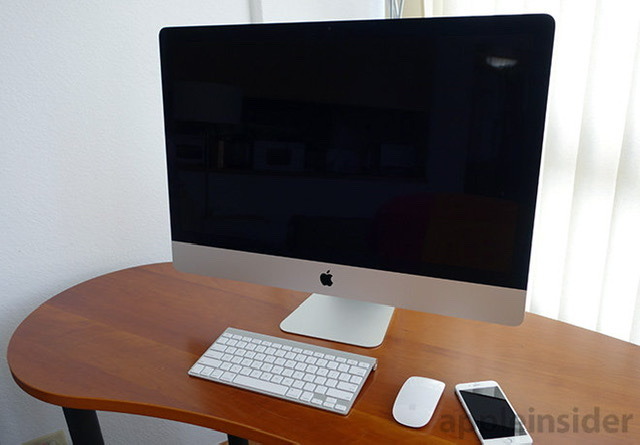 Appleinsider reviewed this iMac 5K and gave it a 5 out of 5.
Options and Pricing
The iMac comes with a base configuration of 3GHz 6-core i5, 8GB DDR4 RAM, 1TB Fusion Drive, and Radeon Pro 570X graphics for $1799. It can be configured with faster intel processors up to the 9th generation i7, an SSD up to 2TB, more RAM up to 64GB, and improved graphics with a Radeon Pro Vega 48.
Maxing out the iMac 5K would cost you a hefty $4849, which is still shy of the $5000 behemoth iMac Pro. Be sure to check out the Appleinsider price guide.