Apple bought back a record $23.5B of AAPL shares in Q1 as Wall Street peddled "full panic mode"

Apple silently bought up a massive $23.5 billion of its own shares off the open market in the March quarter, taking advantage of the "full panic mode" agitated by analysts and financial news sites who bizarrely wondered aloud for weeks when exactly Apple might "kill" the most advanced, commercially successful smartphone it has produced yet.
Apple's biggest acquisition yet
Apple began buying back shares in 2012, paying market prices for its stock and then destroying those shares. That process makes the remaining shares in the company more valuable, effectively returning the value paid to shareholders. This benefits outside investors in the company, as well as its employees who hold shares. It also enables Apple to recruit talent because it can offer valuable stock options. Buying back shares is effectively an investment in the company itself.
Since 2012, Apple has spent a total of $199.6 billion in share buybacks. Over the past two and a half years, it has paid between $6 and $11 billion per quarter on both open market and Accelerated Share Repurchase programs to buy its back stock. In the most recent quarter, however, Apple spent an astounding $23.5 billion on stock repurchase, more than twice its recent pace. Apple spent an astounding $23.5 billion on stock repurchase, more than twice its recent pace
Apple's stock repurchase plans have been constrained in part because of U.S. tax laws that levied a substantial penalty tax on the repatriation of money earned overseas. Because it was not required to return these funds, Apple left its foreign earnings invested outside the U.S. and began borrowing money at very low interest rates to fund its buybacks.
Now that this tax rule has been changed (something that both U.S. presidential candidates promised to do during the 2016 election), Apple can use its foreign earnings to invest domestically while paying a reasonable tax rate (it plans to pay $38 billion in repatriation taxes), reducing its cash pile and putting its money to work.
Apple's $23.5 billion stock repurchase— in a single quarter— is nearly 8 times the size of its largest-ever acquisition (Beats) and more than twice the size of Google's acquisition of Motorola Mobility. It's close to the IPO valuation of Spotify or Microsoft's massive acquisition of LinkedIn— albeit was quietly performed without any lengthy regulatory approvals or the layoffs of redundant talent. And unlike Beats, Motorola, Spotify or LinkedIn, Apple's acquisition target is actually profitable.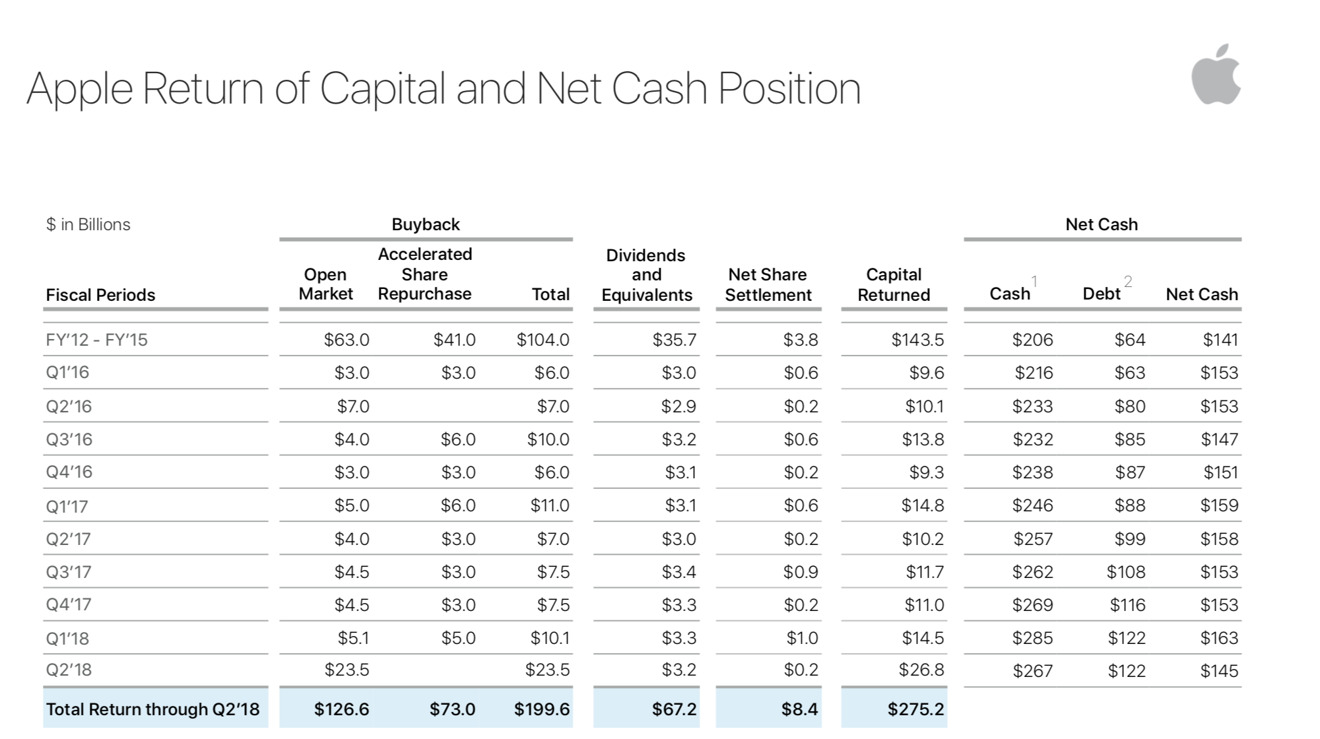 This all happened before
While unprecedented in sheer scale, Apple has previously dropped massive coin on quarterly buybacks after analysts dragged the company's stock down with irrational fear mongering, often rooted in panics built on channel check mumbo-jumbo.
Back in 2015, Apple spent an opportunistic $14 billion on a share grab it initiated after its stock plunged more than 8 percent in January following the report of its highest ever quarterly revenues and operating profits— results that the tech media depicted as "disappointing."
The same thing happened again that summer after Apple announced record earnings in June but market players raised the fearsome prospect of weak sales in China. Apple's shares tanked, enabling the company to opportunistically snatch up another $14 billion of its shares at what was then the lowest point of the year.
Since the start of Fiscal 2016, Apple has sped up its buyback rate, spending nearly as much ($96 billion) in 2.5 years as it spent across its initial four FY ($104 billion) of stock buybacks. The company has now allocated another $100 billion in stock buybacks, on top of about $10 billion in remaining funds that have already been set aside for stock repurchase.
Betting against AAPL
Even as this pattern of fear and loading continued to repeat, pundits took potshots at the company's buyback strategy itself. In early 2016, Fortune columnist Shawn Tully declared the "wisdom" of Apple's buybacks as "looking pretty misguided" under the title "Apple Has Wasted Billions on Buybacks."
Tully was also excited to report that Google's umbrella company Alphabet "overtook Apple as the world's most valuable company," although that lasted only briefly. Apple's market cap is currently $895.9 billion while Alphabet is at $711.9 billion, a difference of $184 billion.
However, Apple's Price/Earnings is just 18.2 (slightly lower than last summer!), compared to Google's P/E of 56.92 (up dramatically from 31.5 over the same period). If investors understood the same potential in Apple as they see in Google, the market cap of the iPhone maker would be $2.8 trillion, rather than $896.9 billion.
For comparison, Amazon's P/E ratio is over 255, and even beleaguered General Electric has earnings that are valued higher than Apple's at 20.97.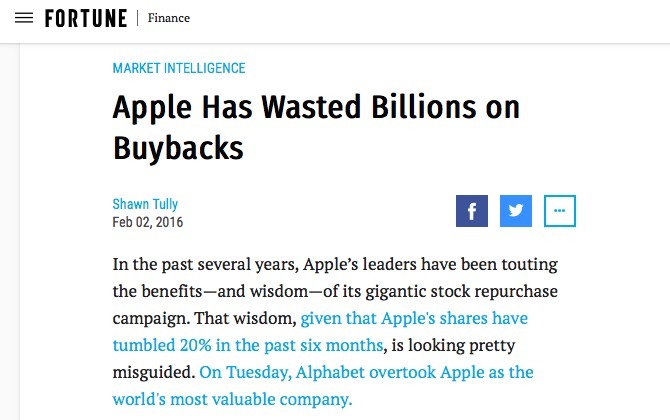 As Apple's share appreciation has increased its pace against Google's, the "wisdom" of its buyback program has also become evident in what appears to be the most successful buyback program ever initiated.
Prior to its 2014 stock split, Apple spent about $50 billion buying back shares at prices ranging from around $50 to $90. Since the stock split, Apple has repurchased shares at prices from $100 to $130 per share, at times significantly higher than the then current stock price— indicating that Apple expected its stock to recover and appreciate to much higher levels.
Apple's shares have indeed since spiraled upward, last closing at $176.57. That means the first $151 billion in buybacks erased about 1.57 billion shares, which at today's valuation would amount to more than $277 billion, about $126 billion more than it spent— more than paying for all the dividends Apple has distributed since 2012 ($67 billion) and the buybacks it has spent since last summer (more than another $40 billion). That fact that Apple is still buying back shares— at a pace even faster than before— indicates that it still thinks it is dramatically undervalued by investors
That fact that Apple is still buying back shares— at a pace even faster than before— indicates that it still thinks it is dramatically undervalued by investors. Incidentally, the shares Apple is buying back are open market purchases, meaning they are coming from the weak hands of shareholders willing to sell at current low P/E valuations.
Apple's buybacks are not only reducing its outstanding share count but are also erasing the doubters among its shareholders, effectively reducing the volatility in its share price.
Despite massive buybacks, Apple still has a huge pile of cash for global investment
Due to tax laws, Apple has been using much of its domestic U.S. cash flow to finance stock buybacks and dividend payments. To tap into its foreign earnings, it also began issuing bonds at extremely low interest rates around the world. It no longer needs to do this.
The company currently holds $267 billion in cash reserves overseas and $122 billion in total debt. Subtracted from cash holdings, this means Apple has $145 billion in liquid assets apart from the more than $10 billion in free cash flow it generates every quarter.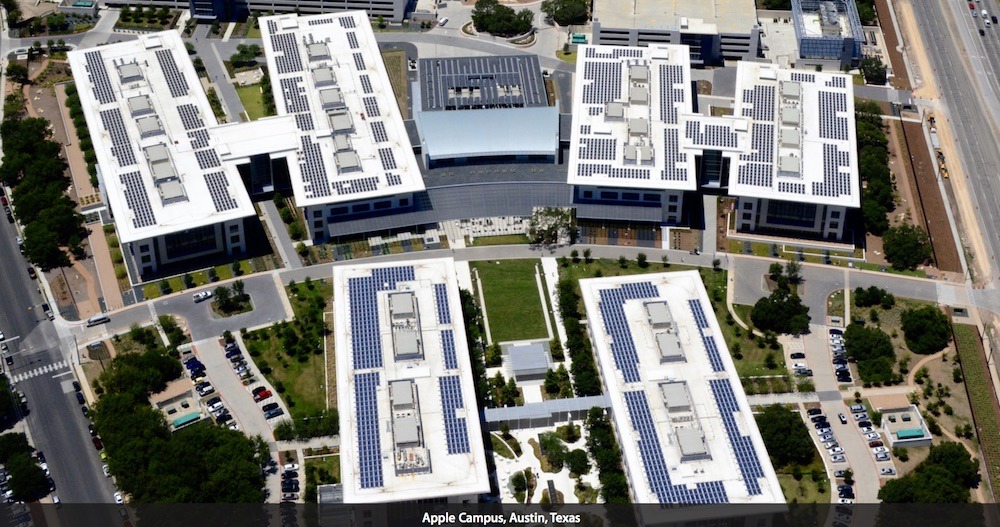 The company's Advanced Manufacturing Fund, which was recently used to pump $390 million into VCSEL supplier Finisar, is growing by $1 billion to a total of $5 billion.
Apple spent almost $3.4 billion on research and development over the course of its second fiscal quarter of 2018, a $602 million year-over-year increase that brings the company's six-month spend on future operations to nearly $6.8 billion.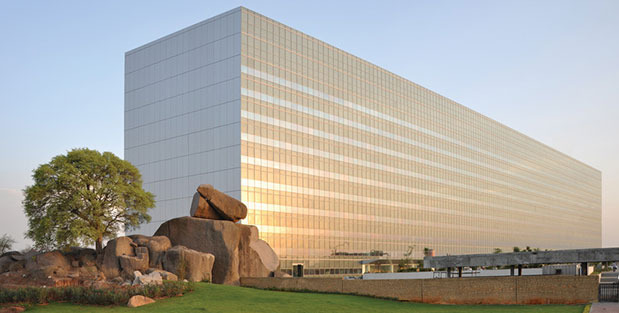 WaveRock facilities in Hyderabad, India | Source: Tishman Speyer
In 2016, Apple announced a $1 billion investment in Chinese ride-hailing company Didi Chuxing, a move that resulted in rival Uber ending its efforts to compete in China.