Apple thrives in India, China for Q2 despite COVID-19 effects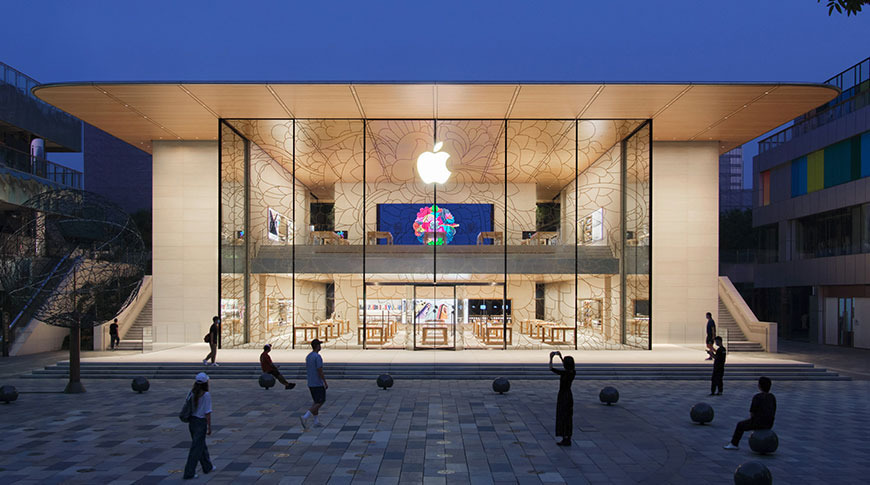 The iPhone was the most popular premium smartphone in India for the second quarter of 2020, according to IDC, but while the smartphone market in China slumped as a whole, Apple continued to see growth in the important market.
The onset of the COVID-19 pandemic early in 2020 caused many problems for Apple across the board, including impacting both its supply chain and retail operations. The social distancing measures and socioeconomic issues generated by national lockdowns also had an effect on consumer demand, but according to research from analysts at IDC, it seems that Apple is still doing well in two important countries.
The smartphone market in India has, for the most part, slumped in terms of year-on-year growth for Q2 2020, with the market enduring an average year-on-year decline in shipments of 50.6%. For the top five vendors, the most popular Xiaomi saw its shipment volumes slashed from 10.4 million units in Q2 2019 to 5.4 million for Q2 2020, with second-place Samsung faring similarly, going from 9.3 million down to 4.8 million.
While Apple wasn't in the top five vendors in India, IDC did call out some of Apple's successes in specific segments.
For the mid-premium segment, for devices between $300 and $500, Apple's iPhone SE reboot was among the top models, though the group as a whole saw a decline of 4.8% overall. In the premium category, classed as smartphones valued at $500 or more, the group declined by 35.4% year-on-year, but Apple still held on to a 48.8% share of the market.
The iPhone 11 and iPhone XR accounted for approximately 28% of premium smartphone shipments in the period.
Apple's fortunes in India follow at a time when it is looking to increase its manufacturing capability in the country, as part of India's $6.6 billion Production-Linked Incentive Scheme. There has also been the suggestion that Apple was moving six iPhone production lines to India, in a bid to diversify its production capabilities from a China-centric system.
China growth while rivals decline
In China, the smartphone market also saw reduced shipments compared to the same period last year, with an overall decline of 10.3%. The decline is narrower than the 20.3% decline seen for the previous quarter, and brings the overall contraction for the first half of 2020 to 14.9%.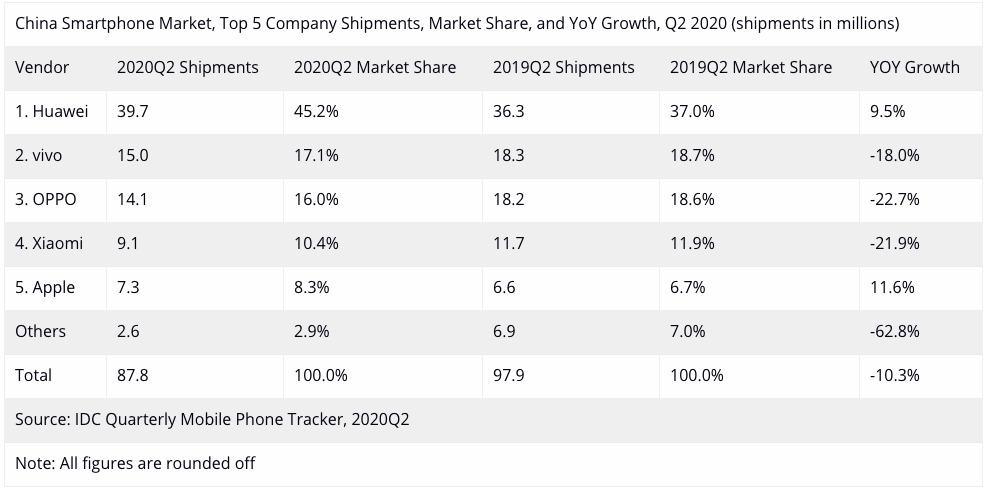 For the top five vendors, Apple resides in fifth place, though it has seen the best improvement in the group. For Q2 2020, Apple enjoyed a year-on-year growth in shipments from 6.6 million units to 7.3 million. Apple did score the highest growth out of the top five, with the popular Huawei seeing 9.5% growth year-on-year while Vivo, Oppo, and Xiaomi shipments shrank by 18%, 22.7%, and 21.9% respectively.
The iPhone SE contributed 10% of overall shipments in the period, and IDC reckons it helped to stimulate off-season shipments. There was also additional support brought on by the "618" shopping festival and better "offline-channel incentives" for iPhone purchases.
In its quarterly results, Apple revealed it hard earned $9.3 billion from the greater China region, up 1.9% year-on-year and with the iPhone 11 being Apple's best-selling phone for the market.
It remains to be seen if this success will continue, as escalating tensions between the United States and China over TikTok and other subjects may cause some backlash from consumers or the Chinese government, which could impact Apple's future sales.