Wedbush raises AAPL price target to industry-high $515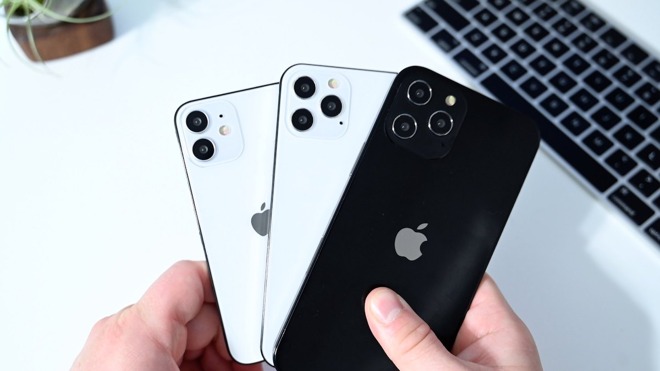 AppleInsider may earn an affiliate commission on purchases made through links on our site.
Wedbush has raised its AAPL price target to $515 ahead of an expected "iPhone 12" super cycle and Apple hitting a $2 trillion market valuation — and it sees a potential path to $600 per share.
In a note to investors seen by AppleInsider, lead analyst Daniel Ives said that supply chain checks are indicating a "discernible uptick" in "iPhone 12" forecasts, boding well for Apple's upgrade cycle in 2020. The analyst now expects Apple to release four 5G-equipped models in the fall, rather than a mix of 4G and 5G devices.
Ahead of the launch of those iPhones, the analyst says Apple has a "one in a decade" opportunity with about 350 million out of 950 million iPhones within an upgrade window. China will remain a critical market, with an estimated 20% of likely upgrades coming from the region, Ives said.
The "iPhone 12" may turn out to be Apple's most important product cycle since Apple's iPhone 6 in 2014, the analyst contends. That's despite the fact that the macroeconomic environment continues to be "soft" amid the ongoing coronavirus pandemic.
"We still believe many on the Street are underestimating the massive pent-up demand around this super cycle for Apple, which remains the opportunity for the bulls as the $2 trillion dollar market cap threshold is now within grasp with a lot more fuel left in Cupertino's tank heading into 2021," Ives wrote.
Ives added that a 4G-only iPhone will debut in early 2021, likely as a successor to the iPhone SE.
For Wedbush's sum-of-the-parts (SOTP) valuation, Ives has assigned a $700 billion to $750 billion valuation range for services. Although the sector will remain a "linchpin" with an expected $60 billion in revenue by 2021, Ives added that wearables has been growing at a "eye popping" rate. Wedbush is now estimating AirPods unit shipments of 90 million in 2020, up from 65 million in 2019.
The analyst has bumped the bank's 12-month AAPL price target to $515, based on a (SOTP) valuation with a 12x multiple to Services on $700 billion and a 6.6x multiple at $1.5 trillion on Apple's hardware ecosystem.
Wedbush's bull case, which sees Apple hitting a $600 price-per-share, is based on the same multiples applied to $900 billion services segment and a $1.8 trillion hardware segment. Both the base and bull case are pre-stock split numbers.
Ives last raised AAPL's price target to $475 in early August after a "Picasso-like" June quarter earnings report.
On Monday morning, AAPL is worth $453.24 a share on the NASDAQ, up 1.97% in intra-day trading versus Friday's close. The company's stock price is up 6.64% since its July 30 earnings report.