'Fortnite: Save the World' updates stop on Mac as U.S. investigates Epic's China connection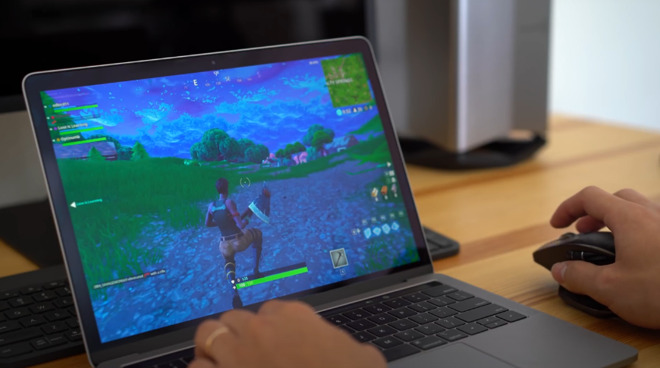 AppleInsider may earn an affiliate commission on purchases made through links on our site.
Epic is saying that Apple has blocked all updates to "Fortnite" spin-off "Fortnite: Save the World" on macOS ending Epic's ability to develop on the platform, while a U.S. government investigation of 40% owner Tencent looms.
There is a lot of turmoil between the U.S. and China, and American citizens are beginning to feel the pressure. Apple's actions against Fortnite have so far been unrelated to the probes into Tencent, though it is an example of what to expect for companies banned by government action.
On Friday Apple blocked all development by Epic Games on macOS, thus ending support for "Fortnite" as a whole on the platform. It is the latest move made by Apple against Epic during the ongoing lawsuit. Apple had already banned the developer account for Epic, but macOS allows apps to be installed outside the store when certified.
Users who purchased in-game content under the "Save the World" content pack between September 17, 2019 and September 17, 2020 will be refunded in full. Epic again says Apple is at fault for the removal, encouraging users to seek other platforms to play.
Fortnite: Battle Royale remains playable for Mac users at this time on the v13.40 build, but is no longer receiving version updates due to Apple's actions. The latest version of Fortnite: Battle Royale is available on PlayStation 4, Xbox One, Nintendo Switch, PC, GeForce Now, and on Android through both the Epic Games App at epicgames.com and the Samsung Galaxy Store.
Epic could choose to distribute its Mac apps without the app certification that Apple blocked after the developer violated the terms of the developer's agreement. However, a user would have to take some extra steps to launch, which is probably what Epic is referring to when it discusses a less than optimal user experience for players.
Epic Games deliberately avoided Apple's in-app-purchase system in an update to the game to prompt a reaction from Apple. After Apple blocked Epic's patches from going through due to the violation, Epic launched a campaign against the company using social media hashtags and a viral video, and even had a lawsuit filed and ready within moments of the block.
The coordinated attack is meant to leverage Apple and force them to allow an official "Epic Games Store" on iOS. Epic has not budged on their position and continues to antagonize Apple publicly while attempting to rally its players against Apple.
Apple and Epic will continue its verbal sparring and legal filings until the restraining order will be held later in September, and the court case beings in earnest in 2021. This is a lose-lose situation for the companies and users both until something can be resolved.
While all eyes are on Apple and Epic, a new threat to users is brewing in Washington. The President has ordered Committee on Foreign Investment in the U.S., or Cfius (SIF-EE-YUS), to investigate the worlds largest gaming company, Tencent, for potential security concerns. Tencent is a major Chinese company and owns portions of many American businesses, including 40% of Epic. Recent concerns over the Chinese government using local company's influence to spy on American citizens has fueled such investigations and may lead to bans of partnerships, products, and software originating from China.
TikTok is one of the first and most prominent platforms affected by the U.S. probes. On Friday it was discovered that the President intended to block the Oracle partnership with TikTok and ban the app entirely. The ban could go into effect as soon as Saturday, though it is unknown if the apps will be removed from devices already running the program.
According to Bloomberg, Tencent has more than 300 investments in its portfolio, and such a probe could have lasting effects on its business and relations with U.S. based companies. Its app WeChat is also the target of the app ban, and would cut off use of the app in the U.S. entirely. WeChat is a major part of Chinese citizens' lives, and such a ban would cut off commerce and communication between users in the U.S. and China.
As we see TikTok and WeChat banned and a new investigation opened on Tencent it opens the door for more drama between American users of Apple products and app developers. Apple will be forced to ban major apps from its App Store if an executive order is given, and the ban and inability to update those apps will take on a familiar look to the Fortnite ordeal.
Apple will likely be seen as the bad guy through each of these ordeals, even as its hand is forced to comply with any ban or limitation provided by the government.
Epic provided a statement to AppleInsider:
"We would like to reiterate that the shutdown of Fortnite: Save The World on Mac is a direct result of Apple's termination of Epic's '84 developer account on August 28th. It is Apple's retaliation against Epic that has prevented compatibility updates to the macOS version of the game.
Tim Sweeney is the controlling shareholder in Epic Games and has been since 1991. Epic's outside investors do not direct or control Epic's decisions and do not have access to Epic's customer data."