Apple's iPadOS 16 brings full external display support, overlapping windows to M1 iPads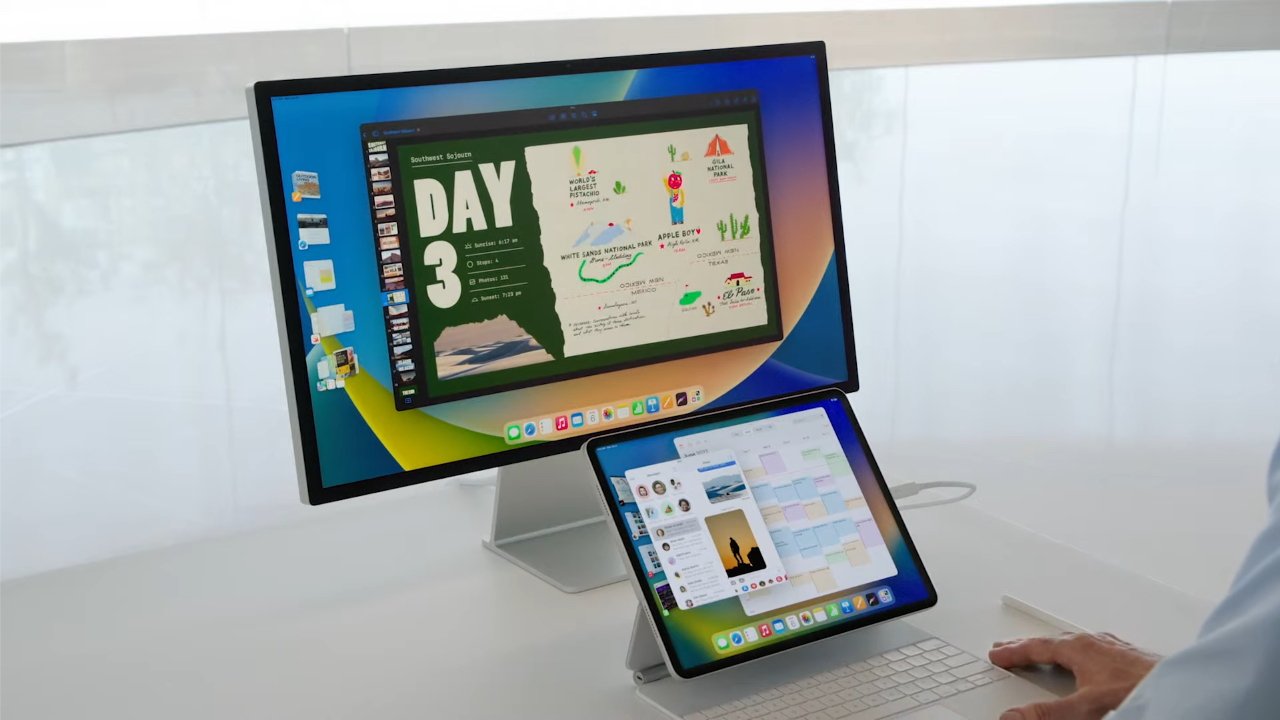 AppleInsider may earn an affiliate commission on purchases made through links on our site.
During WWDC 2022, Apple has revealed iPadOS 16 with an advanced multitasking system for M1 iPads, full external display support, and new collaboration tools.
Apple uses WWDC to announce its latest operating system updates for its flagship products, like iPadOS for iPad. Many of the new features for iOS 16 have been included in iPadOS 16 along with some important changes specific to Apple's tablet lineup.
When multitasking features like Split View were first introduced in 2019 they were hidden away and somewhat difficult to learn. Apple had done little to change how iPad multitasking worked until iPadOS 15, but even those measures were just stop gaps.
Now, Apple has rebuilt iPad multitasking for high-end users around a new windowing system that also brings full external display support.
Stage Manager
Stage manager introduces overlapping windows and advanced multitasking to iPads running an M1 processor. The macOS Ventura feature will also make its debut with iPadOS 16, which shows recent apps in a scrollable side panel for fast task switching.
Connect the iPad to an external display and run up to eight apps at the same time — four on the iPad and four on the external display. This multitasking system reimagines what the iPad is capable of with all-new interactions across apps.
Collaboration and Freeform
One other major addition coming to iPadOS is collaboration within apps using technologies like SharePlay and FaceTime. Users can open documents in apps like Pages and interact with them live with others live from a Group FaceTime call.
Users will also be able to share tab groups in Safari and see who is currently viewing each tab. While in a shared tab group, every user can add tabs and interact with them separately.
A new app called Freeform provides a flexible canvas to brainstorm on together. Work together in a single space similar to writing on a whiteboard. It will launch on iPad later in 2022.
New pro tools
A new Reference Mode for the 12.9-inch iPad Pro with Liquid Retina XDR display will match the color requirements of professional workflows. So, if a user is color grading and compositing video with the iPad Pro as a secondary monitor for the Mac, it will be just as accurate as the Mac display.
M1-powered iPads gain another feature called Display Zoom. It enables users to increase the pixel density of their display so they can view more in their apps. Virtual Memory Swap also gives iPad apps access to up to 16 gigabytes of memory.
Additional features coming from iOS 16
The Weather app is coming to iPad with a big-screen design. Developers also get access to an API called WeatherKit.
Focus modes are improved across the operating system with third-party APIs for choosing what content is displayed in an app. For example, only show certain email accounts in the Mail app depending on the active Focus.
The Messages app has been updated to enable editing an iMessage after it is sent or deleting it from a chat entirely. Also, SharePlay is being integrated with Messages so users can watch content together and chat about it in text form.
Continuity upgrades include a new FaceTime feature that lets users pass a FaceTime call between devices.
Apple has included updates across several of its first-party apps with new developer APIs. One of the biggest updates comes to Apple Maps with APIs for adding detailed Maps and Look Around to third-party apps.
Compatibility
Apple dropped compatibility for the iPad mini 4 and iPad Air 2. Otherwise, all other iPad models compatible with iPadOS 15 work with iPadOS 16.
12.9-inch iPad Pro (5th generation)
12.9-inch iPad Pro (4th generation)
12.9-inch iPad Pro (3rd generation)
11-inch iPad Pro (3rd generation)
11-inch iPad Pro (2nd generation)
11-inch iPad Pro (1st generation)
iPad Air 4
12.9-inch iPad Pro (1st and 2nd generation)
10.5-inch iPad Pro
9.7-inch iPad Pro
iPad Air 3
iPad (9th generation)
iPad (8th generation)
iPad (7th generation)
iPad (6th generation)
iPad (5th generation)
iPad mini 6
iPad mini 5
Some features are limited based on the processor installed.
Stage Manager: Available on iPad Air (5th generation), iPad Pro 12.9-inch (5th generation), and iPad Pro 11-inch (3rd generation)
Reference Mode: Available on iPad Pro 12.9-inch with Liquid Retina XDR display and Mac computers with Apple silicon.
Display scaling mode: Available on iPad Air (5th generation), iPad Pro 12.9-inch (5th generation), and iPad Pro 11-inch (3rd generation)