Apple Fitness Plus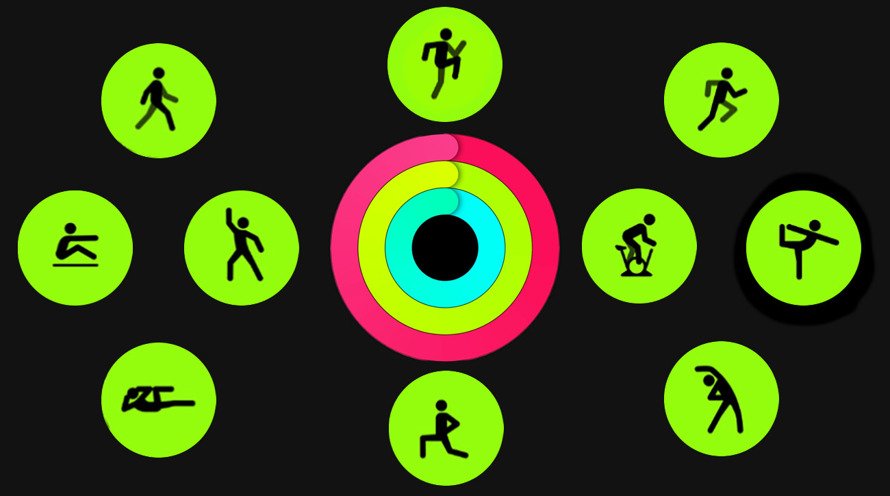 Apple Fitness+ provides Apple Watch owners with a streaming exercise service. Subscribers move along with professional trainers, viewing synced workout data from their Apple Watch. The service launched on December 14 and can be purchased separately or via an Apple One subscription.
● Exercise service for Apple Watch owners
● Requires Apple Watch Series 3 or newer
● Stream various workouts on iPhone, iPad, or Apple TV
● Synced Apple Watch fitness data shows on screen
● Launched December 14, 2020 for $9.99/month
---
Apple Fitness+ is a new subscription service for Apple Watch owners. Subscribers stream workout videos while viewing synced Apple Watch workout data. On December 14, the service launched at $9.99 per month, $79.99 per year, or as part of the $29.95-per-month Apple One Premier bundle.
Apple Fitness+ Features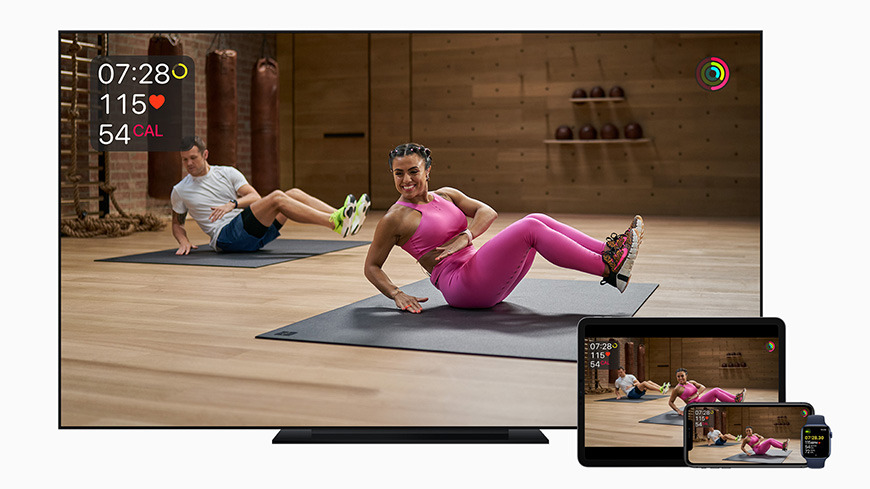 Apple's new workout streaming service stands as a rival to alternatives like Peloton and NordicTrack. Rather than requiring expensive equipment dedicated to exercise, it uses Apple devices you already own to move in sync with on-screen instructors while your workout displays alongside them.
Workouts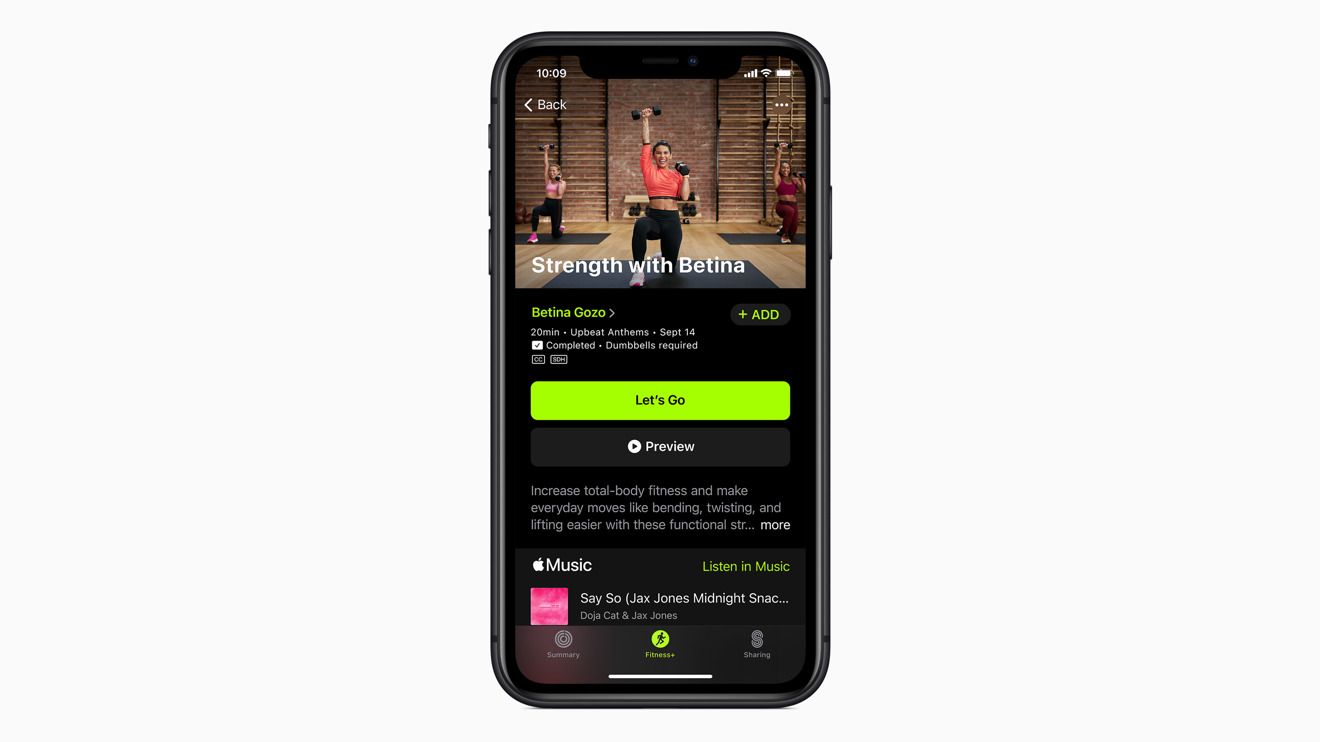 As going to the gym can be either impossible or risky during the ongoing pandemic, home workouts have become part of the "new normal." Apple Fitness+ is a service that can make home exercise easier and more rewarding for Apple Watch owners.
The interactive video-streaming portion of Apple Fitness+ resides in a new Fitness app that will be available on iPhone, iPad, and Apple TV. Users select an exercise routine, and a pre-recorded workout will begin on the screen. After choosing the activity, their Apple Watch will automatically start tracking their movement.
At launch, the service supports these workouts:
Cycling
Treadmill
Rowing
HIIT (high-intensity interval training)
Strength
Yoga
Dance
Core
Mindful Cooldown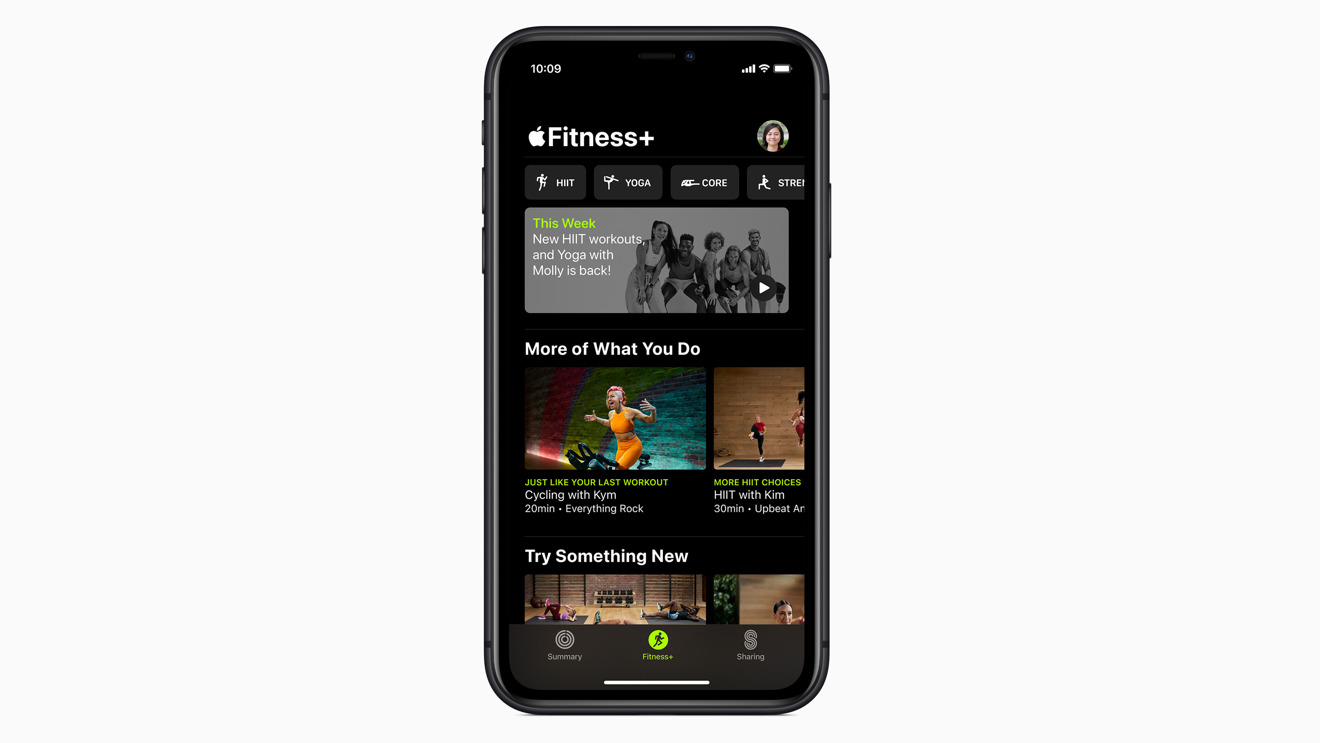 You can choose workouts with various difficulties. In addition to moderate and advanced activities, Apple includes an Absolute Beginner program that coaches users on movement and exercise basics.
Apple will launched the service with 10 workouts and updates the available videos weekly to maintain a fresh content stream.
A new workout type built for the Apple Watch with an audio component called "Time to Walk" launched in January 2021. You'll be promoted to do a walking workout and start listening to an inspiring story from a celebrity like Shawn Mendes or Dolly Parton.
On-screen Metrics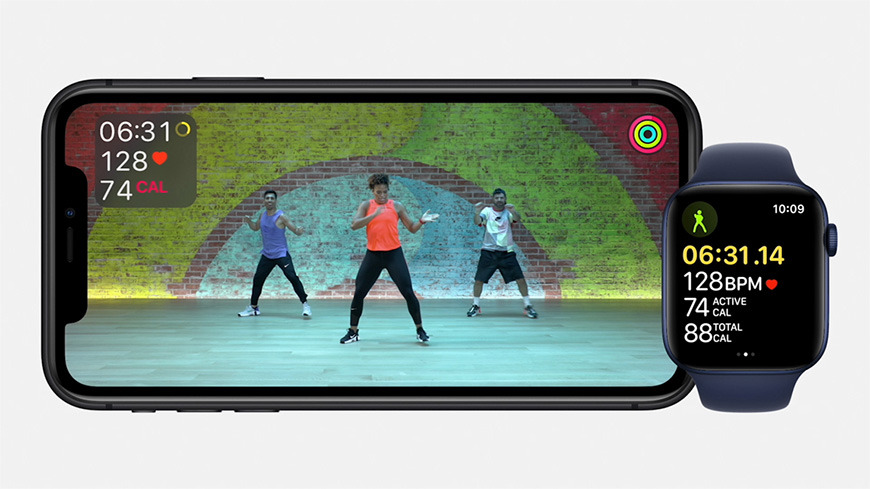 Apple Fitness+ augments workout videos with synced Apple Watch data. On-screen metrics pop up at select times in the video. For example, when a trainer tells you to check your heart rate, your pulse will appear in an on-screen visual. Or if the trainer begins a countdown timer for a portion of the workout, that graphic will pop up.
An optional Burn Bar setting shows how your current effort measures up compared to other Apple Fitness+ users. The Burn Bar uses anonymous data from others' previous workouts rather than live competition. You can toggle the Burn Bar off if you'd prefer to focus more on your individual goals than the competition.
Apple Watch activity rings appear on-screen as well. If you close a ring during the workout, you'll see an animation celebrating your achievement.
Recommendations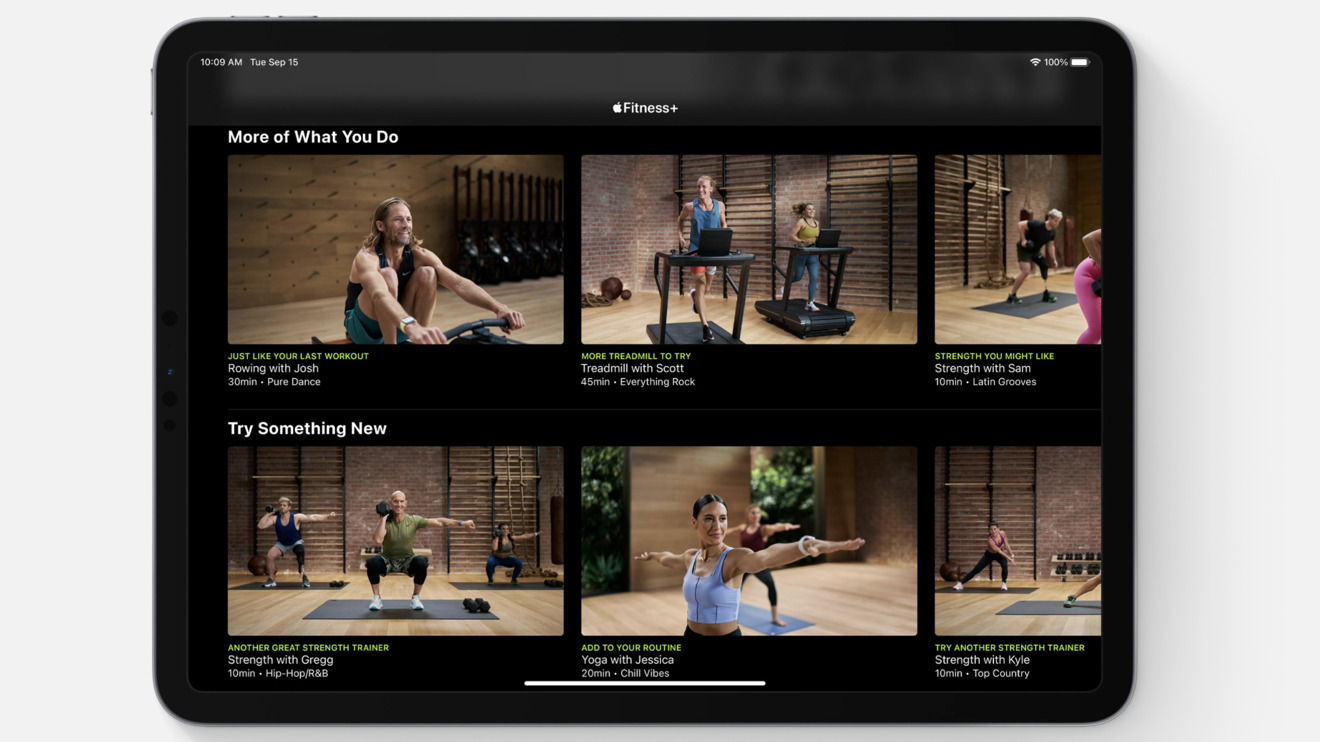 The app will recommend new routines based on your previous workouts. The recommendation engine suggests new videos that match your most frequent selections or offer something fresh to provide balance.
The app includes a filtering tool that lets you prioritize aspects of a workout like the type of activity, trainer, length, and music.
Equipment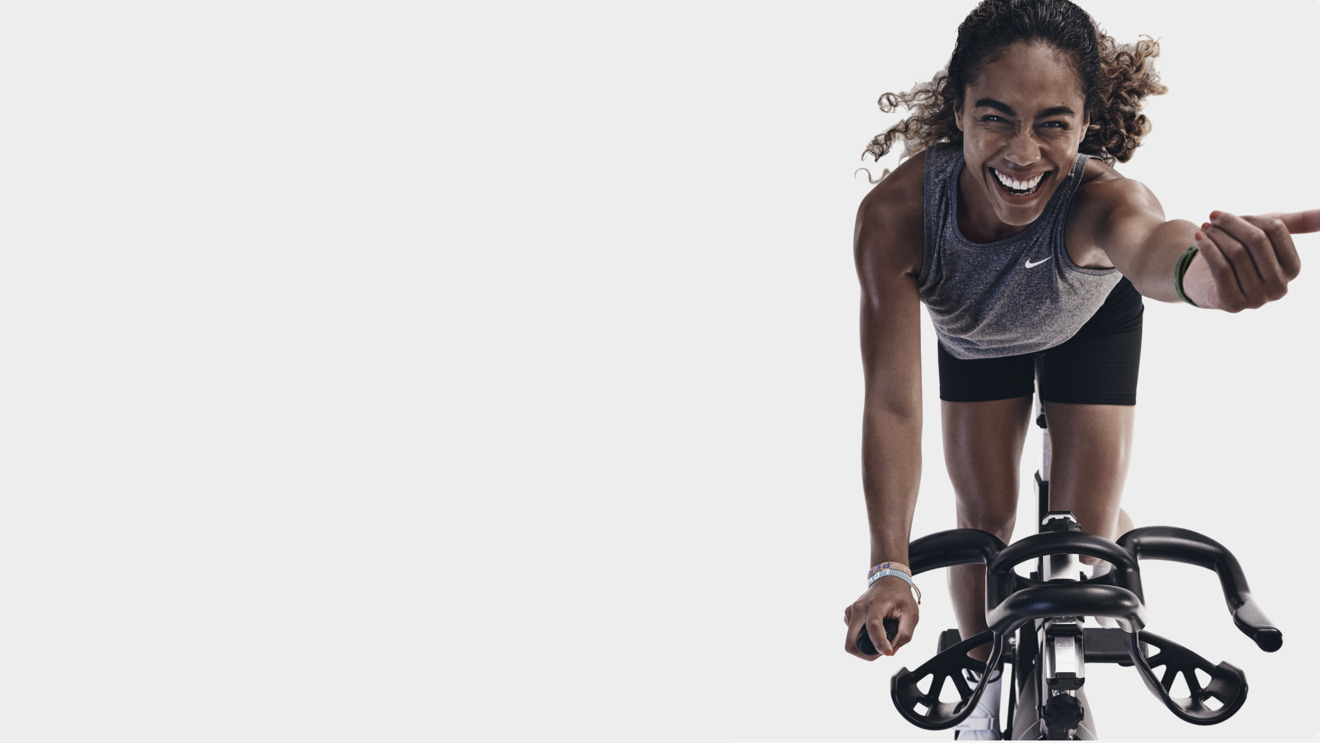 One significant difference between Apple Fitness+ and connected-fitness competitors like Peloton and NordicTrack is that you can use any equipment brand.
The app provides various workouts based on required equipment, including many routines that don't need any workout gear. Equipment workouts include videos tailored for dumbbells, yoga mat, stationary bike, rowing machine, or treadmill.
If you own a treadmill compatible with Apple's GymKit, the workout will prompt you to tap to connect your Apple Watch to start syncing data.
Trainers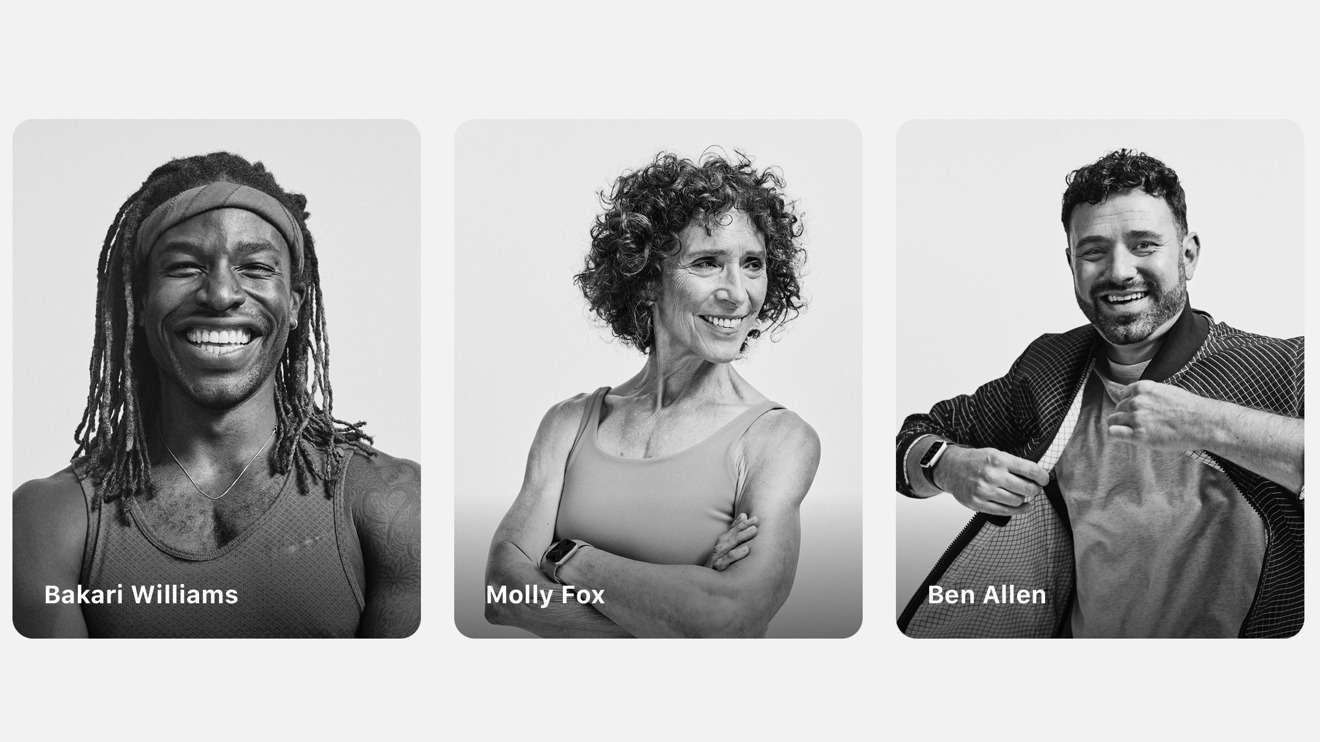 Apple has partnered with "a team of celebrated, charismatic, passionate trainers" for Apple Fitness+ workouts. The company describes them as specialists in their fields with diverse backgrounds.
The professional trainers design and create their content, and they will make guest appearances in each other's videos to help familiarize customers with the entire team. Trainer backgrounds include pro athletes, yogis, personal trainers, martial artists, health coaches, Ironman champions, marathoners, and fitness-club founders.
In late November, several instructors posted previews on Instagram, showing them seemingly in the midst of recording of a video session. The posts also include references to the @AppleFitnessPlus Instagram account, as well as the #CloseYourRings hashtag, well-known to be in reference to the Apple Watch.
Music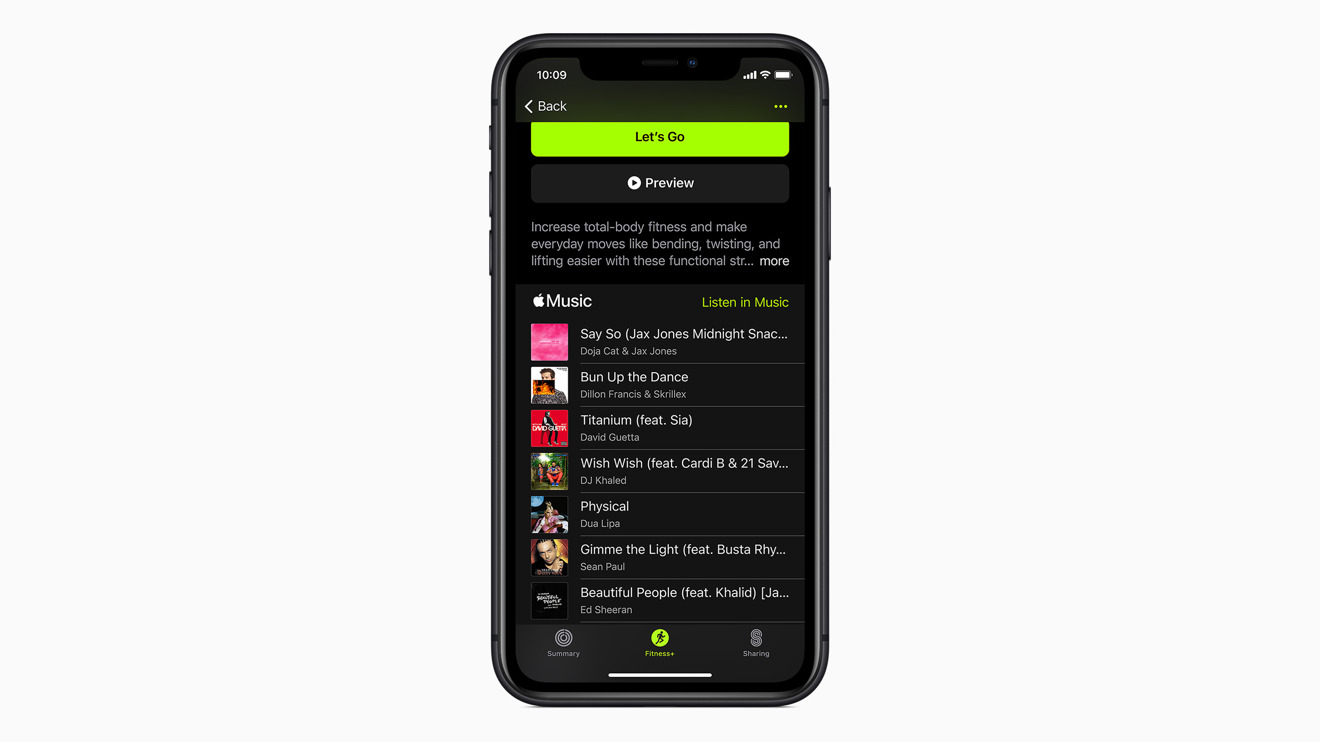 Each workout includes music "thoughtfully curated by the trainers." When choosing an activity, you can use music as a filter to help you find the right fit.
Apple Music subscribers can easily save playlists of music they heard during workouts. However, Apple Music isn't required to use Apple Fitness+ or hear music while streaming the workout.
Family Sharing
Apple Fitness+ includes Activity Sharing, so you can choose to let friends and family see your completed workouts. It also gives you the option to share your results on social media.
If your Apple ID is part of a Family Sharing household, you can share one subscription with five other people in your family. Any family member using Apple Fitness+ will still need an Apple Watch Series 3 or later.
Privacy
Apple says it designed its workout service with privacy in mind. The company uses "on-device intelligence" to power its workout recommendations, so it can suggest routines without any health data escaping your device.
The service saves all your workout data to the Health app on iPhone. Apple says it won't store calories burned, workouts, or trainers alongside your Apple ID.
Pricing, Requirements, and Availability
Subscription Cost
Apple Fitness+ costs $9.99 per month or $79.99 per year. Every Apple user gets a one-month free trial, though you'll still need a compatible Apple Watch.
Bundles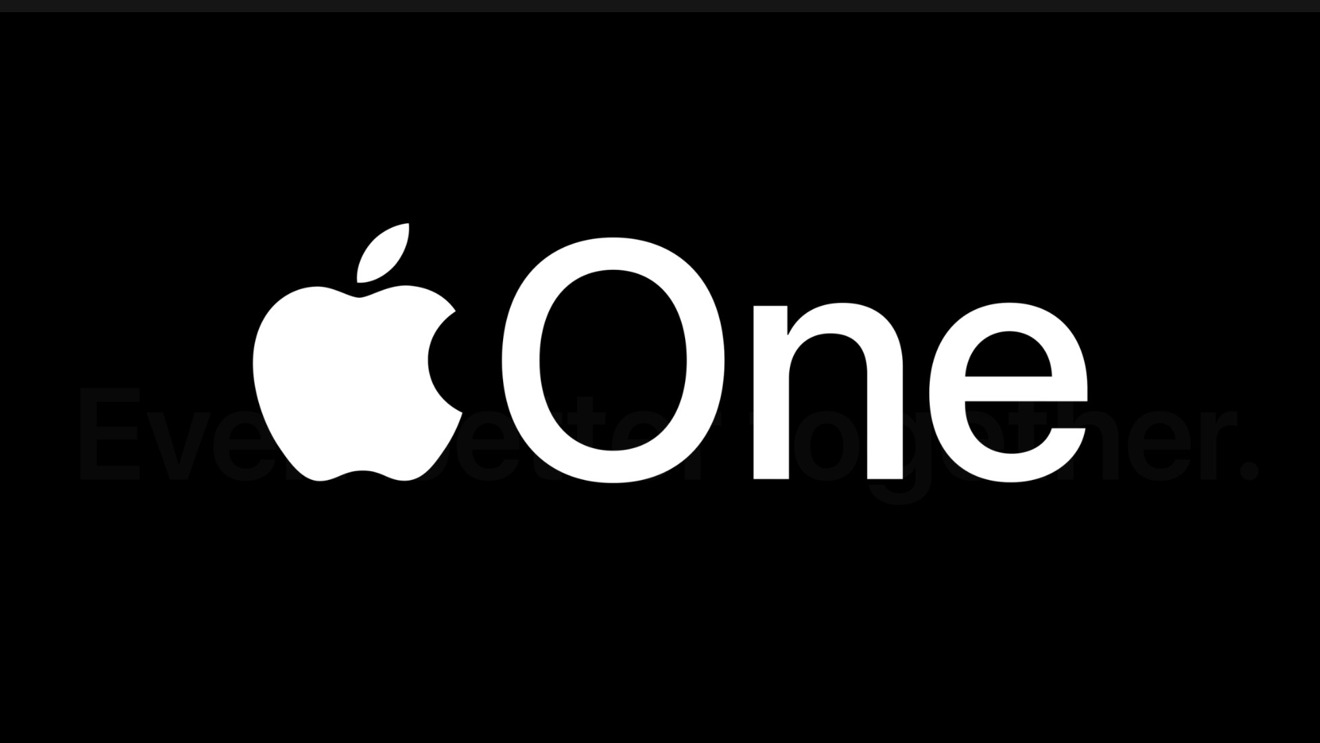 Users can also get access to the service as part of the $29.95/mo Apple One Premier plan. This bundle also includes:
Apple Music
2TB iCloud storage
Users can share bundled services with up to six family members.
Device Requirements
The service requires an Apple Watch Series 3 or later. You'll need to pair it with an iPhone 6s or later or iPhone SE.
If you're streaming workout videos on an iPad, you'll need one of the following:
If you're streaming on an Apple TV, the service requires an Apple TV 4K or Apple TV HD.