Apple event invite inspires wild speculation about 'iPhone 7' iris scanning, bokeh, more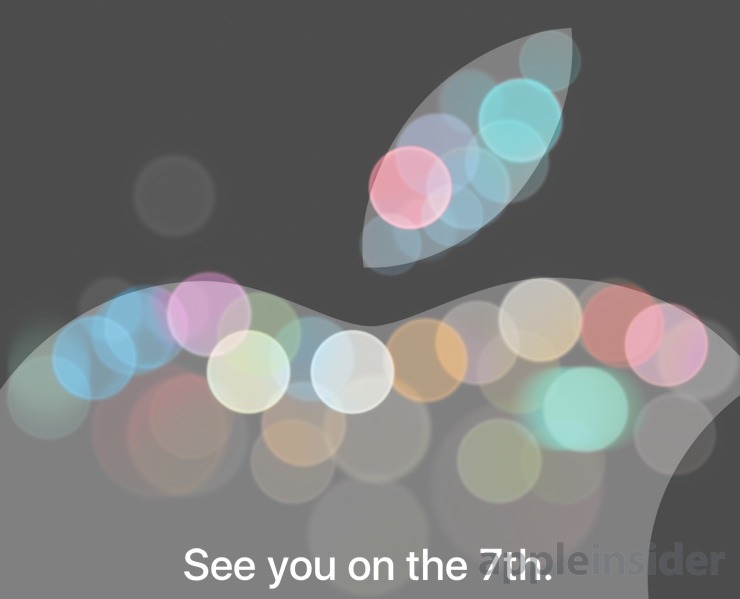 As has become customary with Apple event invitations, fans are dissecting the minimalistic graphic associated with its Sept. 7 keynote invitation, in a futile attempt to glean clues. In reality, all of the guesses are probably just some form of wish fulfillment.
Initial over-analysis of the invitation spotted heavy bokeh, or selective out-of-focus areas, on the individual elements in the picture that make up the upper third of the Apple logo from the leaf down. Some believe the graphic could hint at features made possible by the dual-lens camera suspected to be in the "iPhone 7 Plus."
The dual lenses said to be on the 5.5-inch "iPhone 7" model could perform computational calculation of depth with one shot, allowing for selective application of a bokeh digital filter over images.
Weight is also being given to the Sept. 7 date, suggesting that the choice of scheduling reinforces that new releases will in fact be called the "iPhone 7." Some rumors referred to the new device as the "iPhone 6SE" as recently as the middle of August, because of lack of design changes.
The choice of the word word "see" is being thought of by some as a possible reference to iris scanning for authentication. That's a feature rumored to be included in a future iPhone, but not necessarily this year's "iPhone 7."
Finally, AppleInsider forum user "TurboPGT" humorously suggested that the graphic could represent the three products that Apple is introducing, with the large group of bubbles the iPhone, and the smaller group being the Apple Watch. The "small, lone greyed-out bubble" in the back, they joked, could represent the Mac — "all but forgotten."
However, new Mac hardware is not expected to launch at this month's event, instead waiting until later this fall.
AppleInsider will be attending the release event, scheduled for 10 a.m. Pacific, 1 p.m. Eastern on Sept. 7 at the Bill Graham Civic Auditorium in San Francisco.
In April, Apple's WWDC 2016 announcement had 12 lines of text, all seemingly relating to something. In hindsight, the individual lines were little more than marketing blurbs, not even pointing to specific features or apps available on iOS or macOS.
Also expected is a second-generation Apple Watch with integrated GPS, allowing for pace and distance tracking during exercise without the need for a connected iPhone.