What to expect from Apple's Q1 2020 earnings report on January 28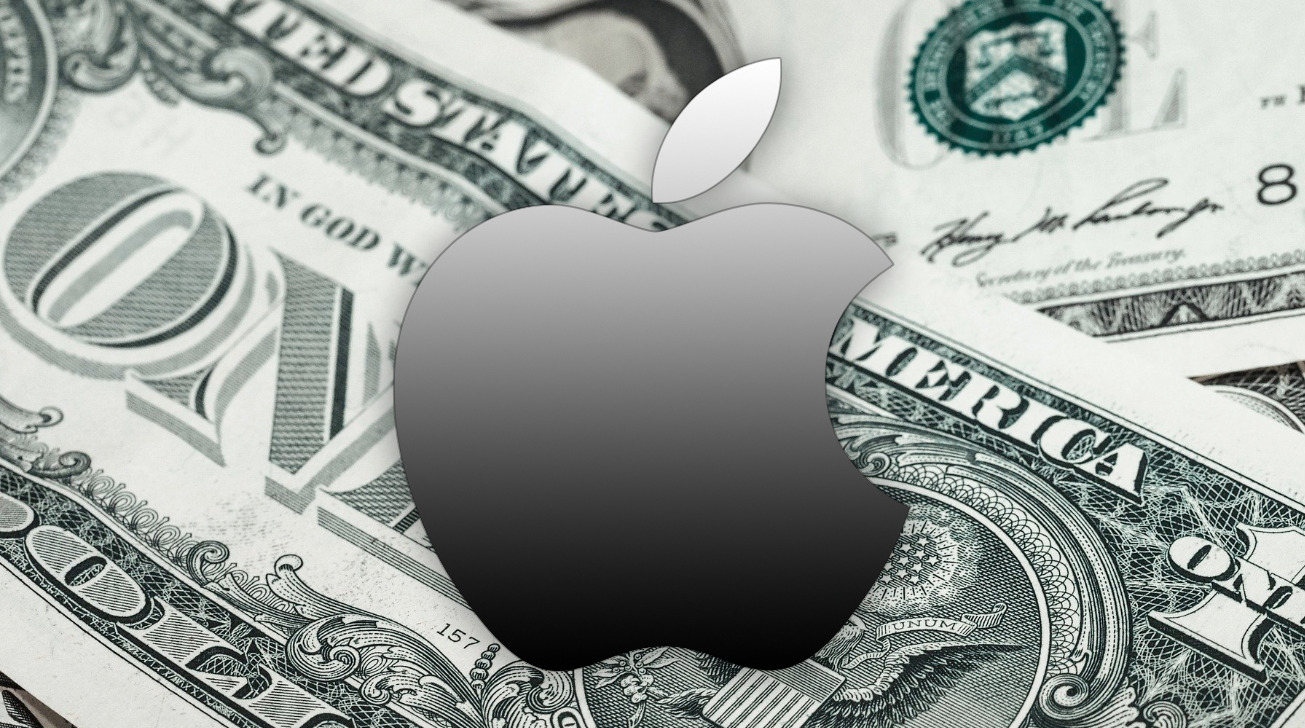 Apple's holiday quarter financial results will be revealed on Tuesday, with iPhone 11 sales likely to be the biggest topic of interest. Here are what some of the analysts monitoring the iPhone maker expect will be revealed during the filing and following conference call.
During the fourth-quarter results, Apple forecast revenue of between $85.5 billion and $89.5 billion for the first quarter, as well as a gross margin of between 37.5% and 38.5%. Operating expenses for the period are anticipated to be in the range of $9.6 billion to $9.8 billion, while the tax rate was tipped to be approximately 16.5%.
If achieved, this would be a higher revenue than one year prior, which reached $84.3 billion and itself was a decline of 5% year-on-year. During those results, Apple reported iPhone revenue was down 15% year-on-year at $52 billion, with Service revenue up 19% year-on-year to $10.9 billion, Mac revenue up 9% at $7.4 billion, iPad up 17% to $6.7 billion, and the Wearables, Home and Accessories category rose 33% to $7.3 billion.
The one-year-ago quarter was unusual, as Apple preceded it with a warning it was lowering its forecast from an expected range of $89 billion to $93 billion, down to $84 billion. At the time, the reduction was blamed on weak iPhone demand in China and other unspecified emerging markets.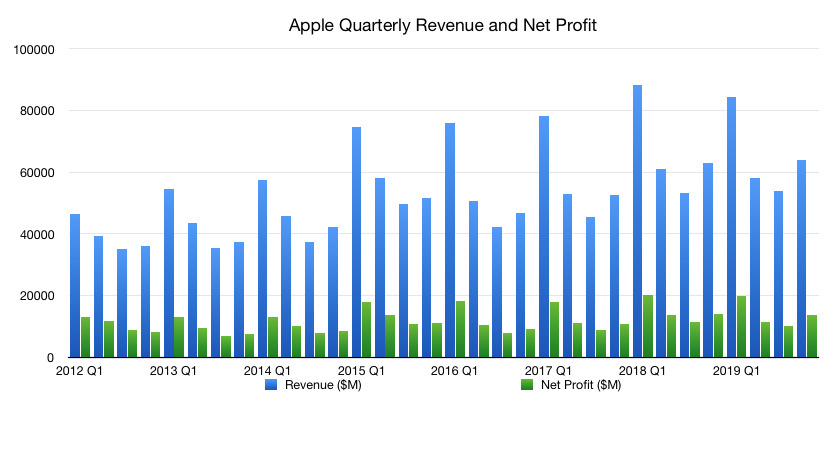 As the AirPods Pro were released in late October, the audio accessories were only available for two months out of the three, though sales are still likely to make an impact to Apple's Wearables, Home, and Accessories category. Other late arrivals include the 16-inch MacBook Pro, the Mac Pro, and the Pro Display XDR.
However, due to Apple's policy of only providing general revenue figures and not unit counts, analysts will have to make estimates with relation to elements such as product mix and average selling prices. Apple may elect to offer more details about these elements, though
AppleInsider will offer full coverage of the earnings call on Tuesday, January 28, starting at 1:30 p.m. Pacific, 4:30 p.m. Eastern.
Thomson Reuters
Rather than using a dedicated in-house analyst team to create a forecast, Thomson Reuters calculates an average based on the estimates and forecasts of multiple analysts from a variety of firms. In theory, the use of a crowd allows for both a range of forecasts to be used, while also ensuring the outlier versions have less of an effect on the overall average.
Typically, the compilation is a decent indicator of Wall Street expectations.
Based on figures from 31 analysts, the average revenue estimate is $88.43 billion, in a range of $86.75 billion to $91.68 billion. The earnings per share, based on numbers from 34 data points, is thought to be at $4.54, with the range of $4.37 at the low-end and $4.83 on the high.
Cowen
Having recently pushed its price target to $350, Cowen has offered a firm belief in the performance of Services, and a warm reception for the iPhone 11 range. It still believes iPhone sales will decline in 2020, albeit at a low single-digit percentage, offset by relatively stable Services growth and gross margins on hardware.
For the quarter, Apple is seen reporting $88.5 billion in revenue, with a $4.52 EPS. In terms of Apple's forecast for the March quarter, it is speculated to be $63.5 billion in revenue, with an EPS of $2.95.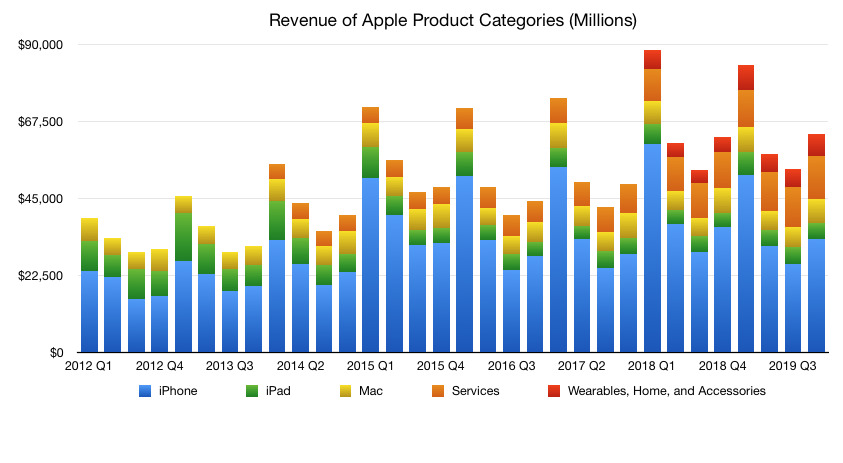 Bank of America
On Thursday, Bank of America analyst Wamsi Mohan offered a forecast putting holiday quarter revenues at $89 billion, close to the top end of Apple's revenue guidance. The gross margin is thought to remain relatively static at 38.1%.
"This move is justified by the unexpected strong sales of the iPhone 11, which proves Apple's brand loyalty and retention rates and shows that the company can count on a steady stream of phone sales despite major changes in design," wrote Mohan. Meanwhile, Services demonstrates the possibility for stronger growth due to the strength of new services like Apple TV . AirPods are also a strong assistive force for Apple's revenue in the quarter.
The March quarter forecast is tipped to be between $62 billion and $65 billion, with a gross margin climbing to between 38% and 39%, based on an "easy compare" to soft sales in the year-ago quarter.
J.P. Morgan
On Monday, J.P. Morgan's Samik Chatterjee wrote of expectations for a strong quarter, buoyed by the Apple Watch and AirPods sales performance. Chatterjee believes Apple will end up at the higher end of its forecast range, at $88.7 billion for the quarter.
Broken down, the iPhone's revenue is tipped to be $49.7 billion, with iPad and Mac at $7.3 billion apiece, Services at $12.9 billion, and Wearables, Home, and Accessories at $11.6 billion. The gross margin is thought to be at 38%, with Services gross margin alone hitting 64.5%.
Loup Ventures
Gene Munster and Will Thompson of Loup Ventures puts Apple at revenue ahead of consensus at $88.3 billion with a GAAP EPS of $4.53, with revenue up 5% overall, iPhone revenue up 1%, Services up 15%, and wearables up close to 50%. For the March quarter outlook, it is thought to be in line with the Street's $62.3 billion estimate.
The iPhone business will have stabilized in the quarter due to a 3.25-year upgrade cadence, in Loup Ventures' view, with an active install base of 1.5 billion or more devices, up 8% year-on-year. Apple is also slowly diversifying away from iPhone, with 58% of its revenue derived from the smartphone, down from 62% one year prior, and 69% two years ago.
Above Avalon
Neil Cybart's prediction for the Q1 results puts Apple at $89.6 billion in revenue, slightly above Apple's guidance range, with an overall gross revenue of 38%, and an EPS of $4.70. iPhone is anticipated to be flat at $51.9 billion, with Services up 20% year-on-year at $13 billion, Wearables up 55% to $11.3 billion, Mac down 5% to $7 billion, and iPad down 7% at $6.2 billion.
Wearables are "positioned to be the top story" for the earnings in Cybart's opinion, with AirPods, Apple Watch, and accessories being the main growth drivers for the period. The Wearables, Home, and Accessories category is also mused to be the top driver for the company's year-on-year revenue growth by a wide margin, growing $4 billion against Services' $2 billion increase "by a wide margin."
For the second-quarter forecast, Cybart proposes Apple will offer guidance in the range of $57.5 billion to $60.5 billion, down $2 billion in expectation of a revenue hit from the coronavirus in China.