» » »
Compared: iPadOS 16 Stage Manager vs. iPadOS 15 Split View multitasking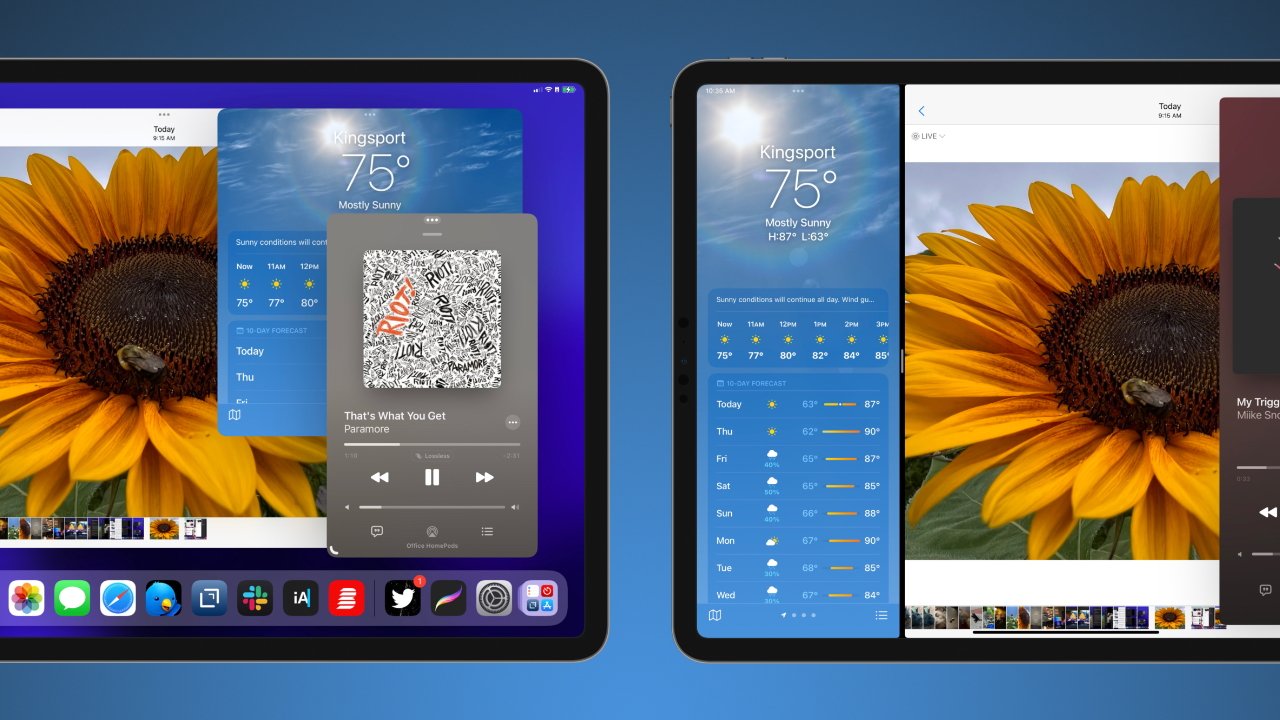 Thanks to iPadOS 16, any iPad with an M1 processor has access to two distinct multitasking systems, but each has its advantages and disadvantages. Here's how they compare.
Multitasking on the iPad has come a long way since the device was first introduced in 2010. It started with no form of multitasking beyond full-screen app switching and has evolved into a device capable of running eight active apps at once.
There are two forms of multitasking available for iPad users starting with iPadOS 16 — Stage Manager and Split View. However, users can only take advantage of the more advanced Stage Manager if they have an iPad with an M1 processor.
That limitation leaves out the majority of current iPad users, so an upgrade will be necessary to take advantage of the feature. However, Stage Manager may not be for everyone and isn't used by default.
The state of iPadOS multitasking
When Split View and Slide Over were first introduced in 2015, it was a novel way to manage multitasking on iPad. Two apps could be placed side-by-side with only two size options for Split View.
Slide Over allows a single app to appear as a small floating window above the interface. While elements of the apps below could be interacted with while Slide Over was active, it wasn't ideal.
This form of multitasking mimics the Spaces feature on macOS, which creates full-screen apps that can be swiped between with a gesture. Apple tweaked the functionality but never changed how it operated at a fundamental level even through today.
Many users clamored for a more robust multitasking system or even a recreation of macOS windowing. What Apple delivered was something in-between called Stage Manager.
Apple first introduced the feature during its presentation of macOS Ventura at WWDC. It is a system for managing windows using stacks of app windows in a small carousel-like view.
The feature was also introduced for iPadOS, but with some limitations. Apps couldn't be placed freely, windows have predefined sizes, and only four apps can run on an iPad at once. Four additional apps can run, but only if an external display is connected.
Stage Manager isn't the de-facto multitasking system on iPadOS nor is it enabled by default on M1 iPads. Instead, it is a separate mode that users can enable at any time via Control Center.
Split View is better for focused tasks
When Apple first announced Split View, it was proud of the fact that two full-screen apps side by side on a 12.9-inch iPad Pro would display the full 9.7-inch versions when in landscape. While Stage Manager allows a single app to go full screen, additional apps cause the windows to shrink and cannot take up the same area as a Split View.
Also, Slide Over offers its own useful multitasking tools not available in Stage Manager on even on macOS. Since Slide Over acts as a secondary multitasking system with its own set of apps, users can summon it while using any other app or Split View.
Once you need more than two or three apps at once, Split View's limitations start to show. Sure, an app can be pulled in from Slide Over, but it isn't true multitasking at that level.
Stage Manager allows for more complex workflows
Increasing the number of apps on screen from three to four doesn't sound impressive, but Stage Manager is much more than the apps running in the foreground. On our 12.9-inch iPad Pro, we can see four app stacks and our main active apps, that's up to 16 total apps in view on just the iPad.
When plugged into the 27-inch Studio Display, the iPad can have eight active apps running with four on each display. However, the available app stacks on the side go from four to nine, which means that up to 44 apps can be visible and ready to access at any moment.
That number is a wild cry from the three visible apps in Split View, or even the 18 possible apps available in the app switcher without scrolling. Most users would struggle to create eleven distinct app stacks that would function in a useful manner, but the fact that it is possible is still great for iPad users.
Having different app stacks for work, entertainment, social chats, editing, smart home, and more makes things run a little smoother. It is true multitasking without the clutter of twenty open, overlapping windows obscuring a desktop.
Once Stage Manager is enabled, Slide Over disappears and app stacks are recreated from memory. Other multitasking features still work like picture-in-picture and Quick Note, although it doesn't seem possible to summon Quick Note without an Apple Pencil when using Stage Manager.
An external display can run Stage Manager while the iPad runs a full-screen app or Split View. However, the monitor will always run Stage Manager unless the user switches to a mirrored display mode, which shifts it to a 4:3 aspect ratio.
A toggle in Control Center activates Stage Manager and a long press on the icon gives users the ability to hide the dock or app stacks automatically. If an app window is made big enough, the app stacks and dock will hide too.
Choosing what works best
Even as iPad continues to evolve into a more powerful productivity platform, Apple has held onto one central belief. The iPad should be able to function as a simple tablet device and scale up based on a user's needs.
That means even though the 12.9-inch iPad Pro can connect to an external monitor and run eight apps at once, it can also be held in your hand with a single app taking over the whole display. This translates to multitasking too, as Stage Manager may not fit every use case.
For example, Stage Manager works even if the user doesn't have a mouse or keyboard attached, but it isn't as easy to manage. Also, apps take up less space, so apps like drawing apps will have less area to work with versus full-screen mode or Split View.
Users will have to determine which multitasking system works best for each workflow. While most people will choose one system and stick with it, the ability to switch between them offers even more versatility for the iPad and its form factor.