AirPods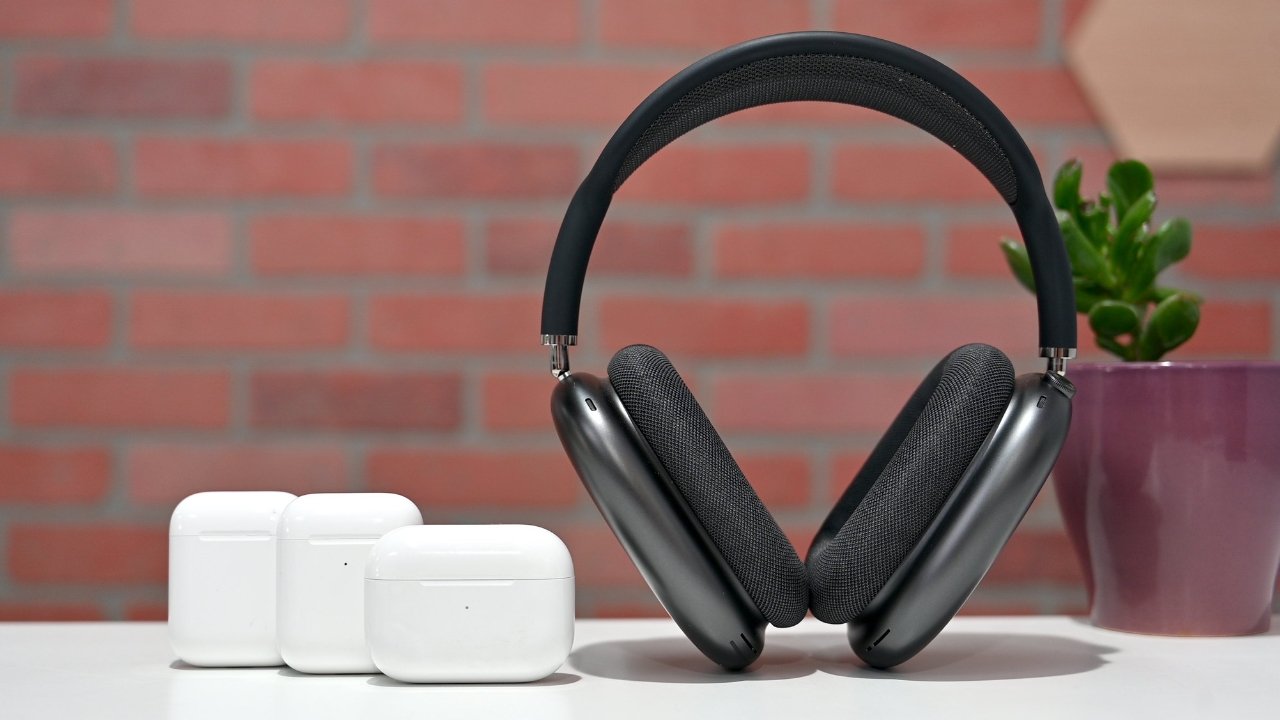 Last updated: 4 weeks ago
AirPods are Apple's wireless headphones that aim to deliver a unique experience. Via the W1 chip, then later the H1 chip, these wireless earbuds offer seamless pairing with iOS devices, as well as a strong Bluetooth connection to minimize interruptions.
● Wireless, Bluetooth
● Apple's W1 chip in original, H1 in second-generation
● "Hey Siri" functionality
● Five hour listening time
● Charging case gives 24 hours of listening time
● Spatial Audio update with iOS 14
● Automatic device switching with iOS 14
● Starting at $159
---
Apple is betting on the future being wireless and the AirPods are the surest sign of that bet. The company introduced the audio accessories after it decided to ditch the 3.5-millimeter headphone jack on the iPhone.
The AirPods brand is evolving to become more than just Apple's wireless earbuds. Leaks and rumors show that the name will encompass all of Apple's wearable audio devices.
What makes something an "AirPod" is its Apple-first design and vertical integration of hardware and software to give users the best experience. The H1 chip means better battery life, "Hey Siri" support, better connectivity and low latency, and operating system specific integrations in software.
When an Apple AirPods device is nearby an iPhone or iPad, it will show up on screen in a special UI for pairing and viewing battery life. Any device with an H1 or W1 chipset are paired with the user's iCloud account and will fast switch between devices when selected in the AirPlay menu.
When paired with an iOS or iPadOS device, there are special controls available like switching between Active Noise Cancelling and Transparency mode.
AirPods Pricing
AirPods with standard charging case cost $159. The version with a wireless charging case cost $199. AirPods Pro ring up for $249.
Software Updates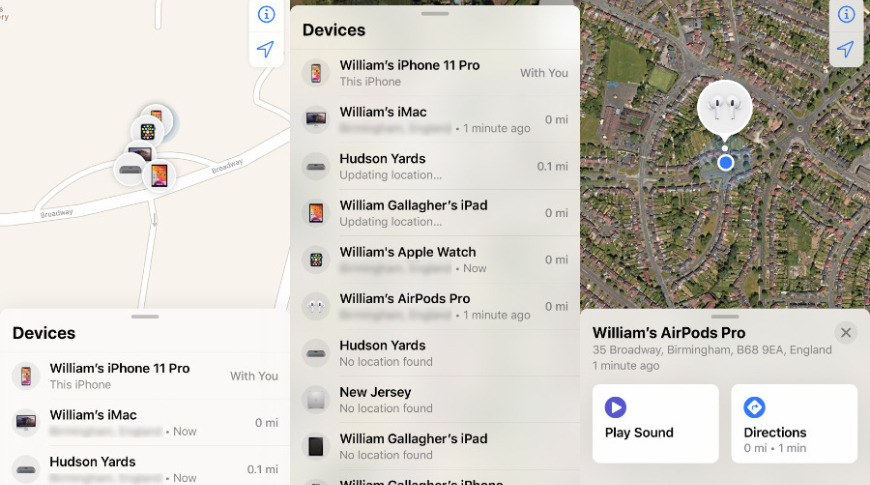 Find My AirPods was introduced in iOS 10.3, and allowed a user's iPhone, iPad, or Mac to keep tabs on the whereabouts of the tiny earphones. Utilizing the host device's positioning hardware, GPS, Wi-Fi, or other component packages, the connected device could tell a user where a missing AirPod was last seen, with a view to achieving their safe return.
iOS 13 has allowed a user to pair two sets of AirPods to one iPhone or iPad, allowing users to watch a movie or listen to music in tandem.
iOS 13 also allows text-to-speech reading of messages from iMessage and third-party apps like WhatsApp. This allows users to keep tabs on their messages when it isn't practical to look at their iPhone.
iOS 14 will enable "auto-switching" of devices with an H1 chip, including current models of AirPods. Apple is also planning an update in fall 2020 that will enable spatial-audio when using compatible devices and software with Apple's AirPods.
Next-Generation Rumors
There have been rumors circulating over new AirPods launching sometime in 2020, including a new cheaper pro-like model and a high end over the ears model. These have been dubbed "AirPods Pro Lite," "AirPods Studio," and "AirPods 3."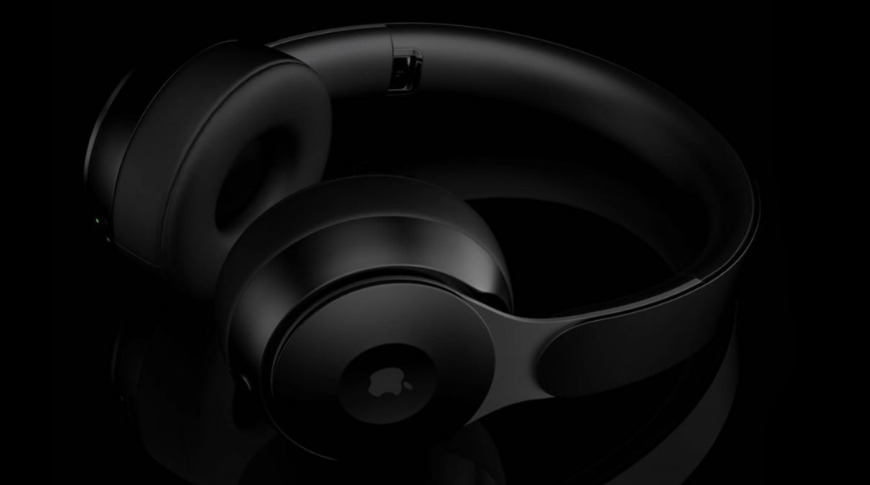 Other names include "HeadPods" and "StudioPods" as people have speculated similar naming to their other music products. A leak from Target's point-of-sale system showed a placeholder for a device called "AirPods Generation-X" for $499, but has since been seen as an error, and no further information about that particular leak have surfaced.
One rumor says that the new over-the-ear headphones will be called "AirPods Studio" and retail for $350. The leak comes from Jon Prosser, who is relatively new to the leaking scene, but so far has proven highly accurate. Prosser has made claims that Apple has had a headphone product ready to release as soon as May 2020, but has not released it yet.
The "AirPods Pro Lite" are a bit more of an anomaly, expected to fall somewhere between the non-pro models and pro. These could be a $199 priced model of earbud with changeable tips, but no active noise cancellation. Some rumors say they could be a Beats X like product with a cable running between the earbuds and be directed at sports use.
Ming-Chi Kuo released a report stating that new models may not arrive until sometime in 2021. A second report in June says that the "AirPods 3" would come in 2021 and have a similar design to AirPods Pro.
AirPods Pro
In 2019, Apple introduced the AirPods Pro — a new high-end version of Apple's earbuds. While they look similar in appearance, the AirPods Pro feature silicone ear tips that allow for noise isolation and customizable wear.
They feature active noise cancellation, a new touch-control system, and a transparency mode that allows users to mix ambient noises with audio from the users' device.
This model has a similar battery life to the previous generation, though using Active Noise Cancellation will reduce that somewhat. They utilize the same H1 chip, which enables quick switching between devices, as well as "Hey Siri" voice commands.
Apple is adding spatial audio to the AirPods Pro and uses the accelerometers and sensors to figure out which direction sound should be coming from. This will include support for Dolby Atmos and multiple channel surround sound up to 7.1 channels.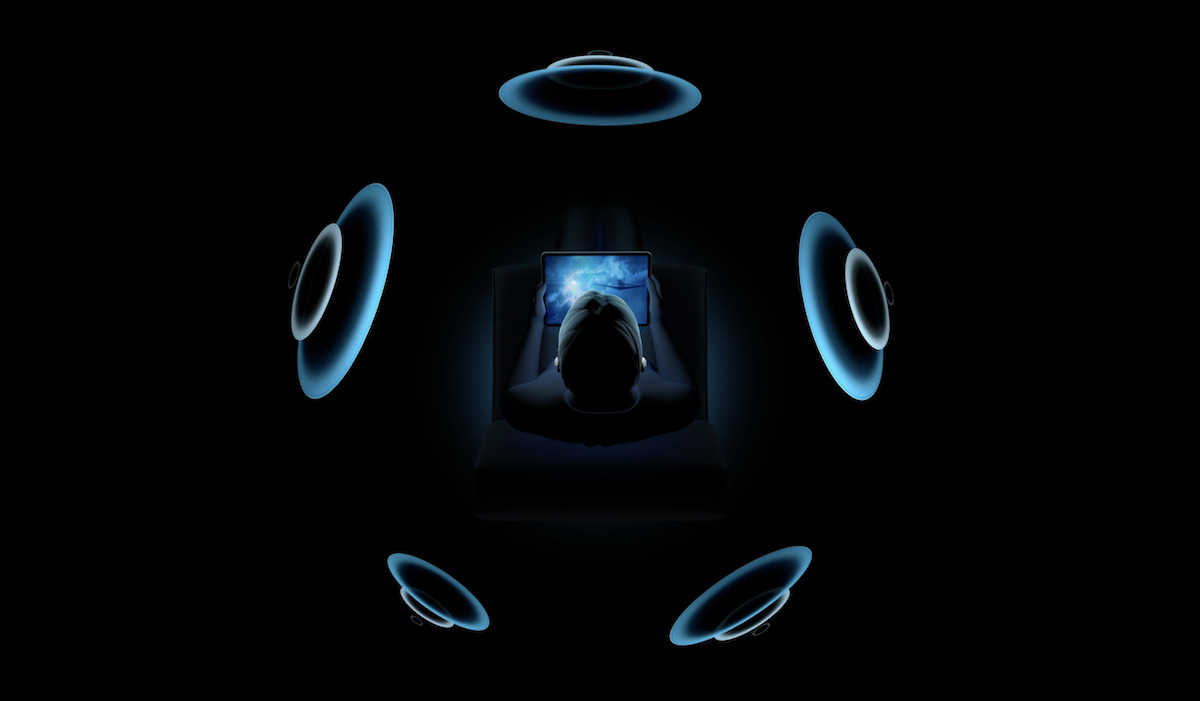 The same update will include automatic device switching when a user starts playback from different devices.
AirPods
Second Generation
Apple overhauled the AirPods in March 2019, launching the first-ever update with a host of useful new features that make Apple's earbuds better than ever.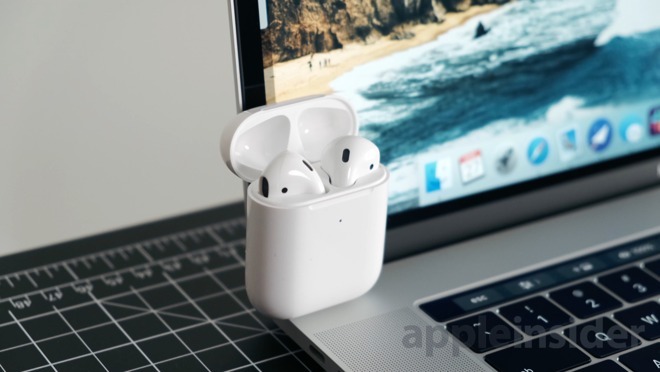 Swapping out the W1 chip for the H1 processor means it's now twice as fast when switching between active devices, one and a half times faster for phone calls, and features 30 percent lower gaming latency. The H1 chip included support for hands-free "Hey Siri" functionality, allowing users to control volume and swap songs via voice commands, so users don't have to tap the AirPods with a finger to activate Siri in this version.
Beam-forming speakers work in tangent with accelerometers to detect vibrations in a user's skull, which gave the AirPods improved background noise reduction. Tap gestures give users the change tracks, change volume, and activate Siri if one doesn't want to use "Hey Siri." A separate voice accelerometer kicks in to block ambient sound.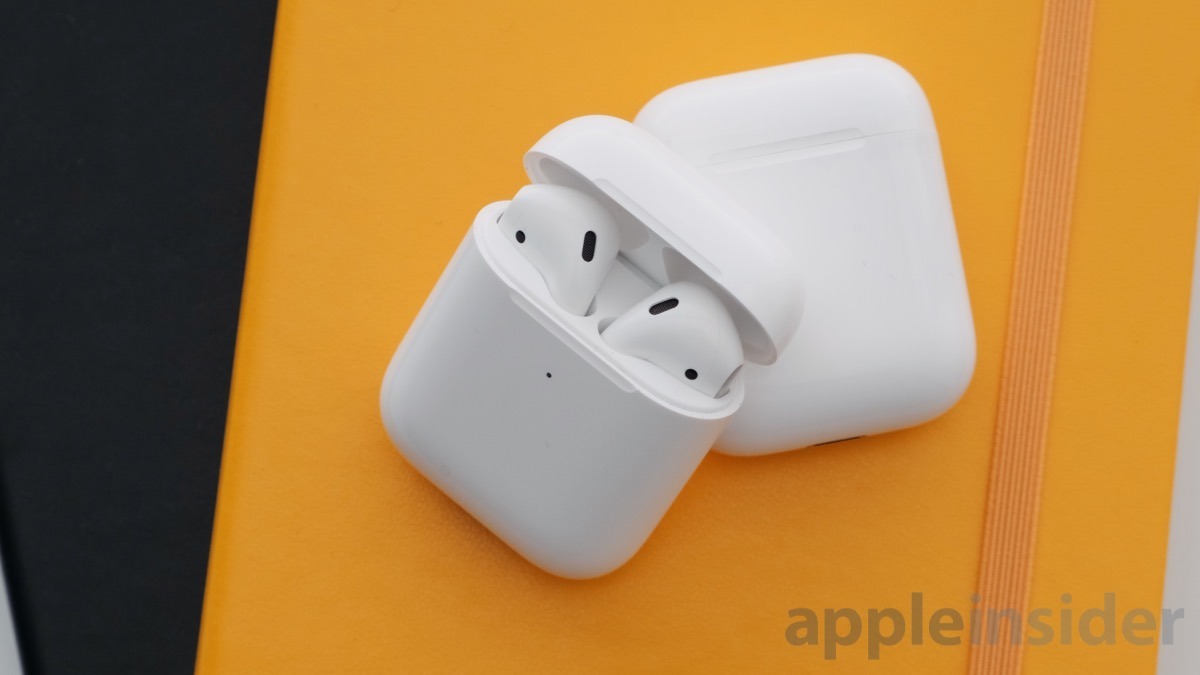 When listening to music, AirPods give up to five hours of battery life and the case provides an additional 24 hours of use. The addition of the H1 chipset increased talk time an entire hour to three total. Popping them in their case for 15 minutes yields more than 3 hours of playtime, according to Apple.
Second-generation AirPods feature Bluetooth 5, which improves stability and range, especially on newer iPhones.
In addition to a new processor chip and Bluetooth 5, there is a new Wireless Charging Case. The Wireless Charging Case is compatible with any Qi-enabled charging mat, and if desired, can be purchased separately for $79 to upgrade the first-generation AirPods if desired.
When the Charging Case is opened, the AirPods inside automatically connect to a nearby device, and using built-in sensors and an accelerometer, they can detect when they are in-ear, and play and pause audio accordingly.
AirPods are available with a standard, non-wireless charging case for $159, or available with a wireless charging case for $199.
First Generation
Phil Schiller, Apple's former SVP of Worldwide Marketing, debuted the AirPods onstage at an iPhone event in September 2016. Inside is Apple's custom W1 wireless chip, which affords a fast and robust connection while keeping efficiency good for five hours of use. I
The first patent was filed in June 2015, signaling a long development cycle. The primary motivation for creating an all-wireless earbud was the headphone jack, and the desire to remove it.
"We've got this 50-year-old connector — just a hole filled with air — and it's just sitting there taking up space, really valuable space," said SVP of Hardware Engineering Dan Riccio. "It was holding us back from a number of things we wanted to put into the iPhone. It was fighting for space with camera technologies and processors and battery life. And frankly, when there's a better, modern solution available, it's crazy to keep it around."
The additional space allowed Apple to more easily install the Taptic Engine that powers the solid-state iPhone 7 home button; include bigger batteries; and remove a key point of liquid ingress, permitting the company to meet the IPX7 water-resistance specification. The AirPods went on sale in December 2016 and starting shipping later that month.
Since their debut, Apple's AirPods have made a sizable impact on the wireless headphone market, with the audio accessory reportedly capturing more than a quarter of the market by early 2017.
Common AirPods Questions
When did AirPods release?
The first-generation AirPods launched in December 2016. The second-generation model, which introduced the wireless-charging case, launched in March 2019. AirPods Pro released in October 2019.
Do AirPods work with Android?
Yes, though you miss out on the automatic pairing and device-switching when used with Apple devices.
Are AirPods waterproof?
The standard AirPods are not water-resistant. AirPods Pro are water and sweat resistant, rated IPX4.
How much do AirPods cost?
AirPods prices start at $159 for the standard pair with charging case. The variant with wireless charging case costs $199. AirPods Pro are $249.