T-Mobile US mysteriously begins selling Apple iPhone USB cable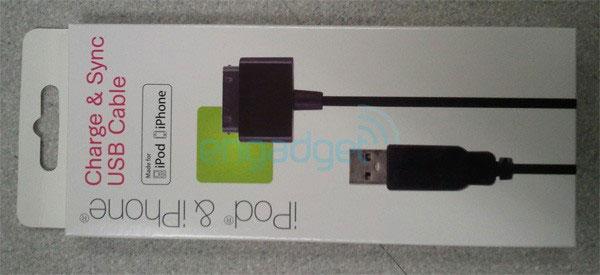 AppleInsider is supported by its audience and may earn commission as an Amazon Associate and affiliate partner on qualifying purchases. These affiliate partnerships do not influence our editorial content.
T-Mobile has reportedly begun selling its own branded "Charge & Sync USB Cable" licensed for Apple's iPhone, fueling speculation that the handset could soon become available on the American carrier.
A photo of the product, also licensed for use with Apple's line of iPods, was provided by an anonymous source to Engadget on Friday. The source indicated that T-Mobile's corporate stores in the U.S. will now carry the cables, leading to speculation that their stocking could be in preparation for an iPhone launch.
Since the device debuted in 2007, the iPhone has been exclusive to AT&T in the U.S.
The USB cable could also be seen as evidence that T-Mobile will begin selling the iPad. Apple recently partnered with Verizon — another carrier that does not sell the iPhone — to sell its touchscreen tablet last month. However, T-Mobile's retail box makes no mention of the iPad.
The apparent availability of the product comes as a T-Mobile executive this week blamed the company's poor performance on the fact that it does not sell the iPhone in the U.S. The carrier has 33.76 million customers, making it the smallest of the four major wireless carriers in America.
T-Mobile this week also released a new advertisement parodying Apple's "Get a Mac" commercials, and suggesting that the iPhone 4 is held back by AT&T's network. The carrier is advertising its expanding HSPA+ network as "America's Largest 4G Network."
T-Mobile has long been rumored to be a potential home for the iPhone, should Apple's exclusive agreement with AT&T end. However, most rumors of late have focused on Verizon, with numerous major media outlets reporting that it will offer a CDMA version of the iPhone in January 2011.