Video: Weekend Tech Review: iBooks Event Week 3 2012
By Daniel Eran Dilger
Sunday, January 22, 2012, 12:21 am PT (03:21 am ET)
Here's a video recap of the top tech stories involving Apple for the third week of 2012, including a look at Apple's iBooks Event, product news, the week's business stories, and upcoming events.

You can also follow us on Twitter: @appleinsider and @DanielEran.


Unbeatable Deals from AppleInsider & Apple's Top Authorized Resellers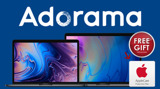 SAVE $379.00 - Free AppleCare with these 2019 MacBook Pros
Today's Headlines
No news headlines yet today
Lowest Prices Anywhere!