Dropbox iOS update revamps UI, adds new upload features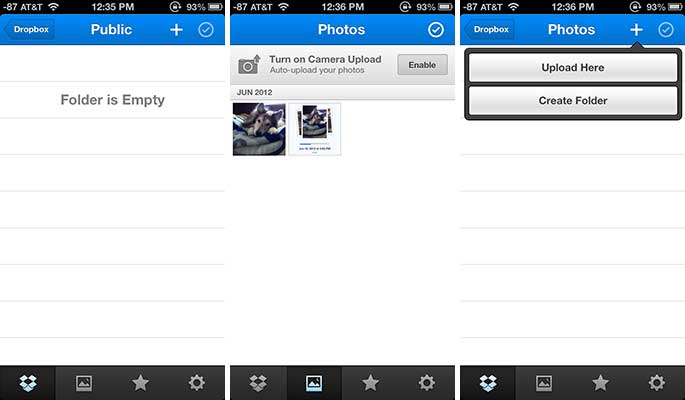 Popular cloud storage solution Dropbox on Friday released version 2.0 of its iOS app, which brings a totally redesigned user interface and new features to Apple's iDevice lineup.
The update's design is a complete overhaul from the app's previous iteration with a clean UI that is reminiscent of media management titles in the App Store.
Unlike the previous build, version 2.0 no longer looks thrown together as consistent color schemes and contextual menus are seen throughout the app. As noted on the company's official blog, text labels in tabs have been replaced with icons while "barely-there" color gradients and clean lines are uniform across all pages.
As for features, Dropbox bulked up its photo upload tool, which can now be accessed directly from a dedicated static menu tab, with an option to scroll through a timeline of already uploaded photos. A simple edit button at the top of the thumbnail layout allows for batch selection and deletion much like Apple's Photos app. Also added is a banner that allows users to enable automatic camera uploads.
From the full-screen photo viewer, users can opt to save the image to their device, copy it to the clipboard or print. Sharing options are embedded with support for email, text, Facebook Message or post and Twitter. It should also be noted that direct links to photos can be accessed while in full-screen view.
Finally, Dropbox streamlined uploading to specific locations by adding a "+" icon to each folder. For example, a user can navigate to the Public folder, press the "+" icon and choose to upload to that location. Alternatively, the icon is where users can find the option to create new folders.
Dropbox version 2.0 is a 13 MB universal app and can be downloaded for free from the App Store.