Google Earth gets Street View and new UI in update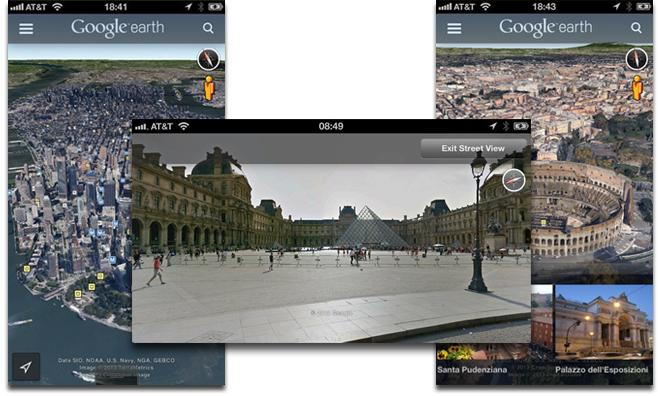 AppleInsider is supported by its audience and may earn commission as an Amazon Associate and affiliate partner on qualifying purchases. These affiliate partnerships do not influence our editorial content.
Google rolled out a substantial update to its Google Earth iOS app on Wednesday, bringing a few important changes to the title, the biggest being built-in Street View capabilities.
Until now, users of Google's mapping products on Apple's mobile platform had to switch between Google Earth and Google Maps to access features like Street View. With Wednesday's update, however, the Internet search giant is bringing parity to the two titles in an effort to further merges its existing software lineup.
The implementation of Street View adds another layer to the satellite imagery app, and brings the usual drag-and-drop controls first introduced on the Google Maps Web client. Users can zoom into the new mode by pulling the small yellow "stickman" icon at the top right of the screen into supported street zones, which are highlighted in blue.
In use, the feature is largely the same as the Google Maps for iOS version, though it feels a bit slow to load.
Another major change is the user interface, which has moved from the four-corner button layout to a theme more in line with Google's other iOS titles. Now, the layer selection menu and search button are located at the top of the screen, while the the current location and points of interest slider is at the bottom. All assets are positioned at the top of the screen in the iPad version of the app.
Other improvements to Google Earth include an updated direction search that visualizes walking, biking and driving directions in 3D instead of a top-down view. Also added is a refreshed search result list that allows users to browse through recent searches.
Google Earth is available now as a free download from the App Store.