Google tests new 'Listen Now' music ads promoting Apple's Beats Music, others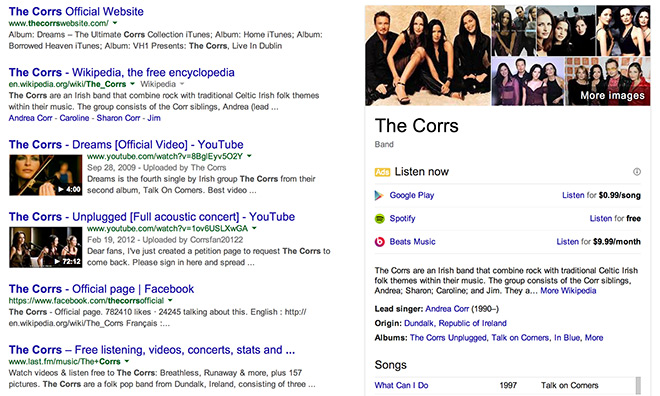 Google on Friday rolled out a new ad option for users looking for music and artists through the tech giant's search engine, with direct links pointing to Google Play, Spotify, Rhapsody and Apple's Beats Music.
As seen above, Google searches for music tracks, albums and performers will return the usual information box, but with a new "Listen Now" ad and at least three links to streaming music services and stores. The addition is meant to simplify the process of buying music online, reports The Wall Street Journal.
For example, when searching for "The Corrs," Google returns information about the band, its history, selected tracks and pictures, with the Listen Now ad block squeezed in near the top. It looks as though all listings feature the Google Play music store first, followed by Rhapsody, Spotify and Apple's recently acquired Beats Music.
As noted by the publication, music sellers have been able to purchase ad space, but Google's unified grouping and labeling of services in line with track and artist information is new. The publication cites a person familiar with the mater as saying the ads are performing well, and Google said music services pay on a per-click basis.
"We're happy to help users quickly find legitimate sources for their favorite movies, music and more via Google search," said a Google spokesperson.
It is unknown when exactly Google rolled out the new feature, but sources told the WSJ that testing has been ongoing for the past few weeks.