Gmail updated to take advantage of iPhone X display, add non-Google email accounts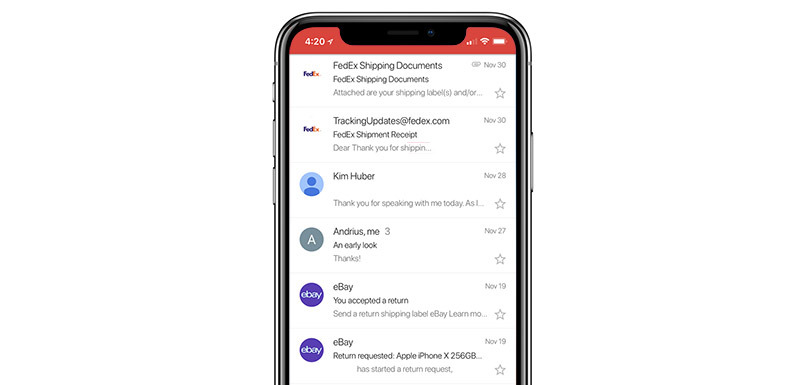 As part of continued efforts to update its stable of iOS apps with support for Apple's iPhone X, Google on Monday released a refreshed version of Gmail with graphical assets that take advantage of the handset's full-face display.
Gmail, currently sitting in the No. 5 spot on the iOS App Store's Top Free Apps list, is now fully compatible with Apple's flagship iPhone.
In particular, the popular email client features a user interface that spans iPhone X's 5.8-inch Super Retina HD display, including dead space at the top for the phone's TrueDepth sensor notch. Compared to its previous incarnation, the elongated GUI affords space for more messages, while keeping important navigation assets in place.
Google retains the floating "create new message" button, stylized as a red button with a pencil icon, at the bottom right hand corner of the screen. The usual search button and hamburger menu also keep their place at the top of the app window.
Prior to today's update, the unoptimized Gmail app showed two black bars above and below the central message feed. The layout was not only unsightly, but made for a suboptimal user experience as controls were condensed toward the center of iPhone X's screen.
In addition to the graphical overhaul, Gmail now allows users to add non-Google email accounts via IMAP. The new feature went into beta testing in October, bringing the app in line with its Android counterpart and Apple's own Mail app.