Apple 'Lose your wallet' campaign lands in Los Angeles with discounts for local shops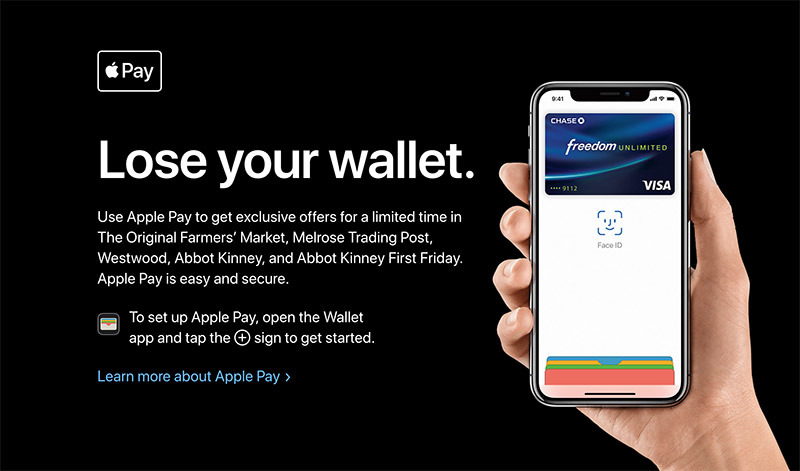 Apple continues efforts to bolster Apple Pay adoption, and is currently hosting a "Lose your wallet" event in Los Angeles, offering users of the service exclusive discounts on food, fashion and more.
Retailers participating in the campaign took to their respective social media accounts this week to promote the event slated to run from March 1 to March 3, while Apple posted an informational webpage to its official Apple Pay site.
February's "Lose your wallet" promotion covers the Original Farmers' Market, Melrose Trading Post, Westwood, Abbot Kinney and Abbot Kinney First Friday, according to Apple's marketing material.
In Westwood, deals can be had from 14 merchants on Friday, while 20 retailers in Abbot Kinney are participating in the event today and tomorrow. Some of the best deals are showing up today at Abbot Kinney's First Friday, with food trucks offering 30 percent off all orders when customers pay with Apple Pay.
The Venice Chamber of Commerce snapped a photo of the event and posted it to its official Instagram account on Friday. In addition to the food truck discounts, Apple is doling out special offers at an Apple Pay booth located in front of the Fun Socks Store on Abbot Kinney Blvd.
Finally, Doordash is offering Apple Pay users free deliveries (presumably in the Abbot Kinney, Westwood area) through March 23.
"Lose your wallet" debuted last June in San Francisco, presenting users deals at shops in the Hayes Valley area and the San Francisco Marina.
It seems the campaign found traction, as Apple is making the "Lose your wallet" a near monthly occurrence. Most recently, the company held an event in the Ocean Beach neighborhood of San Diego, Calif., which followed an event in Austin, Tex., a month prior.