Apple seeds Safari 1.3 DP1, Java 1.5 DP to developers
By AppleInsider Staff
Tuesday, June 29, 2004, 08:00 am PT (11:00 am ET)
Apple Computer seeded developers this week with Safari 1.3 Developer Preview 1, which will run on for Mac OS X 10.3 Panther and reportedly features numerous enhancements.

The company also provided developers with Java 1.5 Developer Preview, beta 2. According to sources, the Java 1.5 DP requires a version of Mac OS X 10.4 Tiger in order to operate.

More details to come soon.
Today's Headlines
No news headlines yet today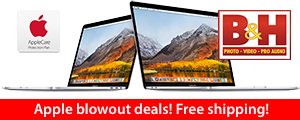 Lowest Prices Anywhere!