3G settings discovered in latest beta of iPhone firmware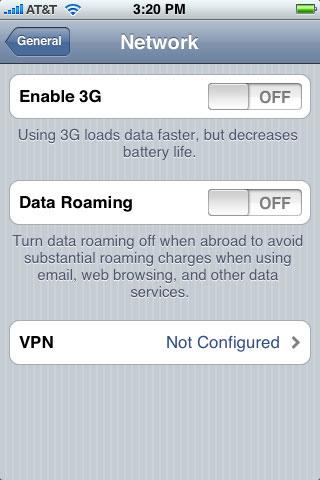 AppleInsider is supported by its audience and may earn commission as an Amazon Associate and affiliate partner on qualifying purchases. These affiliate partnerships do not influence our editorial content.
As if there were any doubt that Apple's next-generation iPhone would include support for 3G wireless networks, an inactive preference dialog extracted from the most recent beta of iPhone Software v2.0 may offer the most concrete evidence yet to that end.
In a posting to its blog site on Saturday, independent developer Chronic Productions notes the discovery of several 3G-related strings in beta 5 of the upcoming iPhone firmware, and also publishes the below screenshot extracted from the distribution's Preferences binary.
Most notable is a setting that will allow users of the second-generation iPhone — expected for an unveiling sometime in the coming weeks — to disable 3G access in favor of prolonging the handset's battery life.
"Using 3G loads data faster, but decreases battery life," reads a caption beneath the setting toggle.
While speaking to journalists at last year's UK iPhone launch, Apple chief executive Steve Jobs singled out the power-hungry nature of 3G chipsets as one of the primary reasons his company passed on inclusion of the technology in the inaugural iPhone models.
"We've got to see the battery lives for 3G get back up into the 5+ hour range," he said.
The latest discovery suggests that while the 3G iPhone may see substantial improvements to the "2 to 3 hours" of battery life common on earlier 3G devices, it may fall short of rivaling the "up to 6 hours" of Internet use advertised alongside the existing models.