Apple's interactive iAds begin to appear in iPhone apps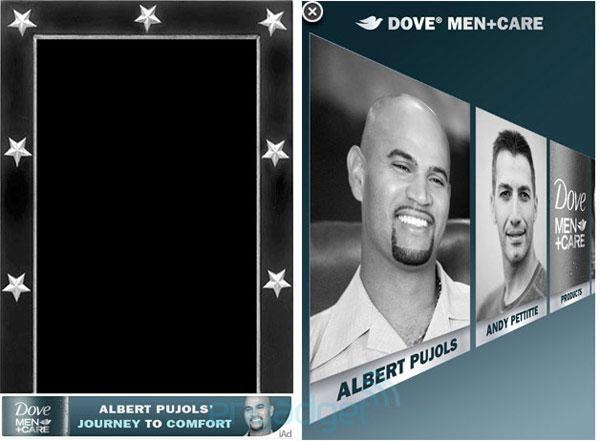 Apple's iAds began to appear in some App Store software on Thursday, bringing the dynamic, interactive in-app experiences to users on the scheduled July 1 launch date.
While ads began to appear in some applications, not all of the iAd network has have gone live. For example, the Showtimes application from Avantar still has a placeholder banner that reads "iAd," but no advertisement is displayed and it cannot be selected. And some applications that others have found iAds in, such as "Mirror: for iPod and iPhone," sometimes have a blank space.
iAds provide richly interactive ad experiences inside developers' apps, providing them a 60 percent cut of the advertising revenue. The hope is the advertisements — noted by the iAd logo in the corner — will be more compelling to users, because they don't have to leave their app and launch a browser to view them.
Early sponsors include Dove and Nissan. It is believed that companies paid $10 million in order to be among the first to advertise with the iAd service. Apple reportedly aims to charge companies close to $1 million for ads on its mobile devices this year.
Nissan also released a video demonstrating the functionality of its advertisement for its Leaf electric car. In the demonstration, the advertisement is accessed through the AP Mobile application from the Associated Press.
"Unlike other ads, it lives inside the app and doesn't send you to the browser, which makes for a perfectly seamless experience," the video's narrator states.
Selecting the advertisement shows a short commercial for the Leaf, and an 'X' to close the ad is available in the top-left corner of the screen, while in the bottom right, a Menu option is available. When the video concludes, it transitions seamlessly to a main menu, where users can rotate a number of icons to choose an option.
The advertisement uses navigation methods that iOS users are accustomed to, such as tapping or swiping across the screen, and shaking the handset itself for interactive features included in the advertisement. Users can even begin the process to reserve a Leaf from within the iAd.
iAds are only available on devices running the iOS 4 mobile operating system. The iPad cannot be used to view iAds, as it runs iOS 3.2. iOS 4 is expected to be released for the iPad by this November.