Apple stock seen approaching $430 with strong holiday lineup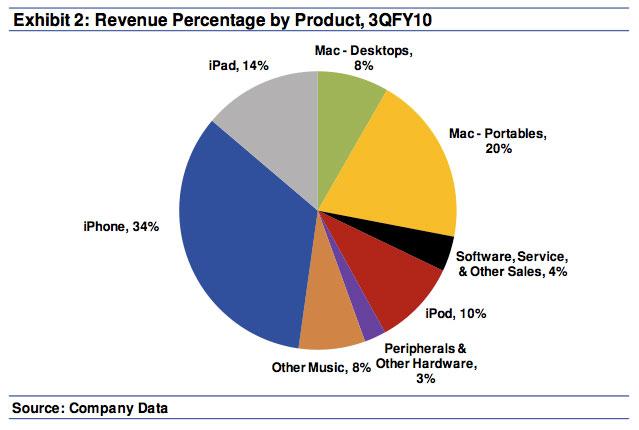 AppleInsider may earn an affiliate commission on purchases made through links on our site.
Apple stock could hit $430 in the next year, propelled in the near future by an anticipated strong holiday sales season, one Wall Street analyst believes.
Brian White of Ticonderoga Securities issued an in-depth 85-page note on Apple to analysts Monday. The firm has initiated coverage of AAPL stock with a $430 12-month price target, betting that the company's "hot hand" will continue well into 2011.
"We believe Apple is still in the early stages of capitalizing on the trend toward a digital lifestyle, while transforming itself to seize large opportunities in the enterprise market, advertising (i.e. mobile, TV, etc.), "cloud computing and social networking," White wrote.
For Apple, the march to $430 begins this holiday season, White said, with one of the hottest product lineups ever, including the iPhone 4, iPad, new iPod touch, and Apple TV. He noted that over the last six years, the holiday buying season has given Apple its best stock performance in October.
Apple is seen selling 7.1 million iPads in its 2010 fiscal year, with sales growing 181 percent in 2011 to 19.9 million. In the 2012 fiscal year, he sees Apple selling 25.8 million iPads.
"We believe the most coveted gift this holiday season will be the iPad," White wrote. "Clearly, Apple is delivering experiences to consumers that were never thought possible, and in the process, reinventing our world. Additionally, the opportunity in the education, healthcare and enterprise markets remain meaningful, in our view."
He also believes the iPhone sales ramp remains in the early stages, with the Cupertino, Calif., company set to sell 36.9 million units in 2010, up 78 percent year over year. In the company's 2011 fiscal year, White sees Apple selling 49.1 million handsets, eventually reaching 71.1 million in the 2013 fiscal year.
And the success of the iPhone, iPod and iPad will also drive sales of MacBooks and the iMac as well, he said, with Mac sales reaching 13.7 million this fiscal year, and increasing to 15.5 million in 2011.
White believes Apple has the opportunity to reach $100 billion in revenue in calendar year 2012. He also sees the company overcoming Exxon in the next 12 months to become the largest company in the world by market value.