Apple brings unlocked, contract-free iPhone to Germany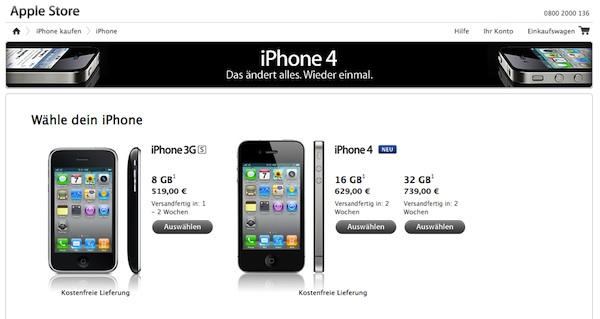 AppleInsider may earn an affiliate commission on purchases made through links on our site.
As T-Mobile loses its iPhone exclusivity in Germany to O2 and Vodafone, Apple has begun offering the iPhone 3GS and iPhone 4 unlocked without a contract to German customers, with the 16GB iPhone 4 model selling for 629 euros.
Wireless carriers O2 and Vodafone began carrying the iPhone in Germany Wednesday after several years of T-Mobile exclusivity in the country, though T-Mobile will continue to sell the iPhone. The carriers offer a variety of contracts and plans, some with subsidized iPhone prices as low as 1 euro.
Apple's Online Store (Google Translation) in Germany has been updated to carry the iPhone 3GS and iPhone 4 unlocked and contract-free, advertising that it will "work with the wireless carrier of your choice." The company reminds users on its website that the iPhone only works with GSM networks and the iPhone 4 will require a micro-SIM card.
Customers can also puchased the iPhone from one of Apple's four German retail stores, reports German Mac site Macerkopf.de. The 8GB iPhone 3GS is available for 519 ($715) euros, while the iPhone 4 16GB and 32GB models cost 629 euros ($866) and 739 euros ($1017) respectively.
Germany going multi-carrier with the iPhone is yet another step in Apple's slow-and-steady carrier strategy. In January of this year, Apple officials revealed that they will go with multiple carriers where they believe it is appropriate, but denied that it was inevitable in every market.
"I don't want to imply that would happen in every market or that we are headed that way in every market," said Apple Chief Operating Officer Tim Cook.
The vision of an unlocked iPhone future came more into focus Wednesday with the rumor that Apple may be working together with chip manufacturer Gemalto to develop a programmable SIM that can be activated without having to call or visit a carrier. With the rumored technology, iPhone users could travel to other regions and countries and obtain service without the need for a unique SIM from each different location.
The next big blow to iPhone carrier monopolies could come in the form of the long-rumored CDMA iPhone. Though rumors of a CDMA-capable iPhone have persisted for years, multiple media outlets (1, 2, 3) now report the handset as ready to begin production this fall. A CDMA iPhone would work on a number of networks around the world, including Verizon Wireless in the U.S. and China Telecom.