Thunderbolt Displays shipping; Apple knockoff settlement; Apple Experience Center

AppleInsider is supported by its audience and may earn commission as an Amazon Associate and affiliate partner on qualifying purchases. These affiliate partnerships do not influence our editorial content.
Customers report that Apple has begun shipping LED Thunderbolt Displays directly to them. Also, the company has reached a settlement with two New York stores that were allegedly selling knockoff goods and accessories. Finally, students at a top university in China are unhappy with an Apple Experience Center soon to open inside the campus library.
Thunderbolt Display shipped
Multiple AppleInsider readers reported late Thursday that their Thunderbolt Display orders have shipped, with one Australian customer claimed that the display has already arrived.
Apple unveiled the new $999 27-inch LED Thunderbolt Display in July alongside new Mac Minis and MacBook Airs, promising availability within 60 days. The new display is the first to support the Thunderbolt I/O technology. In addition to Thunderbolt, the display includes a built-in FaceTime HD video camera, a 2.1 speaker system, MagSafe charger, three USB 2.0 ports, one Firewire 800 port, and one Gigabit Ethernet port.
Reports emerged last week that Apple had begun shipping the new displays to its retail stores with plans to begin fulfilling individual pre-orders on Sept. 15.
Earlier this week, Apple released a MacBook Pro firmware update enabling support for the new display. Early 2011 Thunderbolt MacBook Pro models and other Thunderbolt-capable Macs with discrete graphics support two daisy-chained displays, though the new MacBook Air supports only one display.
Intel and Apple introduced the Thunderbolt technology in February. On Thursday, the chipmaker relayed its plans for the specification, which will eventually support transfer speeds of up to 100Gbps after the transition to optical cabling.
Apple has reached a settlement in a trademark-infringement case against two Queens, New York-based stores

">accused of selling

unauthorized accessories for Apple products, Reuters reports.
The two companies, Apple Story Inc. and Fun Zone Inc., have agreed to hand over to Apple all products in their inventories bearing the word "Apple," as well as labels, packaging, promotional materials and any other items bearing Apple's "ubiquitous trademarks," including the "well-known image of an apple."
In their defense, the defendants maintain that they haven't violated any Apple trademarks. If U.S. District Judge Kiyo Matsumoto approves the settlement, the two stores will have five days to comply with the requirements of the agreement.
The alleged Apple knockoffs sold by Apple Story and Fun Zone include cases, headsets and other accessories for the iPhone, iPad and iPod. According to Apple's court filing, the fake iPhone and iPod cases mimic the trademarked iPhone and iPod design, including Apple's phrase: "Designed by Apple in California. Assembled in China," found on various products.
Furthermore, Apple Story has agreed to remove iPhone-shaped window displays and to change its name, contested by Apple as being too similar to its "Apple Store" trademark.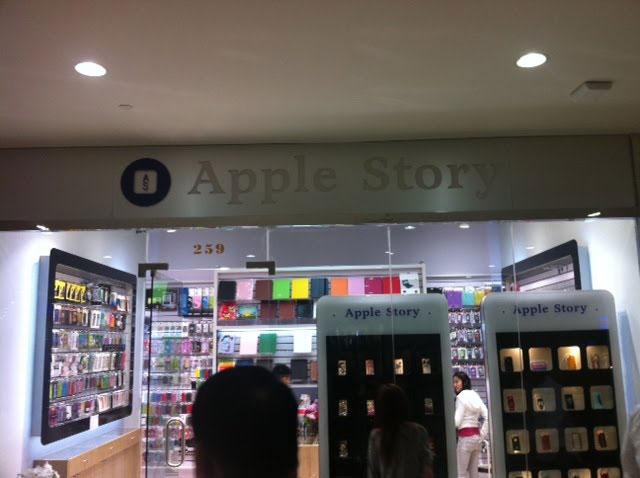 "Apple Story" store in Flushing, New York | Credit: Greg Autry via BirdAbroad.
The owners of the companies located in the Chinatown section of Flushing, Queens, Janice Po Chiang and Jimmy Kwok, respectively, are prohibited from destroying any records related to the manufacture, distribution, sale or receipt of the fake products sold in their stores.
Apple's inquiry started with the company sending private investigators to the two locations to purchase "hundreds of dollars' worth of the alleged fakes" on several occasions earlier this year. The company then pursued legal action against the two stores on July 25. The suit had been filed under seal in order to prevent "tipping off" the accused before any seizure orders were to be executed.
Two days later the company seized goods bearing Apple trademarks from the stores and obtained a court order directing the defendants to offer access to business email accounts, which could then be used to look for clues about potential suppliers, distributors or customers of such fake goods.
Apple's

">lawsuit

against Apple Story and Fun Zone is one of its many ongoing activities to stop unauthorized retailers from using Apple trademarks and selling counterfeit Apple products.
Most notable is a

">similar case

in China where the entire Apple retail store experience has been cloned. Since then, numerous other

">unauthorized stores

displaying Apple signage have been found in the country. Several stores have been ordered to close by local authorities after an investigation into the matter.
Students at one of China's most prestigious universities have balked at an Apple Experience Center set to open on their campus, Global Times reports. Complaints ranged from criticisms of commercialism tainting the study environment to concerns that available study space is already severely limited on the campus.
Peking University staff said the center will open inside the campus library sometime next week. The 40-square-meter location replaces a study space and will display Apple laptops, cellphone covers and earphones. Apple products will not be sold on-site, though students will be able to fill out order forms for discounted items.
Apple authorized retailer Shanghai Liangyu Technology Development Company partnered with the university to create the space. According to the iPhone maker's official website, numerous Apple Experience Centers already exist in the country, including nine locations in Beijing.
"It's totally against the spirit and environment of the library," said one student. "Apple should have discounts or give-back activities if they want self-promotion, other than introducing this commercial thing into a sacred place like this."
University officials said the center's aim is to help students utilize technology to improve their studies. "We'll install study-related software to assist students using digital methods," an anonymous library employee was quoted as saying.
Faculty response to the location remained mixed. "It's good to have a digital service to help students study, but the location should be somewhere independent that does not disturb others," said PKU professor Xia Xueluan.
Apple has for years partnered with on-campus bookstores and vendors to sell its products, recently expanding its operations in the U.S. to begin establishing official Apple Stores on university property.
The company is also pursuing an aggressive expansion in China. The company's revenues in the Greater China region grew six fold year-over-year, as of the second quarter of calendar 2011.
"This has been a substantial opportunity for Apple, and I firmly believe we are just scratching the surface right now," Apple executive Tim Cook said of the country.
Retail growth in China, however, can't come fast enough, as there are currently just four Apple retail stores operating in the world's most populous nation.