Briefly: Gmail relaunches; AIM gets overhaul; Camera+ gets volume snap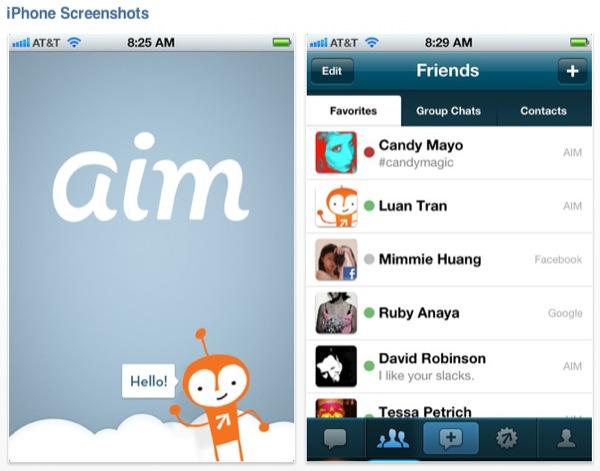 Google relaunched its iOS Gmail app after having to pull down a flawed version earlier this month while the AIM app received a complete UI overhaul that brings with it added features not previously found on the mobile version. Finally, popular third-party camera app Camera+ reactivates its volume shutter control feature.
Google on Wednesday relaunched its Gmail app two weeks after being pulled from Apple's App Store due to a bug affecting iOS notifications. The Internet giant decided to take the app down mere hours after its initial launch on Nov. 2, citing a bug that would cause an error message to be displayed upon opening the app.
Gmail Product Manager Matthew Izatt wrote in a Wednesday blog post that the app was fixed, going on to say that customer feedback played an important role in adding new features to the software. He notes that customer comments have been the basis of adding improved handling of image HTML messages with pinch to zoom capability.
The iOS native app grants Gmail users access to their accounts through Apple devices, significant because the iPhone maker does not usually allow the sale of software that replicates functionality already available in its mobile platform.
Gmail's new universal app is compatible with the iPhone, iPad and iPod touch and is available now through the App Store, though Izatt notes that users must delete any previous versions before downloading.
AIM gets UI overhaul and new features
AOL Instant Messenger's iOS app received a major overhaul, featuring a newly-designed interface and improved mobile functionality.
The update, which brings the software to version 5.0.1, adds new features like copy and pasting messages and setting quiet hours where sounds can be muted and push notifications disabled. Also added is the ability to take and send photos without leaving the app.
Users will see expanded social network integration with notifications from AIM, Facebook, Twitter and Instagram, however the company's Lifestream social networking hub has been removed with the update.
Group chat functionality has also been added, bringing the mobile version of the service more in line with desktop clients.
A possible bug that would cause messages to be erased has been remedied as AIM now stores users' conversation histories and syncs them across platforms.
Screenshots from iPhone version | Source: iTunes
Camera+ regains volume button shutter control
In its most recent update on Wednesday, third-party camera app Camera+ regained shutter control via the iPhone's volume button, a capality that made the app popular when it first debuted last year. Camera+ is calling the feature "Volume Snap."
Originally, volume button shutter control was not an official feature of the app, and was instead considered a "hack" that leveraged URL schemes to activate the function. By visiting a URL through Safari, users can execute certain system commands as seen by the newly discovered shortcuts AppleInsider reported on Tuesday.
Because the workaround was technically breaking Apple's developer licensing agreement, the company temporarily pulled Camera+ from App Store, claiming that the unapproved functionality had the possibility of confusing users.
Apple's newest iOS 5 now also includes native volume button shutter control.