RadioShack expands sales of Apple's Mac peripherals and accessories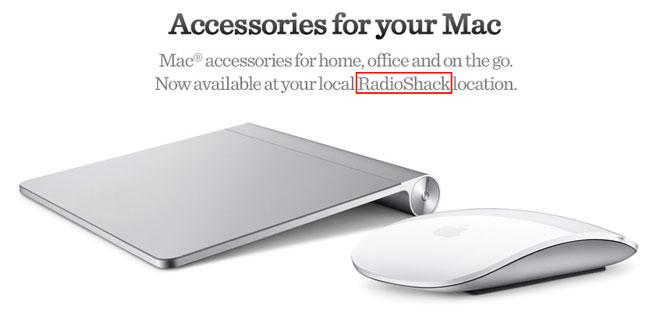 AppleInsider may earn an affiliate commission on purchases made through links on our site.
In an expansion to its existing Apple product lineup, which was previously limited to iOS devices and accessories, as well as a handful of Mac-compatible wares, RadioShack quietly initiated sales of new Mac peripherals like MacBook Pro power adapters.
The addition to RadioShack's Apple offerings, spotted by AppleInsider reader Jim, comes on the heels of a similar move from office supply chain Staples, which in February announced it would begin selling the Cupertino, Calif.-based company's products.
According to one RadioShack employee, the MacBook Pro power adapters and other Mac-related equipment started shipping to brick-and-mortar stores within the past two to three weeks.
While the chain now carries most of the Apple's peripheral and accessory lineup, including Apple's USB SuperDrive, wireless AirPort devices and a multitude of cables, among other hardware, it has yet to sell the computers these devices support.
As noted by MacRumors, RadioShack also added an "Accessories" section to its dedicated Apple product page, consolidating older hardware with "new entries like the Magic Mouse, Magic Trackpad, wireless keyboard and wired keyboard with numeric keypad.
Checks with various physical stores have found most items to be in stock, with pricing in line with the Apple Store.
The company has been an iOS device vendor for years, and in March of 2012, was noted as being the first Apple Authorized Reseller to take pre-orders for the third-generation iPad, beating out big-box retailers like Best Buy.