Dropcam Pro takes quick & easy Wi-Fi-based home video surveillance to next level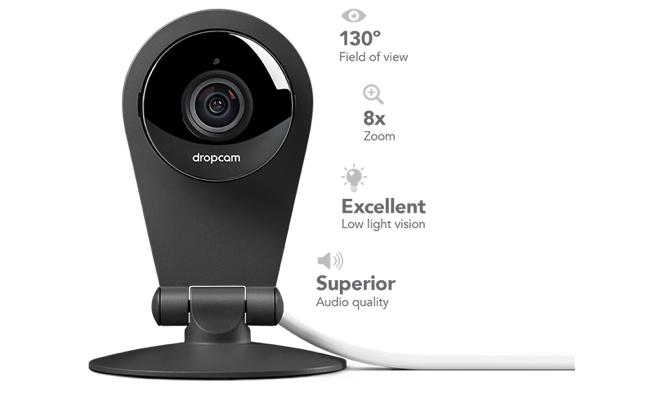 AppleInsider is supported by its audience and may earn commission as an Amazon Associate and affiliate partner on qualifying purchases. These affiliate partnerships do not influence our editorial content.
Dropcam on Thursday announced its new Dropcam Pro camera, adding sharper video, improved audio, greater zoom, a wider viewing angle, and support for both Bluetooth Low Energy and dual-band Wi-Fi to its ever-popopular wireless video monitoring system that works remotely with your iPhone, iPad and Mac.
The new Dropcam Pro, which retails for $199.99, has an image quality twice as sharp as its predecessor, with an 8x zoom and 130-degree field of view. New support for dual band Wi-Fi also gives users the ability to use the camera with 2.4- and 5.0-gigahertz wireless networks.
The addition of Bluetooth Low Energy support also gives users the ability to set up DropCam Pro with an iPhone or iPad. That addition eliminates the need for the device to be connected to a Mac or PC for initial setup.
A new mic and speaker in the Dropcam Pro also allow for improved audio when using the two-walk talk feature. When remotely checking in on a camera, users can talk directly to people — or their pets — using these hardware features.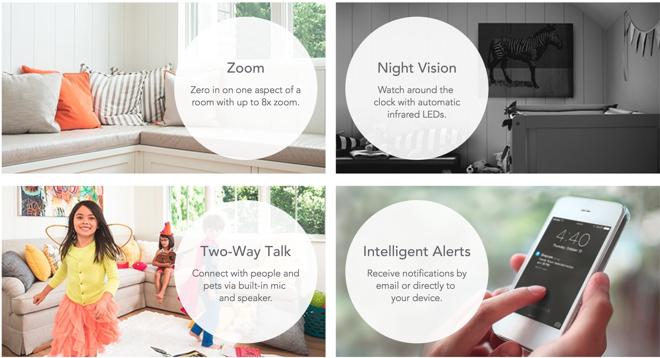 Dropcam Pro also has a night vision mode that allows users to view subjects in the dark, thanks to the use of automatic infrared LEDs. Intelligent alerts in the cloud-based device also send notifications by e-mail or directly to the Dropcam iOS application.
Location awareness support also allows Dropcam users to turn their camera on and off based on where they are. And a scheduling feature can turn the camera on and off at specific times of the day or week.
Content recorded from the Dropcam can be saved to the cloud, and users can also save and share their favorite clips. Live streams can also be shared with friends or publicly for others to view.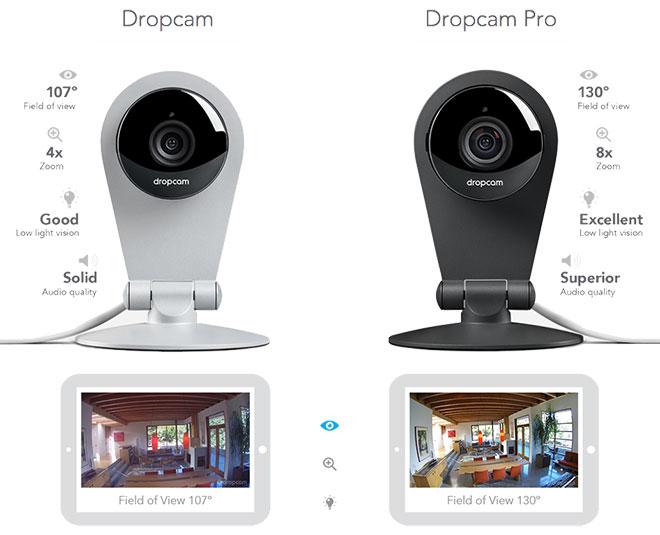 Dropcam says it uses bank-level security to ensure live and stored video are kept safe, even when connected to an open wireless network. The video recorded on Dropcam is encrypted on the camera itself, before it its transmitted to the cloud. It's also streamed to devices securely through SSL encryption.
An entry-level Dropcam is also available with a 107-degree field of view and 4x zoom. Its low-light vision and audio quality are not as strong as the new "Pro" version.