BlackBerry hopes to rekindle sales by reintroducing classic keyboard & form factor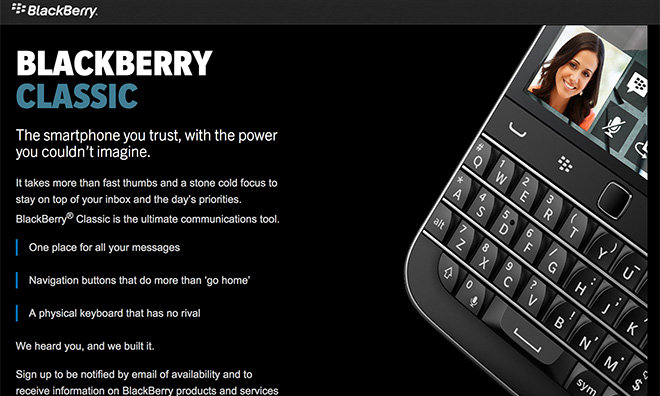 Hoping to strike a chord with old school BlackBerry users, the not quite dead company on Wednesday teased a new device called BlackBerry Classic, which appears to be a modern take on the seminal BlackBerry Bold.
Unveiled in an open letter from BlackBerry CEO John Chen, the upcoming BlackBerry Classic looks to be a throwback to RIM devices from the company's glory days, complete with trackpad, top-row navigation buttons and the familiar physical keyboard.
Aside from the traditional BlackBerry trappings, the Classic brings modern day technology like a larger high-resolution screen, buffed internals and the new BlackBerry 10 operating system. Chen touted the growing BlackBerry app library, as well as first-party software BlackBerry Hub and BlackBerry Blend, the latter of which acts very much like iOS 8's Continuity features.
Sure, we've got new BlackBerry devices that break the mold, including the BlackBerry Passport. But we also recognize that a lot of you continue to hang on to your Bold devices because they get the job done, day in and day out - just like you.
We get it, and we've got you covered.
The company has yet to reveal a full list of specifications and features, but put up a teaser webpage with a picture of the device's keyboard and lower screen area.