Black Friday sale delivers first Apple MacBook Pro with Retina display under $1000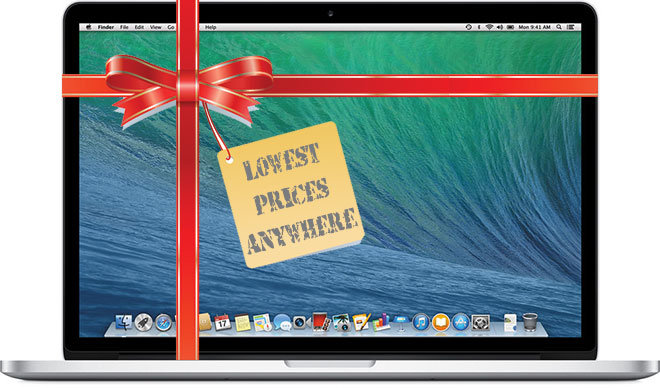 While most Apple-related Black Friday 2014 door busters to launch thus far have been positioned around iPads and Apple's more premium priced Macs, one particular offer stands out in offering the first ever MacBook Pro with Retina display that can be had for less than a grand.
The deal, which is part of MacMall's Black Friday Sale, slashes the price of Apple's 2013 2.4GHz 13" MacBook Pro with Retina display (4GB,128GB) by $229 to $1,069.99. However, a $70 mail-in-rebate [PDF] drops the price down to $999.99, which is the lowest price we can ever recall seeing for a MacBook Pro with Apple's premium Retina display. It's also the lowest price listed in our Price Guides by $60.
The Apple Authorized Reseller also only collects sales tax on orders that are shipped to CA, CO, GA, IL, MN, NC, NY, TN, and WI. That makes $999.99 the final net price for all other customers outside those states, as shipping on the MacBook Pro is also free. A second rebate [PDF] is also available that will refund the $49.99 cost of Parallels Desktop 10 for Mac if purchased on the same order.
The rebates require that customers submit the signed, completed rebate forms with a complete photocopy of the sales receipt or packing slip(s) & photocopy or original UPC labels, within 20 calendar days of shipping.
It's also worth noting that while this model is from last year, no major architectural changes were made to the MacBook Pro with Retina family this year, largely due to Intel's lacking in delivering the next-generation of its micro-architecture to PC makers on time. The only noticeable changes were speed bumps to the primary CPU, making all 2013 MacBook Pro closeout models listed in our Mac Price Guides an exceptional value.
Stay tuned to AppleInsider — it's Apple Price Guides (prices.appleinsider.com) & Apple Deal Tracker (deals.appleinsider.com) — throughout the week and weekend as we continue to announce unbeatable, exclusive deals for our readers.
Mac Price Guide