Customer receives rose gold iPhone 6s days before launch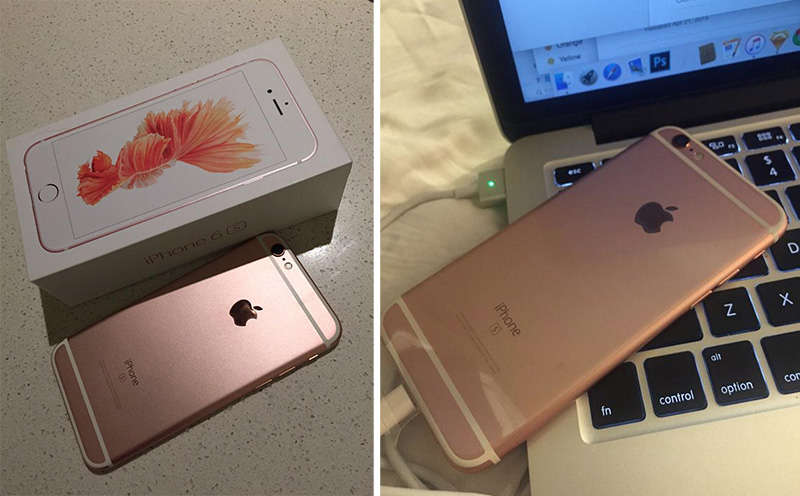 An early iPhone 6s preorder customer got a surprise on Monday when her brand new rose gold handset unexpectedly arrived at her doorstep days ahead of Apple's official public launch, currently scheduled for Friday.
A graphic designer living in San Diego, Calif., posted photographic evidence of the early delivery to Twitter, showing off what is thought to be one of the first Phone 6s handsets in public circulation. Going by the handle @MoonshineDesign, the lucky iPhone owner's post caught the eye of AT&T, which subsequently congratulated her through its official Twitter presence.
On Saturday a number of preorder customers reported seeing notifications that their iPhone 6s and 6s Plus orders had started shipping out from China, with some showing estimated delivery times by today. While Apple requests logistics providers hold preorder hardware shipments until launch day, in this case Friday, the sheer volume of iPhones being processed and stored might be straining the system.
Adding to the crush of shipments is an unusually long window between pre-sale and order fulfillment. Apple traditionally releases new iPhone models one week after preorders go live, but this year opted to wait nearly two full weeks. Some believe the delay is acting as a buffer against short launch day supply. Even with the extra time, Apple exhausted worldwide preorder stock earlier today, pushing ship-by dates back to at least one to two weeks.
As of this writing, @MoonshineDesign benchmarked the new 6s, achieving a single-core score of 2,391 and multi-core score of 4,806, and posted a video shot on the handset's 12MP iSight camera.