Briefly: Apple shaves cost of Cinema Display line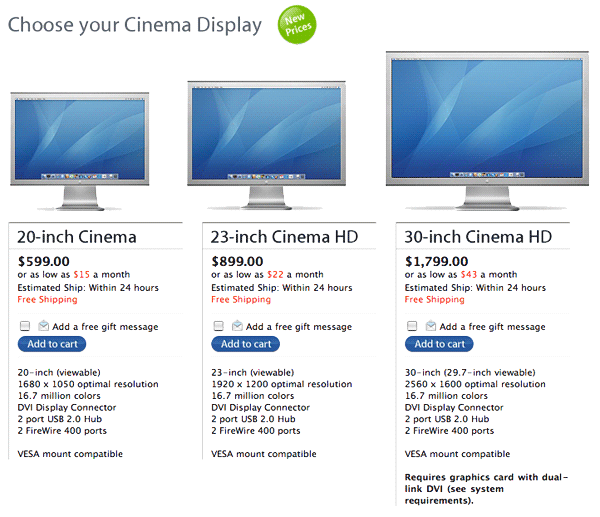 While unveiling a version of its professional desktop system that sports 8 cores of processing power on Wednesday, Mac maker Apple Inc. also cut prices on its matching array of Cinema Display flat panel monitors.
The new display pricing offers its steepest discount to the 30-inch Cinema HD model, which has fallen $200 in cost to $1,799.
Apple's other HD display offering, the 23-inch Cinema Display HD, shed $100 off its price tag and now retails for $899. Similarly, the 20-inch non-HD Cinema display pricing dropped down to 599 from $699.
No other changes appear to have affected the Apple display line, which otherwise includes a DVI Display Connector, 2 FireWire 400 ports, and a 2 port USB 2.0 Hub, on each model.
All three of the displays are VESA mount compatible. The 30-inch model requires graphics card with dual-link DVI.