iTunes 8 prematurely leaked, pulled?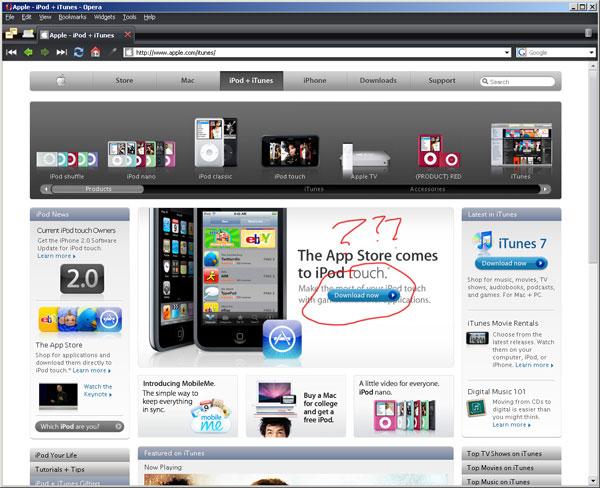 An unusual report late Sunday has multiple users claiming that Apple unintentionally, if briefly, posted a pre-release copy of iTunes 8.
The few allegedly lucky visitors to Apple's iTunes page at the right time on Sunday say they noticed an out-of-place "Download Now" button in the middle of the page which, if clicked, linked to a download for iTunes 8.0 rather than the publicly available 7.7.
Others claim to have noticed the download as well, but in most cases the file in question is said to have already disappeared.
If legitimate, what new features are in the software aren't being revealed: one user who claims to have successfully grabbed the update not only notes that the build appeared to be an unfinished release candidate but that he's concerned about repercussions.
"I'm not sure about the legality of releasing it to you guys yet," he explains. "I don't want any trouble from Apple."
The alleged iTunes 8 download link before it disappeared from Apple's site.
And while multiple anecdotal claims support the existence of the build, the unnamed tipster is in a difficult position to say what's new: he appears to have held off on upgrading iTunes past version 6.0, which was first introduced nearly three years ago. Recent reports have supported iTunes 8.0's existence and assert that it will be one of Apple's larger upgrades, sporting both auto playlist creation as well as the possibility of HD downloads and other major feature additions.
Nonetheless, Apple is known in recent memory to have posted new software updates prematurely, including the discovery in July of an early iPhone 2.0 download a day before it became public. Any iTunes updates are most likely to appear at Tuesday's "Let's Rock" special music event.