Microsoft plays catch up to MobileMe with My Phone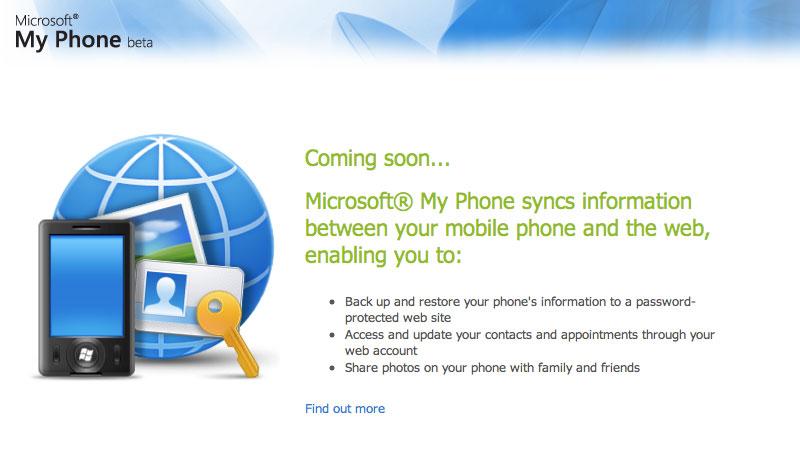 Microsoft's answer to portions of Apple's MobileMe service was expected to be called SkyBox, but the company is now rebranding the mobile data sync service as My Phone, according to pages posted to the company's Windows Mobile website.
The original SkyBox name was supposed to connect the service with a variety of other planned services the company is getting to roll out, including SkyLine (SkyBox for businesses), SkyMarket (Microsoft's answer to the iPhone App Store for Windows Mobile), and SkyDrive (an online disk service similar to Google's GDrive or Apple's iDisk service in MobileMe). Of those plans, SkyDrive is the only one that is already live (it is the rebranded version of what Microsoft once marketed as LiveDrive).
The rebranding of SkyBox to My Phone (as in "rhymes with iPhone"), as well as the blue globe graphic Microsoft is using for the service (below), certainly call to mind the iPhone and Apple's .Mac branding. Of course, the My Phone service will work exclusively with modern Windows Mobile 6 devices, just as MobileMe only works with the iPhone/iPod touch. That has many tech sites calling My Phone "Microsoft's MobileMe," though the new service isn't identical to MobileMe in features.
Microsoft My Phone vs Apple MobileMe
While both services offer to sync settings, contacts, and calendar data, as well as present a web interface for accessing and editing the same data, My Phone also serves as an online version of some of the features of iTunes, allowing it to backup the entire phone device to the cloud and then restore that image to a new phone. My Phone also plans to offer to sync photos taken by Windows Mobile phones to its online service, similar to how the iPhone can upload photos to a MobileMe gallery.
In contrast, MobileMe delegates the task of full phone backups to iTunes, and full desktop photo sync to iPhoto, using a USB cable for both. Microsoft warns that "the data plan you have with your mobile operator may require you to pay data-transfer charges when you use the service," something that iPhone users backing up to iTunes or syncing with iPhoto over USB wouldn't incur. USB is also several hundred times faster than mobile 3G networks, and is not subject to poor signal problems or dropped service connections.
A future version of My Phone plans to expand the service to also allow users to "change ringtones, backgrounds and manage their mobile apps, music and video all from the cloud," according to a ZDNet report. That would move even more of the tasks currently performed by iTunes for the iPhone into an online cloud service. Currently, in addition to MobileMe data sync, Apple lets users download and buy mobile software and music and videos via the cloud with the App Store and iTunes icons directly on the phone, but manages other data on the iPhone using desktop apps.
Microsoft's information page also says it "does not charge a fee for the My Phone service at this time," (the service plans to support itself by running ads on its web pages) while Apple charges $99 per year for MobileMe. However, Apple also gives MobileMe users ad-free web pages and 20 GB of disk space for combined email, file hosting, and data sync, while Microsoft only plans to provide 200 MB in its My Phone service. The company's separate SkyDrive/LiveDrive service currently offers gigabytes of free disk storage, but it can't be combined or used together with My Phone.
As the company's site explains, "Your Microsoft My Phone account gives you 200 MB of free storage on the Microsoft My Phone web site. If a synchronization would result in exceeding this limit, you will receive an error message on your phone and your account on the My Phone web site will only include information received prior to reaching this limit. Any files in excess of this limit will not be saved."
While 200 MB might be plenty of space for backing up a phone image along with calendars and contacts, it does not represent very much email for the typical user, who can easily have multiple gigabytes of mail. My Drive also syncs data files on Windows Mobile phones, which would quickly eat up disk space on the cloud. However, by default, it will only sync files saved internally to the phone itself, and not any files copied to memory cards, according to Microsoft's information page. Since most Windows Mobile phones offer very little built in storage, that might limit how much space in the cloud users might think they need. Any way you slice it though, 200 MB isn't very much space in 2009, even for a mobile device.
No push synchronization for My Phone
Apple's MobileMe rollout last fall was marred by complaints over its push messaging services, which users complained only pushed instant updates between the web and the iPhone and down to desktop; updates made on the desktop could initially take as much as 15 minutes to find their way back up to the cloud. However, Microsoft's My Phone service doesn't push immediate updates at all. There is no word on how the service will sync to desktop applications at all, but mobile devices will only be updated once a day, at night by default. Users will have to force an update to get updates made on the web to show up on the phone faster than an overnight courier might deliver them.
As the site explains, "Microsoft My Phone will automatically synchronize information between your mobile phone and your Microsoft My Phone web account once per day between 11:00 P.M. and 5:00 A.M., except when you cannot connect to your default data network - for example, when your phone is turned off, out of range, or roaming. You can also back up your data manually at any time by selecting Sync in the Microsoft My Phone application."
The iPhone also allows users to optionally turn on push sync with email, contacts, calendar, and bookmarks separately, depending on their needs. The more data that is being kept in sync, the more frequently the phone will be updated and therefore the more the battery will be hit. Apple also allows users to change MobileMe's push sync to manually fetch data every 15 or 30 minutes, hourly, or daily.
No desktop sync details for My Phone
As with MobileMe, phones that sync to My Phone can't also sync the same data to Exchange Server; in either case, phones configured to sync with Exchange will only sync their Exchange calendar and contact items with Exchange, and not with data on other services. The strangest omission on Microsoft's site however, is any mention of how the My Phone service will connect to the company's desktop applications.
Without using its own Exchange Server infrastructure to manage the sync, it appears Microsoft is planning to only provide web access to My Phone users' data, and provide no conduit to Outlook or Vista's Windows Mail and Calendar at all. There's also no mention of using My Phone in conjunction with desktop applications to keep data in sync everywhere, meaning all updates will have to happen over the mobile data network.
Microsoft's separate SkyMarket mobile software service, which is not expected to open until late this year, is similarly expected handle software purchasing and updates over the air only, with no equivalent to Apple's iTunes for browsing, purchasing, or backing up mobile applications from the desktop.
With MobileMe, Apple uses Sync Services on Mac OS X to sync updates to its own apps (as well as any third party Mac apps that plug into Sync Services), and it also installs sync support on Windows as part of iTunes, which updates synced MobileMe data with both any mobile devices used on the PC as well as Windows applications such as Outlook, Outlook Express, and Windows Contacts.
No connection to existing email accounts for My Phone
Apple's smaller teams working on MobileMe, iTunes, and the iPhone work with closer contact and within a central strategy managed by a smaller executive team, compared to Microsoft's wider focus and broader strategies in parallel development within the company's various divisions, as well as in incorporating some of the company's many acquisitions.
Apple's MobileMe originated as .Mac, an email, web hosting, and online disk space account combined with a way to sync information between multiple Macs via Apple's servers. With the name change to MobileMe, Apple added the ability to push updates to mobile devices (the iPhone and iPod touch), made it easier to sync data to Windows PC applications, and enhanced the web applications than provide online email, calendar, contacts, file management, and photo and video sharing on the web. Along the way, Apple upgraded existing users and provided them with a fairly seamless upgrade plan (although many users did run into problems during the transition).
In contrast, My Phone is just one of many overlapping services being promoted by different divisions of Microsoft. The My Phone/SkyBox service didn't originate within Microsoft, but is based on MobileKeeper Backup & Restore, MobileKeeper Sharing & Communities, and Active mTicker software the company acquired in buying up Portuguese developer MobiCorp last summer.
My Phone has no apparent connection to Microsoft's Live Mesh and Windows Azure, the cloud computing platform Microsoft is gearing up to provide to third party developers. It also has no integration with Live Hotmail, so users with a Microsoft email account won't be able to sync their contact data with My Phone. "If you have Windows Live installed on your phone," the company's site notes, "it will synchronize your Windows Live contacts with the Windows Live web site, and My Phone will synchronize your other contacts to your account on the My Phone web site."