History suggests Windows 7 launch could boost Mac sales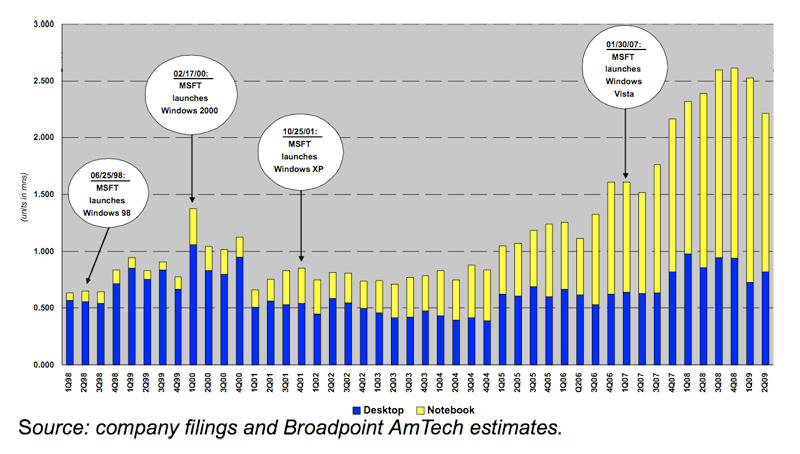 AppleInsider is supported by its audience and may earn commission as an Amazon Associate and affiliate partner on qualifying purchases. These affiliate partnerships do not influence our editorial content.
Rather than negatively impacting Mac sales, a new report provides evidence that the impending launch of Windows 7 could actually be a boon for Apple.
In a new research note to investors, Brian Marshall with Broadpoint.AmTech looked at the historical trends of new Windows launches and the impact on Mac sales. He found that, if anything, Microsoft's debuts were a benefit to Apple.
"We have concluded that no negative correlation exists on AAPL's hardware sales when Microsoft launches a new OS," Marshall said. "Ironically, we believe new OS launches from MSFT may have acted as a 'delayed accelerant' to AAPL's computing sales. However, we believe AAPL's success (or failure) in the computing market is largely idiosyncratic (or company-specific) in nature and not dependent on others in the industry."
First reported by Fortune Brainstorm Tech, the findings show how Mac sales figures have consistently grown every time a new Windows operating system launched over the last 10 years. Mac sales spiked following the debut of Windows 98, Windows 200, Windows XP and Windows Vista.
Marshall said he believes that Apple could double its share of the worldwide computing market over the next five years. That would take the Mac from its current share of roughly 4 percent to 8 percent by the end of 2014.
Apple launched its own operating system in late August, and Snow Leopard got off to a very strong start. Sales of Mac OS X 10.6 have been twice as strong as its predecessor, Leopard, and four times better than Tiger.
Apple is due to report its September quarter results on Monday, Oct. 19. Marshall expects strong earnings from Apple, with 2.8 million Macs, 7 million iPhones and 10 million iPods sold during the frame. If true, those numbers would be in-line with other projections.
"In our view, Apple is 'THE' undisputed growth name in tech with numerous catalysts on the horizon (e.g. China iPhone ramp, netbook/tablet launch, etc.) and no business model issues," he said. "In addition, AAPL is currently benefiting from a positive mix shift (to higher margin iPhones/iPod touches)."
Broadpoint.AmTech has reiterated its buy rating and has a price target of $210 for AAPL stock.