Apple launches iTunes Music Movies with exclusive content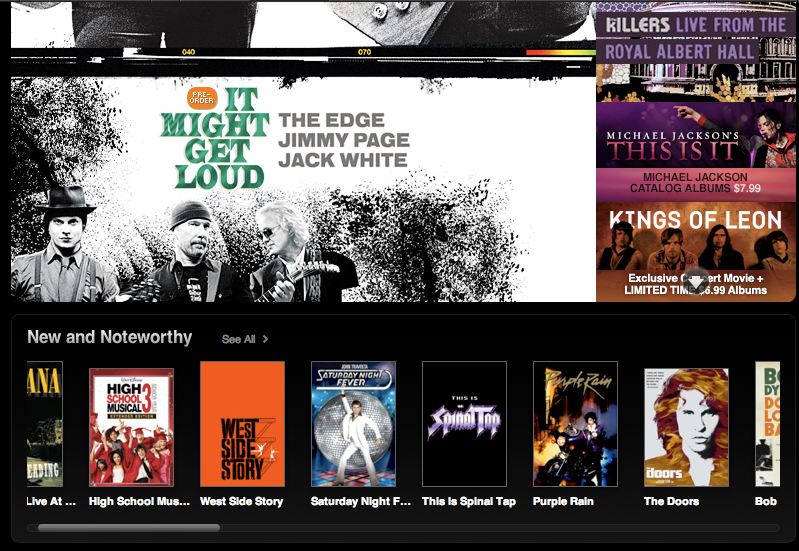 Apple has begun to promote music-themed movies on the iTunes Store with a new landing page, a place the company plans to fill with exclusive content.
The new Music Movies section currently promotes the documentary "It Might Get Loud," featuring guitarists Jimmy Page, The Edge and Jack White. iTunes will offer the film from Dec. 8 through Dec. 22 before anyone else. Currently available is a concert film featuring the Kings of Leon, an iTunes exclusive from Nov. 3 through Nov. 10. The section officially launched on Tuesday.
According to Billboard, Apple aims to negotiate exclusive early access to more music-themed movies and promote them through the Music Movies page. The plan is to make movies available for download before they hit stores in a physical DVD format.
In addition, Apple has expanded its existing catalog of music movies. New titles added include "The Song Remains the Same," "U2: Rattle and Hum" and "John Lennon Imagine." The Music Movies page promotes films ranging from "The Blues Brothers" to "High School Musical 3."
"The company hopes to increase video sales on iTunes in part by luring music consumers to its library of music-themed movies," the report said. "While Apple has not released any specific figures, it sells far more music than videos, and hopes to create a strong bridge between its music catalog and its video catalog by focusing on content that appeals to music fans."
Billboard noted that DVD sales for the music industry have been severely impacted in the last two years as overall DVD sales continue to shrink. Music-themed DVDs reportedly fell 54.7 percent in revenue from 2007 to 2008, according to the RIAA.
In recent months, Apple has looked to expand its catalog of content on iTunes with new offerings in both music and movies. The iTunes LP format comes packaged with a full album and bonus content in the form of additional recordings, photos and videos. The format is intended to spur sales of full albums.
Along with iTunes LP, iTunes Extras was also unveiled in September. It offers DVD-like bonus features with movies sold on the iTunes Store.
Over the summer, Apple also unveiled the iTunes D45 section, featuring discounted prices on packs of two digital song downloads. The throwback format, just like old 45 records, includes a popular single accompanies by a B-side song, at prices ranging from $1.49 to $1.99.