'Unreal' 3D game engine demonstrated on Apple's iPhone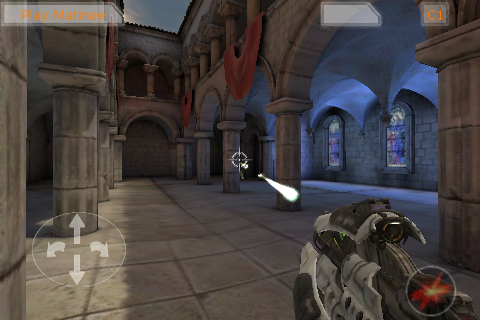 AppleInsider is supported by its audience and may earn commission as an Amazon Associate and affiliate partner on qualifying purchases. These affiliate partnerships do not influence our editorial content.
A version of the same advanced game engine that powers popular titles like Gears of War 2 has been demonstrated on the iPhone 3GS and iPod touch.
Mark Rein, vice president of Epic Games, creators of the Unreal Engine, demonstrated the proof-of-concept to AnandTech with a playable demo. The first-person shooter runs a modified level from the game Unreal Tournament, and employs dual-touch controls.
The game has a virtual thumbstick on the left side of the touch screen to control character movement. Using their right thumb, users can aim and shoot at enemies on screen.
The 3D demo employs Open GL ES 2.0, which is only available on the iPhone 3GS and new iPod touch. The PowerVR SGX GPU has been found to make the hardware, in some cases, to be twice as fast as its predecessors.
The report noted that the game ran with a smooth framerate and the controls worked well. It added, however, that the demo clearly needs polishing, but that it is "just a starting point."
"Epic isn't announcing any sort of iPhone engine licenses nor are they entering the iPhone game market," the report said. "Porting UE3 to the iPhone is simply one of many projects being worked on inside a newer, more svelte and innovative Epic Games (wait till you see what's next...)."
As Epic Games does on the PC side, the company apparently intends to license its Unreal Engine to third-party companies for use on the iPhone and iPod touch. This will allow an advanced framework for companies to build original games around. Epic, at the moment, has no plans to release any games for the platform.
Rein also told AnandTech that Unreal Engine 3 will be demoed on another mobile platform at CES 2010 in early January. The company reportedly intends to take its plans beyond the iPhone and iPod touch.
"This isn't a platform specific thing," the report said, "it's about bringing Unreal Engine 3 to the entire portable market."
Apple has promoted the iPod touch as a games-centric device with the tagline "The funnest iPod ever." When it debuted the new 64GB model in September, Apple highlighted a number of high-profile game releases from major developers, such as Electronic Arts and Ubisoft.
There are also signs that Apple could be looking to get into the game development business itself. In November, AppleInsider discovered that Apple is looking to hire a game and media software engineer for its iPhone and iPod touch team. The listing is noteworthy because Apple ahs released only four applications on its iPhone App Store since it first launched, and only one of them — Texas Hold'em — is a game.