Apple hires prominent Quartz Composer plugin author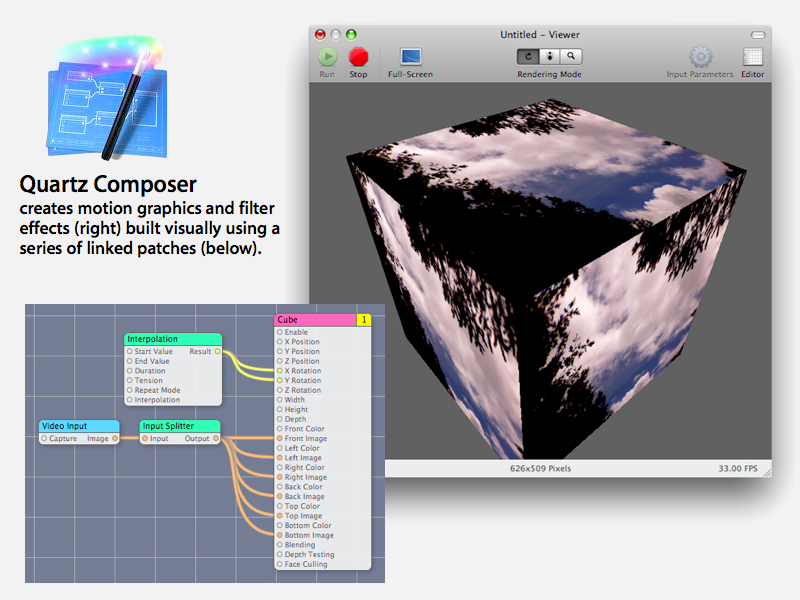 AppleInsider is supported by its audience and may earn commission as an Amazon Associate and affiliate partner on qualifying purchases. These affiliate partnerships do not influence our editorial content.
Apple has hired Christopher Wright of Kineme Interactive Media, the creator of a variety of Quartz Composer applications and plugins and a consultant for Quartz Composer development, AppleInsider has discovered.
The hiring is an apparent effort to expand the utility of Apple's Quartz Composer, which is a free graphical development tool for building interactive visuals called Quartz Compositions.
Quartz Composer in Mac OS X
Mac OS X uses Quartz Compositions for everything from screen saver modules to iTunes' music visualizations to video transition effects in iMovie and image and video filter effects that can be applied by a variety of applications such as Photo Booth and iChat.
Applications can also embed compositions created with Quartz Composer, and Automator actions can be used to render Quartz Compositions as still images or QuickTime movies. Apple's Quartz Composer WebKit plugin also enables developers to include compositions into their Dashboard widgets and web pages.
Apple acquired the foundation of its Quartz Composer from Pierre-Olivier Latour, who had developed his original PixelShox Studio as a tool for creating complex, interactive video effects. The package was then made available for free to Mac OS X Tiger users.
Working with Quartz Composer
The Quartz Composer package exposes a variety of powerful GPU technologies within Mac OS X's Quartz Graphics layer, including OpenGL, OpenCL, Core Image and Core Video.
The Quartz Composer app, which is bundled with Apple's Xcode tools, makes it easy to create or customize compositions by linking together "patches" visually.
Patches can be Consumers, which render a visualization to the screen; Processors, which compute data at set intervals or in response to changing input values; or Providers, which act as external inputs, allowing users to create visuals that respond to mouse movements or new information posted to an Internet RSS feed, for example.
Mac OS X Leopard introduced Quartz Composer 3.0, which allowed third parties to develop their own custom plugins to expand the tool's capabilities.
The future of Quartz Composer
Apple's interest in hiring one of the most prominent Quartz Composer developers outside of the company indicates that it has new plans for the tool, which may include creating new tools for building dynamic content to enhance iTunes LP and iTunes Extras and websites.
At Kineme, Write developed a 3D plugin for Quartz Composer to support the import of 3D models, which can then be animated and rendered using its particle, fog, and lighting effects. Kineme also developed Art-Net patches for enabling Quartz Composer to send and receive data from external consoles and lighting systems. Another tool, QuartzBuilder, enables developers to convert their compositions into standalone apps.
Apple already uses Quartz Composer to create signage and visuals in its retail stores and at its events, including large scale motion graphics that span multiple displays. It would make sense that the company would eventually productize the technology to enable other retailers to create their own dynamic visuals. Quartz Composer is also used by "video jockeys" to create interactive visuals linked to art and music performances.
Apple currently doesn't support Quartz Composition playback on the iPhone due to the device's limited processor and graphics capabilities (Quartz Compositions make heavy use of a system's GPU), but advances in chip technologies may find applications for the technology in Apple's mobile platforms in the future as well.