Opera teases speedy iPhone browser but denies pact with Apple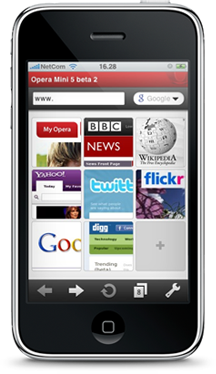 AppleInsider may earn an affiliate commission on purchases made through links on our site.
Opera this week showed off a new version of its mobile browser created for the iPhone, but the company has told AppleInsider that the software has not yet been submitted to Apple's App Store.
Contacted by AppleInsider Tuesday, Opera spokeswoman Falguni Bhuta said Opera is just showing an exclusive preview of Opera Mini for the iPhone at the Mobile World Congress in Barcelona only to media and partners. She also specifically disputed a report that claimed Apple and Opera were "working together" on the browser.
"We haven't worked with Apple on it yet," Bhuta said. "We haven't submitted it to the App Store."
Apple has rejected any non-WebKit third-party browsers submitted to the App Store that might replace its own, native Safari application included with all versions of the iPhone and iPod touch. The Cupertino, Calif., company has not indicated that it has changed its policies, suggesting that if Opera were to submit its browser, Apple would reject it.
Apple has not allowed some applications that replicate core features already built in to the iPhone. The most high-profile non-acceptance into the App Store was the Google Voice application, which Apple said too closely mimicked the iPhone's standard software, including management of calls, voicemail and text messages.
Talk of Opera Mini for iPhone occurred soon after the App Store opened in 2008. Even then, it was noted that Apple's rules for submissions kept the software from seeing the light of day.
In its demonstrations of the unreleased iPhone browser, Opera has said its option is six times faster than Apple's Safari when running over 3G. It also restarts with the same session when the browser is closed and reopened.
Opera claims its browser is capable of superior speeds when compared to Safari due to the compression technology used by the company. It noted that Opera Mini has "significantly faster" Web site loading, and can reduce data surcharges for customers. The Opera Mini application also includes the usual features from the browser, such as tabs, Speed Dial, password manager and bookmark syncing.
Officials with the company have said they believe there is no reason for Apple to reject the Opera Mini browser from the App Store. Opera's mobile browser is not based on the WebKit open source project.
"Opera's mission is to bring the Web to the world, and by making Opera Mini available on yet another platform, we are one step closer," said Jon von Tetzchner, co-founder of Opera Software.