Wall Street wowed by Apple's iPhone sales, cautious on iPad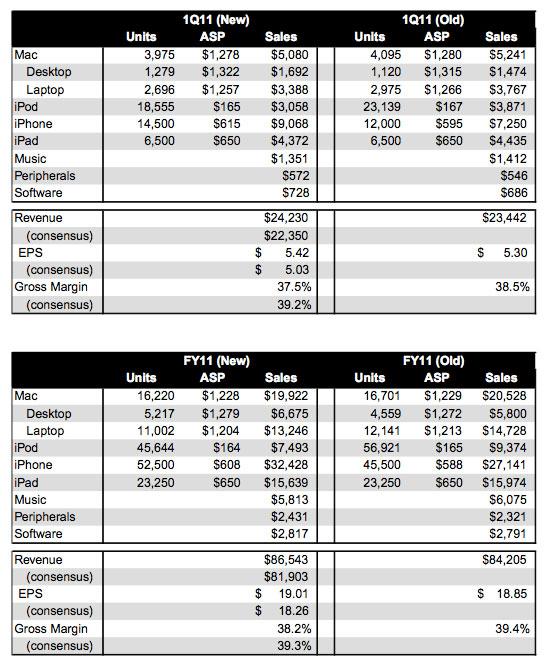 Apple's record-breaking quarterly results — particularly a surge in iPhone sales — impressed analysts on Wall Street this week, even though gross margins and iPad sales did not meet expectations.
Apple on Monday reported record revenue of more than $20 billion, thanks to its highest-ever iPhone sales, hitting 14.1 million for the quarter. Apple also sold its most Macs ever in a three-month span: 3.89 million.
But initial Wall Street reaction to Apple's earnings was negative, with investors apparently disappointed by lower-than-expected iPad sales of 4.19 million, and gross margins of 36.9 percent. The immediate after-hours trading action sent the stock plummeting more than 6 percent.
Despite those number missing expectations, Apple still blew away analyst expectations with $4.31 billion in net quarterly profit, and $4.64 earnings per share. Profits increased more than 70 percent year over year.
Analysts on Wall Street said Tuesday they remain positive regarding Apple stock, citing the strength of the iPhone 4, particularly going into the holiday season.
Analyst Yair Reiner said the fact that Apple's strong quarter "came almost exclusively on the strength of the iPhone 4" was "disappointing." Still, he sees the stock as attractive as ever, and recommends that investors take advantage of the buying opportunity.
"Disappointment, thy name is expectation," he said.
Reiner noted that the iPad had a strong quarter, outselling the Mac. But that wasn't enough, as Wall Street analysts expected Apple to hit around 4.8 million sales for the three-month span.
"Notwithstanding the short-term vicissitudes of the expectations game, Apple clearly has a winner on its hands," Reiner wrote. "We continue to expect an extremely strong December quarter from the devices thanks to a combination of holiday seasonality; channel expansion in the US (Walmart, Target, AT&T, Verizon), and international distribution beyond its current 27-country footprint."
He sees Apple achieving $24.2 billion in revenue in the first fiscal quarter of 2011, with $5.42 in earnings per share. For all of fiscal 2011, Reiner has estimated $86.5 billion in revenue and $19.01 earnings per share.
Analyst Gene Munster said AAPL stock may pull back on Tuesday, but he believes people should buy the stock because investors will gain optimism over the next three months as Apple's growth continues. Piper Jaffray has increased its price target to $429, from $390.
"Apple reported sales of 14.1m iPhones but indicated that it ended the quarter with a "sizable backlog," 3.3m units (~3 wks) of inventory," Munster wrote. "If the company had been at 4-5 weeks of inventory (normal) the incremental 1.65m units would imply sales of 15.5-16m iPhones."
Looking ahead, he sees Mac unit growth increasing 15 percent to 20 percent in fiscal year 2011. An anticipated launch of the iPhone on Verizon would also add another $2 billion in revenue per quarter, he said.
Though shares of AAPL may drop Tuesday, analyst Mark Moskowitz expects the "phenomenon" to "pass quickly." He noted that the iPad's 4.19 million sales disappointed, but only due to "elevated" investor expectations after the device had such a strong debut.
JP Morgan had forecast iPad sales of 4.7 million units, while Wall Street consensus was about 4.5 million. Moskowitz said he thinks Apple should have stronger sales next quarter, with wider distribution.
He also said that the iPhone momentum is "likely just getting started," as Apple struggled to meet consumer demand during the quarter. The 14.1 million sales blew away his estimate of 11 million units, as well as Wall Street consensus of 11.3 million handsets.
Though gross margins decreased from 41.8 percent in the year-ago quarter, the drop was more than offset by iPhone sales, analyst Katy Huberty said. She has increased her price target to $375, up from $346.
"The combination of the free bumper program (100-200 bps) and product ramp/yields hit iPhone gross margins sequentially," she wrote. "Both were considered in guidance but not fully baked into consensus expectations. Importantly, iPhone 4 maintains a gross margin profile well above corporate average and we expect iPhone margins to return to the low 50% range as these headwinds are mitigated over the next few quarters."
Like other analysts, Charlie Wolf has expressed concern that his 2011 forecast for iPad shipments could be too aggressive. He has called for sales of 18 million units next year, but noted the iPad could miss that target if the tablet market grows slower than expected.
Still, he said Monday's reported iPad sales are not a cause for concern.
"The one disappointment, if it can be called that, was iPad shipments," he said. "These came in at 4.2 million, up from 3.3 million in June. While the Street was expecting a higher number, it's instructive to note that iPad shipments have exceeded Mac shipments in just two quarters."
Apple's strong quarter came with caveats, analyst Shaw Wu said Tuesday. The company again beat Wall Street's expectations, but the way it arrived at the numbers was not expected.
Wu said Wall Street's overzealous iPad forecasts reminds him of overestimated iPhone assessments based on initial demand of each product launch. He said forecasters relied too strongly on overseas supply chain production capacity data.
"We continue to believe in the long-term potential for iPad and are modeling 23 million units for [calendar] 2011 (from 26 million)," Wu wrote. "So far, it doesn't appear to be cannibalizing Mac sales but as Steve Jobs said, it represents a new paradigm for computing and is likely to impact notebook PC sales longer term."
Analyst Brian Marshall said the initial 6 percent drop in AAPL stock is a knee-jerk reaction to investors who are "getting caught up in the details and tied around the axle." He said investors should take a more "holistic" approach to the company.
"For example, if the company's overall top-line and bottom-line results surpass whisper expectations, we believe the stock should trend higher (not lower) as is the case this quarter," he said.
Gleacher & Company has raised its price target for AAPL stock to $355, up from $345. He sees big things on the horizon, including a Verizon-compatible CDMA iPhone, as well as continued expansion of the iPad.
Analyst Mike Abramsky sees Apple's gross margins improving, particularly as scale of the iPhone 4 continues to expand. He noted that estimated margins on the iPhone 4 are about 45 percent, compared with margins of between 55 percent and 60 percent with its predecessor, the iPhone 3GS.
Given Monday's results and future product cycles anticipated from Apple, Abramsky has lowered his forecast for gross margins in fiscal year 2012 to 40.1 percent, down from 40.8 percent.
As for the iPad, even though Apple's touchscreen tablet didn't meet his expectations of 5 million sales in the quarter, Abramsky noted that the device is still far outselling the initial iPhone launch in 2007 after its first six months.
He has increased his price target for AAPL stock to $365, up from the previous prediction of $350.
"Despite pending competition (particularly Android) we foresee sustained global share gains in 3 large, underpenetrated markets — iPhone, iPad, Mac — via sustained product leadership," he wrote. "Pending catalysts include: strong holiday sales, new products, healthy (gross margins)."