Apple posts Black Friday deals [u]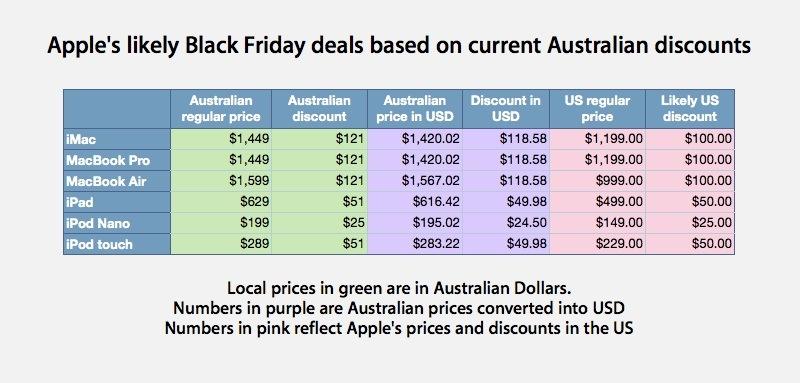 Apple's retail store deals for Black Friday have posted in Australia, indicating its discounts in the US will translate to around $100 savings on desktops and notebooks, and $25 to $50 on iPads and iPods.
Apple's Australian website advertises discounts of A$121 on iMac, MacBook Pro and MacBook Air models, but the regular price of those items is significantly more than the retail price (before any sales tax) the company charges in its US stores.
Translated into US dollars, that discount would amount to $118.58 off, but the A$1449 base price of the entry level iMac and MacBook Pro means those products cost the equivalent of $1420.02 in US currency, a significant premium over the $1199 price in the US store.
This suggests that Apple's discounts offered in the US will be similar to last year's, when the company discounted iMacs and MacBook Pros by $101. Resellers have posted far more liberal discounts and offers for the Black Friday sale.
Similarly, the iPad and iPod touch are both advertised with discounts of A$51, very close to $50 in US dollars (the exchange rate is A$0.98 to $1 USD.) However, those products regularly list for A$629 and A$289 respectively.
Translated into USD, the iPad in Australia costs $616.42 rather than $499, while the iPod touch costs $283.22 rather than $229.
Similarly, the iPod Nano, which is A$199 and offers a A$25 discount for Black Friday in Australia is only $229 in the US rather than the equivalent of $283.22.
Apple posts US Black Friday deals
Update: Apple has posted its actual deals for tomorrow, and they are nearly inline with expectations.
iMac, MacBook Pro and MacBook Air systems are discounted $101, the iPad is on sale for $41, the iPod touch is discounted by $21, and the iPod nano is $11 off.
A variety of other minor deals apply to the Airport Express and Extreme base stations (both discounted by $11) and TimeCapsule, which is discounted by $21 for the 1TB version and $51 off for the 2TB model.
Other accessories such as keyboards, the Magic Trackpad and Magic Mouse, the iPad case, Camera Connection kit and standard iPhone headphones are all discounted by $5 to $11.