Angry Birds boss says Apple's iPhone 'changed everything'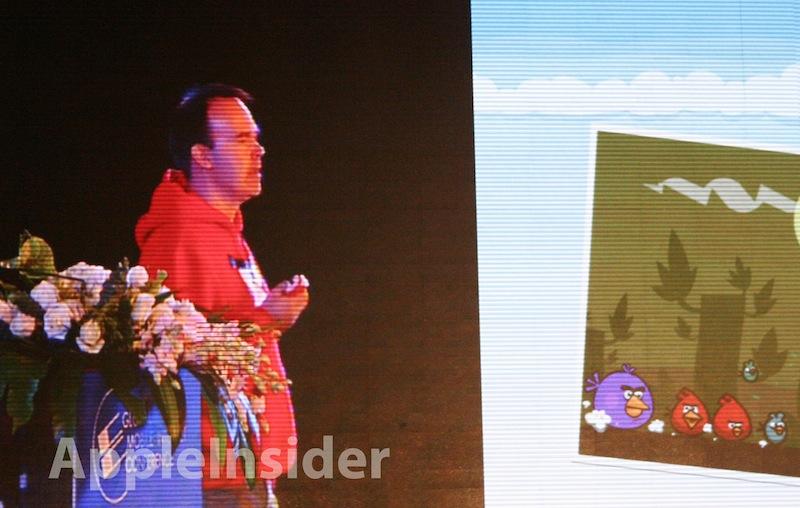 Speaking at the Global Mobile Internet Conference in Beijing on Wednesday, the head of Rovio Mobile, the developer behind the bestselling Angry Birds app, said that Apple's iPhone has changed the whole mobile market, noting also that the franchise has become the third most copied brand in China, behind Disney and Hello Kitty.
Vesterbacka, whose job title is the "Mighty Eagle" of Rovio, quizzed the crowd of more than two thousand attendees to discover that "mostly everybody" had played Angry Birds.
The popular app has grown "faster than any brand ever before," quickly becoming a global phenomenon. The Angry Birds Rio version of the game became the fastest downloaded game ever with 10 million downloads in 10 days, said Vesterbacka.
Many of those games were developed for other gaming publishing houses; Angry Birds was Rovio's first attempt at developing its own intellectual property and franchise.
Despite lacking a fully implemented marketing plan in China, Angry Birds' popularity has spread to the country, which boasts more than 300 million mobile internet users. According to Vesterbacka, Rovio is now the third most copied brand in China, behind only Disney and Hello Kitty.
Vesterbacka showing an early design sketch of Angry Birds
Vesterbacka admitted that, in spite of the copying, the company was excited to break into the local market and had set a goal to become "the most copied brand in China," while adding that Rovio would "also like to sell authentic products as well."
Rovio's goal is to hit 100 million downloads in China in 2011, on its way to becoming a "leading entertainment brand" in the country in 2012. "We think we can do it, and to do that we're setting up a local operation and investing a lot into creating special versions of Angry Birds" for Chinese users.
The developer was also quick to point out that the popularity of Angry Birds wasn't just an "overnight success." Before Angry Birds, Rovio had designed 51 games since the Finnish company was founded in 2003.
Vesterbacka also attributed much of his company's success to Apple. When comparing the current mobile game climate with black-and-white feature phone games like Snake, he noted that "we have Apple to thank for a lot of change in the industry."
"Apple brought out the iPhone and it changed everything," he said, adding that before the arrival of the iPhone and App Store, carriers and handset makers prevented developers from directly reaching their fans.
"Apple created the distribution for us that we didn't have before. All of a sudden, great games mattered," said Vesterbacka. With Apple's new distribution model, Rovio was able to attain an unprecedented "hockey stick" growth curve. "We are seeing smartphone growth explode, and we are riding that wave," the executive said.
Vesterbacka pointed to Rovio's decision to design the game "around the characters" as contributing to Angry Birds' mass appeal. The company looked to Pixar and other entertainment franchises as models for "character-driven development."
According to the developer, 40 percent of Angry Birds customers make opt for the "Mighty Eagle" in-app purchase, compared to 2 to 3 percent for most companies. Rovio's goal is to reach a 50 percent conversion rate for in-app purchases.
Vesterbacka has been a vocal advocate for the iOS platform. Late last year, he said in an interview that he expects Apple to be "the number one platform for a long time from a developer perspective."
Though Rovio has seen some success on the Android platform, Vesterbacka sees "fragmentation of the [Android] ecosystem" as an issue. "The carriers [are] messing with the experience again," he said, adding that Android is "open, but not really open, a very Google centric ecosystem.
Last November, Vesterbacka apologized to fans for poor Angry Birds performance across a variety of Android devices and promised to develop a "lighter solution" for lower-end Android devices.