Apple quietly updates MacBook Pro lineup with faster CPUs, graphics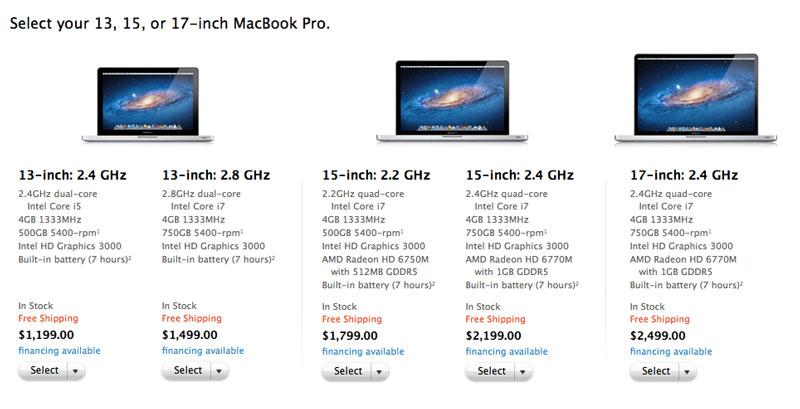 With no mention of the update, Apple on Monday improved its MacBook Pro lineup with slightly faster Intel processors, as well as new graphics processors and larger hard drives in some models.
The new entry-level MacBook Pro now sports a 2.4GHz dual-core Intel Core i5 CPU. It also features a larger 500GB 5400-rpm hard drive at the same cost of $1,199.
The faster 13-inch MacBook Pro now boasts a 2.8GHz dual-core Intel Core i7, and its hard drive has also been upgraded to 750GB. It sells for $1,499.
For the 15-inch models, both feature quad-core Intel Core i7 processors. The low-end 15-inch has a clock speed of 2.2GHz and a 500GB hard drive, plus a faster AMD Radeon HD 6750M discrete graphics card with 512MB of GDDR5. The faster 15-inch runs at 2.4GHz with a 750GB hard drive and features the AMD Radeon HD 6770M with 1GB of GDDR5.
And the updated 17-inch MacBook Pro features a 2.4GHz quad-core Intel Core i7 with a 750GB hard drive, along with the AMD Radeon HD 6770M with 1GB of GDDR5. All MacBook Pro models come with 4GB of RAM clocked at 1333MHz standard.
Apple's top-of-the-line build-to-order 17-inch MacBook Pro offers a 2.5GHz quad-core Intel Core i7 for an additional $250, while the RAM can be upgraded to 8GB for another $200. All MacBook Pro models can also have their hard drives upgraded to solid state capacities up to 512GB for as much as $1,200.
All of the new MacBook Pros are listed as in stock, and come with free shipping. Monday's upgrade was done silently by Apple, as the company didn't even list the updated notebooks as being "new" to the store. As of Monday morning, the iPhone 4S was still listed as Apple's newest product.
AppleInsider first reported in September that Apple was set to surprise with a late 2011 MacBook Pro refresh. The relatively minor upgrades are expected to allow the professional line of notebooks to remain competitive until Intel's next-generation Ivy Bridge chips launch in the Spring of 2012.