Apple expands iPhone to regional US carrier nTelos Wireless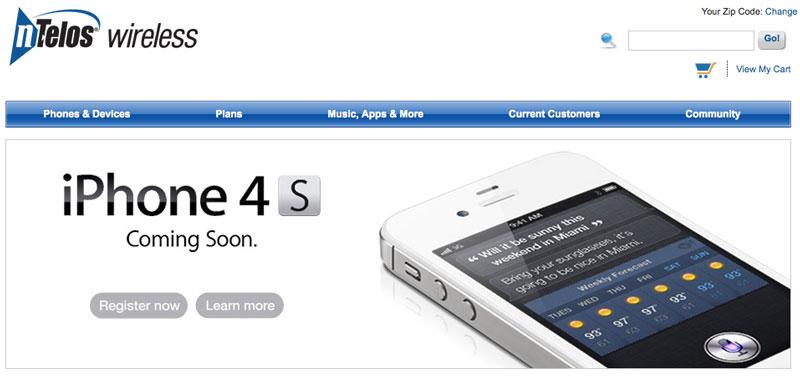 AppleInsider is supported by its audience and may earn commission as an Amazon Associate and affiliate partner on qualifying purchases. These affiliate partnerships do not influence our editorial content.
nTelos Wireless, a Virginia-based wireless company with more than 400,000 subscribers, will become the fifth U.S. carrier to sell Apple's iPhone when it launches on April 20.
nTelos is the second regional carrier to partner with Apple, as the company began expanding to smaller U.S. carriers last October when it struck a deal with C Spire Wireless, which has about 900,000 customers.
The 8-gigabyte iPhone 4 will be available through nTelos for $50, while the 16-gigabyte iPhone 4S can be had for $150, 32 gigabytes for $250, and 64 gigabytes for $350. Those contract-subsidized prices are all $50 cheaper than the offerings from the company's competitors.
nTelos offers unlimited voice, text and data for one line for $100 per month. Two lines can be purchased for $140 per month, and additional lines after that cost $50 each.
Availability of the iPhone to nTelos is possible because the carrier relies on a CDMA network, similar to the technology that powers Verizon and Sprint's wireless networks.
As of Wednesday, the iPhone 4S is listed as "coming soon" on the nTelos Wireless website. Sales will officially begin at 7 a.m. on April 20 through nTelos retail stores, at the company's website, or by calling 1-888-427-8858.
"As a wireless service provider well-known for delivering the best value in wireless, we're pleased to offer the amazing new iPhone 4S to our customers," said Jim Hyde, president and CEO for nTelos Wireless. "iPhone 4S offers an abundance of new features, and with our industry-leading, nationwide smartphone plans, customers can now enjoy the nation's best networks for less."
nTelos offers nationwide voice and data coverage for subscribers based in Virginia and West Virginia, along with portions of Maryland, North Carolina, Pennsylvania, Ohio, and Kentucky.
When the iPhone launches with nTelos, it will join AT&T, Verizon, Sprint and C Spire as one of five official U.S. carriers. The one glaring omission from the list of official Apple partners is T-Mobile, which is the fourth-largest wireless carrier in the U.S. with 34 million customers.
T-Mobile's lack of access to the iPhone is a result of the company's 3G service relying on the uncommon 1700MHz and 2100MHz bands, which are not supported by Apple's smartphone. Users who operate an unlocked iPhone on T-Mobile's network are restricted to much slower "EDGE" speeds.