Apple seeks $2.5 billion from Samsung in patent infringement case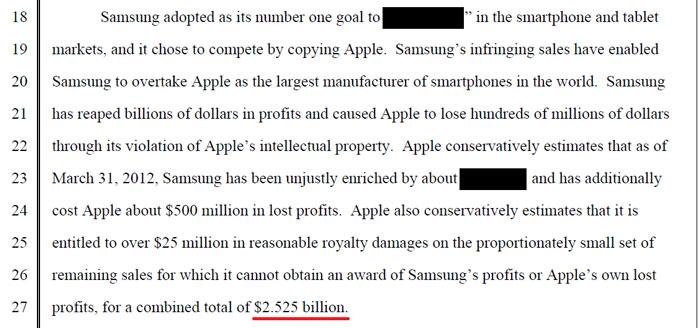 AppleInsider may earn an affiliate commission on purchases made through links on our site.
Apple seeks to recover $2.5 billion in damages and more than $30 per device sold by Samsung for alleged patent infringement, new court filings reveal.
Apple's claims for damages are revealed in its initial trial brief, filed in court this week ahead of the company's July 30 trial start date with Samsung. As noted by Florian Mueller of FOSS Patents, Apple believes Samsung's alleged infringement has cost Apple $500 million in profits and $25 million in "reasonable royalty damages."
The redacted document also argues that Samsung has been "unjustly enriched" by an undisclosed amount, but that number is presumably $2 billion, which is how Apple arrived at a combined total of $2.525 billion in damages.
The largest part of those damages is related to Samsung's alleged infringement of Apple's design patents. The iPhone maker has asserted that it is entitled to $24 per Samsung device that violates Apple's design patents or trade dress rights.
In comparison, Apple seeks significantly less for its technical software-based patents. The filings reveal Apple believes it is entitled to $2.02 per unit in royalties for the "overscroll bounce" patent, $3.10 for the "scrolling API" patent, and $2.02 for "tap to zoom and navigate."
The trial brief also suggests that Apple would rather not collect these royalty payments from Samsung, but would instead prefer that the Korean device maker simply work around Apple's patented inventions.
"Apple looks forward to a trial that will vindicate its intellectual property rights," the filing reads. "Samsung must play by the rules. It must invent its own stuff. Its flagrant and massive infringement must stop."
Mueller, an intellectual property expert, believes that Apple and Samsung will eventually settle their differences out of court. Apple's filing also revealed that the company has offered Samsung a half-cent per standard-essential patent.
"The price for Samsung to pay will be a significant per-unit royalty rate, and it will have to accept restrictions in terms of which Apple patents it's allowed to use and in which ways," he wrote. "Samsung will ultimately get paid for its (standards-essential patents), but the amount will be tiny compared to what Samsung owes Apple if it chooses to license its non-SEPs. That's because Apple's patents make the difference between a $50 phone and a $500 device, while Samsung's patents cover a small part of what a $10 component of such products provides."
In a last-ditch effort to resolve their dispute before the trial begins, Apple Chief Executive Tim Cook met with Samsung Vice Chairman Choi Gee-Sung last week. However, the two sides couldn't come to an agreement on patent worth, and the talks were said to have gone nowhere.