iFixit dings new 21.5-inch iMac for low repairability as shipping times increase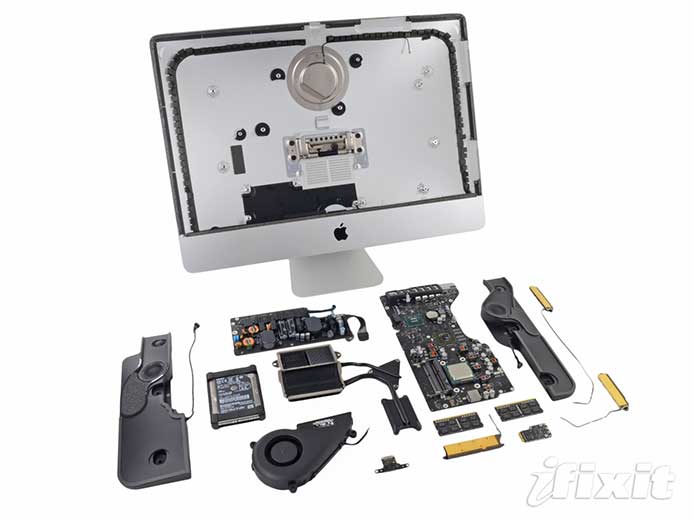 AppleInsider may earn an affiliate commission on purchases made through links on our site.
In its customary teardown of the newest Apple products, repair firm iFixit gave the 21.5-inch iMac a "repairability score" of three out of a possible ten, citing a hard to replace display and lack of easily-upgradable RAM, while the Online Apple Store sees ship-by dates pushed back to over a week.
After the iMac rolled out to customers worldwide on Friday, iFixit took an in-depth look at Apple's redesigned all-in-one and found the unit to be "an exercise in disappointment"as far as repairability is concerned.
The firm's first major complaint was the new display that is now glued to the iMac's chassis rather than being attached by screws and covered by a removable magnetic front glass, as is the case with legacy models. While the screen is the identical to the one used last year, Apple used a lamination process to bond the front glass to the display, allowing less reflectance and deeper color saturation, though the strategy only allows for the use of glue to attach it to the computer's thin body.
Second on the list of complaints is the lack of upgradability. While users can change or replace the hard drive, RAM and CPU, they will have to remove the screen and logic board to do so as all integral components are located on the back side of the board. It should be noted that in its review of the 27-inch version, CNet mentioned that the larger-screened machine has an access port for RAM replacement.
There was some good news, however, as the redesigned iMac now uses dual-microphone technology for better FaceTime call audio, as well as a more robust ribbon cable for the built-in camera. Also of note is that the large central heat sink, which only uses a single fan to keep internal temperatures within operational limits, is attached to a spring-loaded Intel socket carrying the CPU, meaning the processor is somewhat easy to replace.
Shipping Times
Less than a day after brick-and-mortar Apple Stores and authorized resellers started sales of the 21.5-inch iMac, the standard 21.5-inch iMac is shows a lead time of seven to ten business days, up from the one to three days quoted when the company activated orders through its online storefront late Friday.
The apparent supply shortage for the smaller iMac echoes the soon-to-be-released 27-inch model, which is experiencing similar delays as orders are now expected to to go out in three weeks to a month.
CEO Tim Cook warned during Apple's quarterly conference call in October that thee would be a significant supply shortage for all iMac models, however the reason for the dealy remains unknown.