Apple's iPad projected to control 50% of tablet shipments through 2016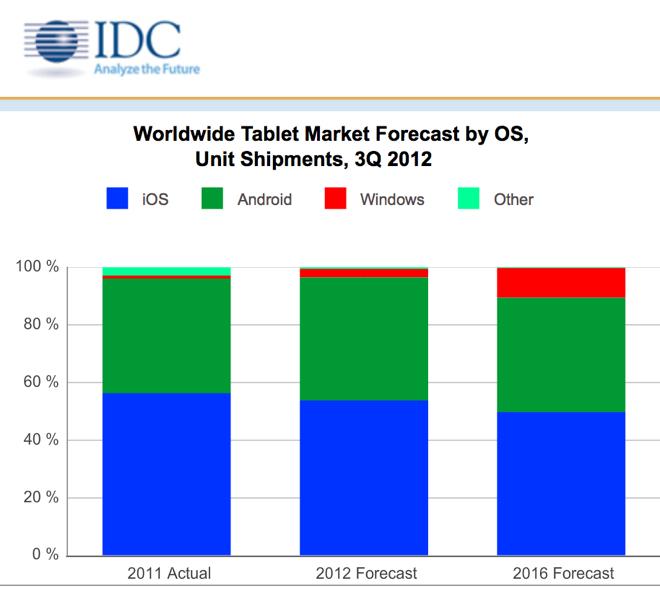 Apple's total share of the growing worldwide tablet market is forecast to shrink slightly but maintain iPad dominance through the year 2016 in the face of growing competition from Android and Windows.
IDC believes a total of 122.3 million tablets will be shipped in this year, with 53.8 percent of those being iPad models from Apple. If accurate, that number would be slightly lower than the 56.3 percent of shipments Apple accounted for in 2011.
Tablets running Google's Android operating system are expected to capitalize and grow from 39.8 percent in 2011 to 42.7 percent of shipments in the full year of 2012.
Despite the recent launches of Windows 8 and Microsoft Surface, total Windows-based tablets are expected to account for just 2.9 percent of tablet shipments in 2012. IDC believes Microsoft's Windows platform will grow to 10.2 percent by 2016.
Microsoft's projected gains in market share will come at a cost to both Apple's iOS and Google's Android, as IDC believes they will both see their total share slip through 2016. IDC's forecast calls for Apple's iPad to account for 49.7 percent of tablets shipped in 2016, while Android will represent 39.7 percent of tablets.
In all, IDC expects total 2012 tablets shipments will hit 122.3 million, while next year the market will grow to 172.4 million. By 2016, worldwide tablet shipments are predicted to reach 282.7 million units.
"Tablets continue to captivate consumers, and as the market shifts toward smaller, more mobile screen sizes and lower prices points, we expect demand to accelerate in the fourth quarter and beyond," said Tom Mainelli, research director, Tablets at IDC. "Android tablets are gaining traction in the market thanks to solid products from Google, Amazon, Samsung, and others. And Apple's November iPad mini launch, along with its surprise refresh of the full-sized iPad, positions the company well for a strong holiday season."