New online 27-inch iMac orders now ship in January
By AppleInsider Staff
Friday, December 07, 2012, 07:32 am PT (10:32 am ET)
Apple on Friday revised the estimated shipping times for its newly redesigned 27-inch iMac, with new orders now scheduled to ship in January.

In reality, the updated shipping times are not much of a delay, if at all: Just a week ago, new 27-inch iMac orders were scheduled to ship in three to four weeks. There are three-and-a-half weeks left in the month of December.





Those looking to get an iMac before Christmas can opt for the 21.5-inch model, which is available to ship in 7 to 10 business days from Apple's online store.
Today's Headlines
No news headlines yet today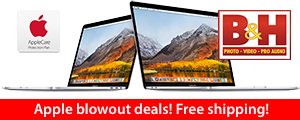 Lowest Prices Anywhere!