Job cuts at Foxconn reportedly prompt worker to jump from Shenzhen factory roof [updated with Foxconn statement]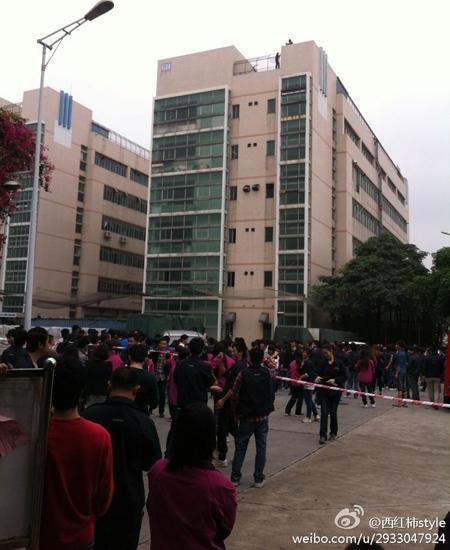 AppleInsider may earn an affiliate commission on purchases made through links on our site.
Reduced orders at Foxconn, a technology manufacturer that partners with Apple and other major device makers, have allegedly caused discontent amongst factory workers, one of whom reportedly jumped from a factory roof but did not die.
A Chinese microblogger snapped this photo last Friday after a Foxconn worker allegedly jumped from the roof of a Shenzhen factory.
Reports from Chinese microblogging website Sina Weibo, highlighted by Kotaku, claim that a woman jumped from the roof of Foxconn's Shenzhen factory at 9 a.m. local time last Friday. As of noon, another three employees were said to be on the roof, threatening to jump as well.
It was not reported how the woman survived the jump, but Foxconn was prompted to install safety nets at its mega-factories years ago after a number of workers took to the roof and committed high-profile suicides in an effort to draw attention to working conditions and wages.
The latest events are said to have been caused by reduced orders through Foxconn. Chinese news outlet People's Daily Online reported that Foxconn has been encouraging some employees to leave the company in an effort to cut worker costs.
For its part, Foxconn denied that it has encouraged employees to resign. That's in contrast to recent reports, which have claimed the company has not only reduced wages, but also begun charging employees for service that were once free.
As global criticism of Foxconn began to grow years ago, so too did negative reports about Apple, noting that Foxconn is the principal manufacturer of devices such as iPhones, iPads and iPods. That prompted Apple to pressure Foxconn into giving workers higher wages and improving working conditions.
Under Chief Executive Tim Cook, Apple has also become more transparent in its auditing of overseas suppliers. The most recent update from last month revealed that Apple found 99 percent of its suppliers were in compliance with an imposed 60-hour workweek limit.
The company also announced in January that it had terminated its contract with a supplier after it was discovered that Guangdong Real Faith Pingzhou Electronics had committed 74 underage labor violations. Apple's code of labor states that "the minimum age for employment or work is 15 years of age, the minimum age for employment in that country, or the age for completing compulsory education in that country, whichever is higher."
Update: Foxconn contacted AppleInsider with the following statement:
Some inaccurate reports have been circulating regarding a workplace dispute that took place on March 29 at our campus in Longhua, Shenzhen. For the record, the facts regarding that matter are as follows:
We can confirm that on March 29, three employees at our campus in Longhua, Shenzhen were involved in a workplace dispute over the company's decision to offer them an opportunity to relocate to another Foxconn China facility as part of a shift in production linked to their business group. As a result of that dispute, the employees in question gathered at the top of a campus building and stayed there until local law enforcement authorities arrived at the scene. The dispute was resolved peacefully and no one was injured. Any reports to the contrary are totally inaccurate.
The welfare of our employees is our top priority and we are committed to ensuring that all employees are treated fairly and that their rights are fully protected. The operational changes that were the basis for this incident are being carried out in accordance with all relevant government laws.