Apple's iCloud and iTunes see service outages, 20% of users affected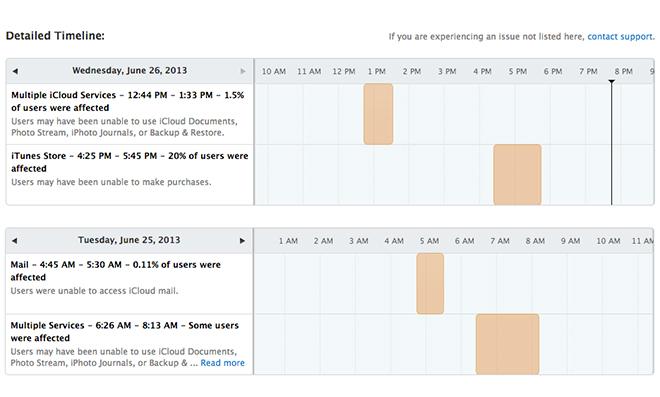 AppleInsider may earn an affiliate commission on purchases made through links on our site.
Apple's servers were hit with an unknown issue on Wednesday, with the company's iCloud service seeing a brief outage before a larger problem affected some 20 percent of all iTunes customers for nearly an hour and a half.
While the issue has since been resolved, Apple's iTunes Store was down from 4:25 p.m. to 5:45 p.m. Pacific, with the outage affecting one fifth of the service's users, according to company's System Status webpage.
Just before the iTunes complication, about 1.5 percent of iCloud users were unable to use the cloud computing service's document storage, Photo Stream, iPhoto Journals and Backup & Restore features. The iCloud downtime lasted from 12:44 p.m. to 1:33 p.m. PST.
It is unclear what caused the service interruption, and Apple has not commented on the issue.
A look at Tuesday's status report shows iCloud email service was down for 45 minutes, while "some users" of iCloud Documents, Photo Stream, iPhoto Journals and Backup & Restore saw trouble for nearly two hours during the early morning hours. During the downtime, users may not have been able to send or receive attachments in iMessage.
As the number of iCloud and iTunes users grows, Apple has consistently seen problems with its system. For example, April saw a spate of outages tied to iCloud email, GameCenter and iTunes, with Mail down for 27 hours.